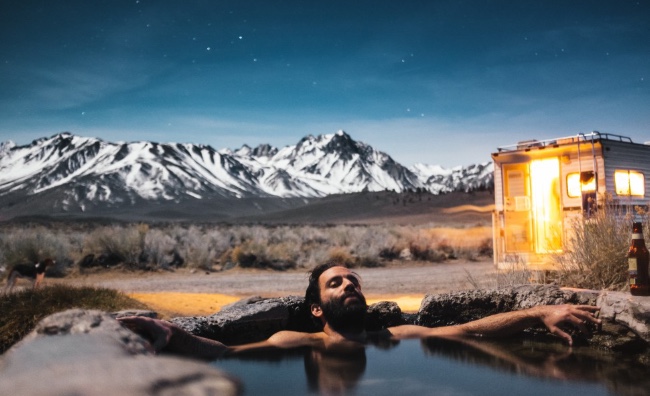 There's nothing better than a hot springs adventure. However you get there: hiking, driving, snowmobiling… you just know that you have this incredible payoff waiting for you. Because soon you'll be soaking in a sparkling, hot water pool with breath-taking vistas surrounding you. It's an incredible feeling. One that I can't get enough of. But then I'm biased. I've spent so much time chasing my favorite hot springs that I got married at one.
This a collection of some of the most beautiful hot springs in America (though there are many more that we couldn't fit on this list). If you have a local hot springs that we totally missed, please, put it in the comment section. I can't wait to visit them all.
McCall, Idaho
Step back in time in this remote hot springs about 30 miles north of McCall, Idaho. It may only be a few hours from Boise, but Burgdorf feels like another world. During the winter months this ramshackle collection of cabins (surrounding the naturally heated pools) are inaccessible by car. You have to rent snowmobiles, pack a picnic lunch, and journey through the snow to reach them. As you carve a path through the ice, the chill settling over every tiny exposed part of your body, you can almost imagine making the trip by horse drawn carriage.
When I went to Burgdorf, we were the only ones there, and so we arrived to find (what felt like) our own personal, steamy pool. And the journey in the cold is totally worth it. You slip into the warm water, your muscles relax, and you float surrounded by a white, snowy forest. And for just a minute you forget what time you're in.
Once you're there, you can stay the night or make it a day trip. Just know that this is very remote (and there is no electricity!) so pack accordingly. Also, be careful with the snowmobiles, and go off path at your own risk. My husband will never outlive his "crash" (it was more like a very slow tip over") when he decided to take us down a hill. You'll pay handsomely for any damage to the snowmobiles no matter how minor. Worth it though, if only so that I can remind him about the time he nearly killed us in the woods for a cheap thrill (not that I've EVER done that…).
Steamboat Springs, Colorado
https://www.instagram.com/p/BNn2yKhBizo
This large, lovely hot spring located just outside of Steamboat Springs is the perfect place to soak your sore muscles after a long day of skiing. Or (if you're me) a long day of sitting in a hot tub drinking wine and waiting for everyone else to get back from skiing. Because as I keep telling people, skis are sticks of death, and it's insanity to strap them to your feet to HURTLE DOWN A MOUNTAIN. IT'S A VERY UNSAFE AND TERRIFYING SPORT. But I digress. (Also, no one should listen to me. The other day someone tossed a candy bar to me and I screamed and ducked so…)
This beautiful spring is just remote enough that you feel removed from the busyness of the resort, but close enough that it's an easy trip. I would highly recommend going at night (last entrance is at 9:30pm, so plan accordingly). The sky is filled with such a vast plethora of stars that as you sink into the warmness of the water, you'll feel like you're floating off into space.