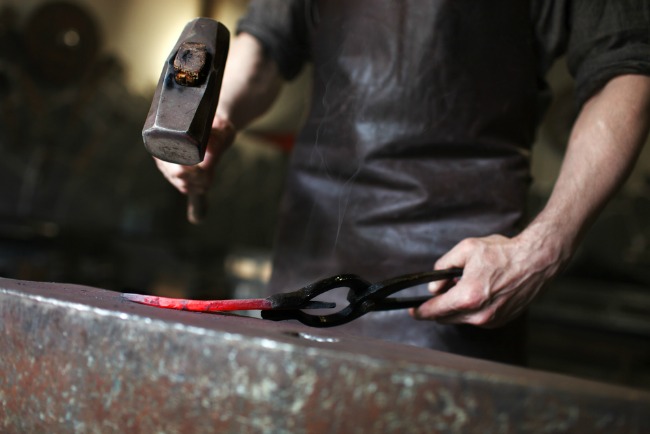 If you relied solely on media to shape your idea of the modern artisan, you'd likely conjure an image of a beard/ waxed mustache, a bow tie, and an affinity for bespoke, small batch whisky served over clunky ice cubes. But the resurgence of craftsmanship on a large scale has more to do with a set of values than it does with an unfettered desire to affect pretensions.
Modern artisans are basically free-range manufacturers, happily whistling while they work in studios and smithies. Their commitment to raw, authentic, handmade products has strengthened local economies and put exciting, unbranded goods in the marketplace. And, it's a transparent model. You know who made your products, where they made them, and how to get in touch with them if you need to. Good luck trying to get in touch with the factory worker at the Thai Ikea plant who boxed that Skarsta desk you can't assemble.
Below are 10 artisans and makers, creating pieces of utility and beauty. These printers, woodworkers, and tilemakers have built up Instagram accounts that are not only enjoyable to look at, they're also super inspiring. Plus this is how small batch business happens: Just slide right into the DMs! But be forewarned, not a single one of them wears a bow tie.
Luke Snyder and David Van Wyk craft one-of-a-kind knives, hand-forged from scrap carbon steel repurposed from machine shops, used auto parts, and scrap yards. The handles of these kitchen implements use natural materials, like reclaimed antlers and burled wood.
The pair both grew up in the company of craftspeople. Snyder spent hours working in a coal forge and blacksmith shop with his dad, and Van Wyk was raised in a family full of woodworkers. Keep an eye out on their Instagram for their "Legacy Knives," custom orders that incorporate customer supplied materials — lace from a wedding dress and a grandmother's rolling pin were each incorporated into heirloom-quality knives.
Bryan Nelson is a self-taught woodworker who crafted his first wooden bowl in a junior high class. Though he has created custom cabinets and even beds, turning wood is his passion. He is known for his exquisite hand-crafted bowls and crochet hooks, though he also turns mini bird houses and salt and pepper mills. In his time as an artisan, he has made over 6,000 bowls. The appearance of the wood used for his bowls is completely unadulterated by coloring or stains. This makes them not only beautiful, but also food safe. If you crochet, his needles will captivate you, and if you don't, they will make you consider starting. Intricately crafted from gorgeous products like snakewood and Gabon ebony (he offers customers their choice from 160 woods), the hooks give off a little bit of a magic wand vibe, straight from Olivander.
Laura Kampf may be familiar to you if you are one of the millions of people who have viewed her channel on YouTube. Not only does she do metalworking and woodworking, she produces videos each week that walk viewers through the construction of projects that range from a classic side table to a "Beer Bike" (part hand truck, part BMX). Having spent the better part of her life in the workshops of Cologne, Germany, she is a prolific artisan who isn't tied to a particular set of materials or final product. Her Instagram features pictures of her work, but it also shows her tools, her friends, her sketches, her merch, even her efforts in Adam Savage's shop. It's a peek into the life of a contemporary maker.
Printer Kari McDonald works out of two studios, the one in the basement of her home and the one in a converted cow barn. The second space is shared with her artist father-in-law, the man who actually taught her to print in high school art class. Those art classes clearly resonated with Kari, because she went on to earn a BFA in printmaking from Northern Illinois University. She works with hand-carved wood blocks and an ancient Conrad Dickerson Machine Press, though she admits to still printing entirely by hand on occasion. She is often inspired by the native prairie plants that grow wild in the fields surrounding the cow barn.
Check her Instagram because it highlights her art in varying stages: creating the design, carving the block, proofing ink colors, and printing.
Based in San Francisco, woodworker and artist Sean Newport creates geometric sculptures using acrylic paint and hand-cut wood. A trained carpenter, he draws on his technical background in his work. In many of the images on his Instagram, his pieces look like two-dimensional digital art. But, in others, your eye can understand it is looking at a three-dimensional object. Newport creates his bold, abstract work entirely by hand, cutting shapes from wood, painting them, and arranging the pieces to create art that challenges the viewer's perceptions.
Now a west coaster, Ariel Alasko lived and worked in Brooklyn, where she attended the Pratt Institute, for eleven years. She is not only a sculptor; she is also a woodworker. After graduating, she started piecing her own wooden furniture together. Before long, she was collecting lathe from work sites around New York and building beautiful pieces of furniture and art with prominent geometric patterns. Now, she crafts a lot of wooden utensils (she has been way into brushes on her Instagram lately), trays and sculptures. Her account is filled with slick pictures of her projects in varying stages… and her rescue doggie, Mazie.
UK potter Hannah Bould was hooked from the moment that she started throwing on the wheel in her first pottery class. At that time, she was using her illustration degree in a fine art print studio, but she wasn't creating her own work and felt artistically adrift. Ceramics corrected that. She fell immediately in love with the medium as it allowed her to create items that were both decorative and purposeful. She now works on ceramics full-time, citing brutalist architecture, Picasso, and Matisse as inspirations for her monochrome stoneware.
Hannah spends each morning throwing 20 or so pieces and spends afternoons trimming, glazing, and decorating them. Her Instagram captures her work during this process, leading followers from wheel to showroom.
Rich Moorhead is creating tile from the broken boards left behind by skaters. There comes a point when every deck reaches the end of the line. They get dented and scratched, taking day after day of abuse. Typically they're returned to a skate store, where items that can be reused, like trucks and wheels, get removed. The next stop is the trash. Moorhead has stepped in and started an international grassroots skateboarding recycling movement, I Ride I Recycle. Now, the discarded decks get shipped to Art of Board in Pennsylvania and he uses sanders, scrolls, band saws, and routers to create tiles from them. They get a second life as vibrant, colorful mosaics.
French designer and paper artist Floriane Touitou didn't follow the conventional artisan path. No. She spent years in rigorous academic study, earning her PhD in physics in 2012. During a post-graduation trip to Japan, she realized that she needed to change her life, and she channeled her love of science and handcraft into the construction of some of the most amazing origami you have ever seen. She has been folding origami from the time she learned about it at the public library during her childhood. It's her passion. She designs most of her animals independently, but does on occasion work with other origami makers, like Ross Symons.