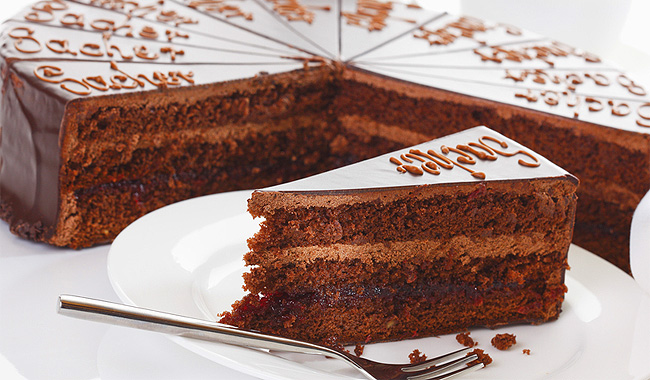 Not to be the bearers of bad news, but it turns out America is no longer the best in the world at what it does best (namely, eating too much). For years, Americans ate more than any other people on Earth, but recent studies show that American caloric intake has actually decreased and, somehow, the country that invented deep-fried butter has been surpassed by a small handful of other nations.
The new No. 1 glutton in the world? Austria, whose citizens consume a whopping 3,769 calories per day according to a study from eating addiction treatment provider Recovery Brands.
Austria isn't known for their triple-fried fair foods or hot dog-infused pizza crusts, so how have they managed to surpass American eating ingenuity? With ultra-rich comfort food classics. Austrians love their desserts, and a lot of old-school Austrian sweets pack crazy amounts of calories and fat. Here are a few Austrian desserts that may explain the country's world-conquering caloric intake, compared to their closest American-invented equivalents:

Apple Strudel vs. McDonald's Hot Apple Pie
The most iconic Austrian dessert of all (besides beefcake, of course), is your basic apple strudel, which delivers around 450 calories and 19 grams of fat per serving. The obvious comparison would be good ol', homemade American apple pie, but let's be honest, nobody's got time to make that anymore, so we'll compare it to a McDonald's hot apple pie, which packs 250 calories and 13 grams of fat.
Sachertorte vs. Deep Fried Oreos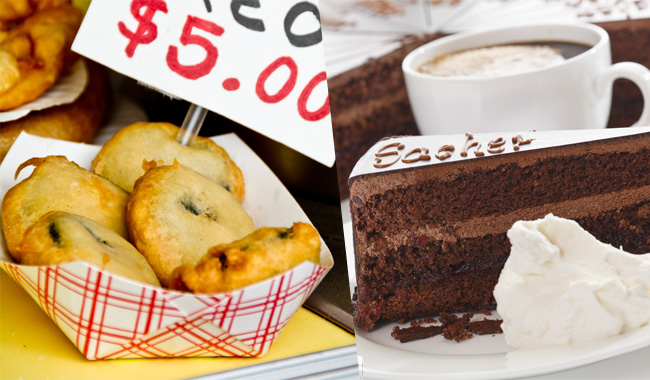 The second most famous Austrian dessert is Sachertorte, a dark chocolate cake with apricot filling. A single conservative slice will set you back 450 calories and 20 grams of fat. We'll compare the Sachertorte to America's finest chocolatey dessert, the deep-fried Oreo. A serving of five battered, fried Oreos pack around 400 calories and 19 grams of fat (although, who stops at five Oreos? No one. You stop when you feel chest pain.)
Topfenpalatschinken vs. Twinkies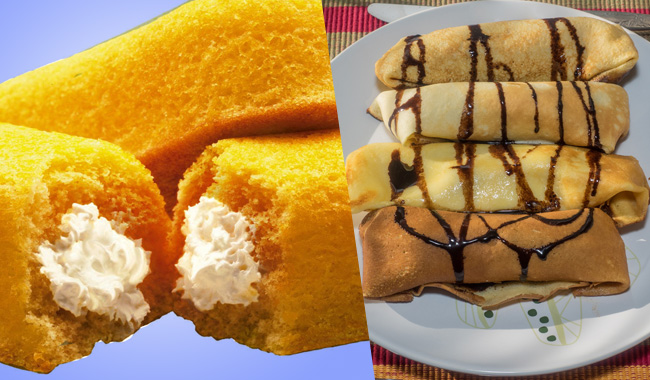 How do Austrians get anything done when every third word has seven syllables? Topfenpalatschinken are sweet crepes, filled with soft cheese and usually covered with some sort of sauce or syrup. A serving is 660 calories and 33 grams of fat. For comparison, we have America's finest cream-filled confection, the deep-fried Twinkie, which are 360 calories a piece, virtually indestructible, delectable, and a lower fat option when compared to a Topfenpalatschinken.
Of course, Austrians eat things other than desserts. Sometimes. So let's try a savory comparison…
Wiener Schnitzel vs. The American Thickburger
The national dish of Austria, Wiener Schnitzel, is a cutlet, typically made of veal, pounded thin, breaded and deep-fried. A single 100 gram serving delivers a whopping 750 calories, and if you've ever gone out to the schnitzel house, you know no self-respecting Austrian would ever serve you a measly 100 grams of meat. (Schnitzel houses make it rain pounded deep fried meat, son!) Most meals usually include two schnitzels, or one giant one, so you can probably double the number of calories to 1,500 (before your heaping side of spaetzle).
We'll pit this against the ultimate American savory creation, the Hardee's American Thickburger (y'know, the one with chips and hot dogs inside) which weighs in at 1,120 calories and comes with a side order of gun-shootin', eagle-huggin' American pride.
*        *        *
These are, of course, very specific comparisons – America still has foods that could blow anything the Austrians have away, right? Can anything stand up to a good, old-fashioned American funnel cake? Well… yes, since funnel cake has Germanic roots, the Austrians surely have their own version. Though we doubt if they're at the deep-frying-their-lattes-level just yet.
Oddly, Austrians still rank well below Americans in obesity — so while they're shoveling in the calories, they're also burning them away somehow. Worth noting.
via Recovery Brands