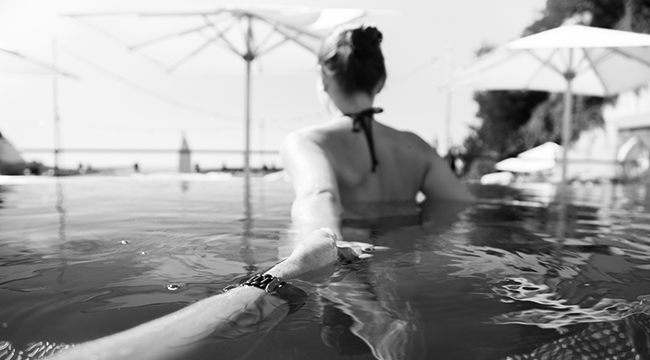 With Black Friday upon us, there's going to be a lot of travel booking going on — as flight prices go on sale for trips around the world. If you end up booking a flight, you're also going to need a rad hotel for that dream trip. We've got you covered.
Below is a roundup of some of the best hotel, resort, and hostel deals available during Black Friday 2018. It's also worth noting that there'll be smaller properties popping up sales all day. So don't hesitate to look up your favorite property (especially on social media) and see if it's on sale.
50% OFF LA COLECCION RESORTS MEXICO
La Coleccion has 13 resorts across Mexico. They're the epitome of luxe accommodations with killer dining options, plenty of space for a little self-care, and everything you could want from a top-end resort.
They're offering 50 percent off their standard rates if you can book by the end of Friday. You'll need to travel between now and December 23, 2019.
64% OFF SOLMAR HOTELS & RESORTS
Looking to hit Los Cabos in the lap of luxury? Solmar Hotels & Resorts has seven all-suite properties that'll provide you with every detail, amazing food, and luxury you can dream of. You have until November 26th to book this deal. You'll have to travel between now and December 26th, 2019.
40% OFF DESTINATION HOTELS
https://www.instagram.com/p/BnOpyAkhP13/
Destination Hotels has the largest collection of independent hotels and resorts across America. Their locations are boutique experiences that'll allow you to really take a deep dive into a location, from the Colorado Rockies to the forests of New England to California beaches.
You'll be able to score 40 percent off all rates until next Monday, as long as you're willing to travel anytime between now and next December.
Destination is also running a sweepstakes. You can enter to win a free three-night stay at their Aspen, Colorado, property with a $500 flight voucher. Enter here.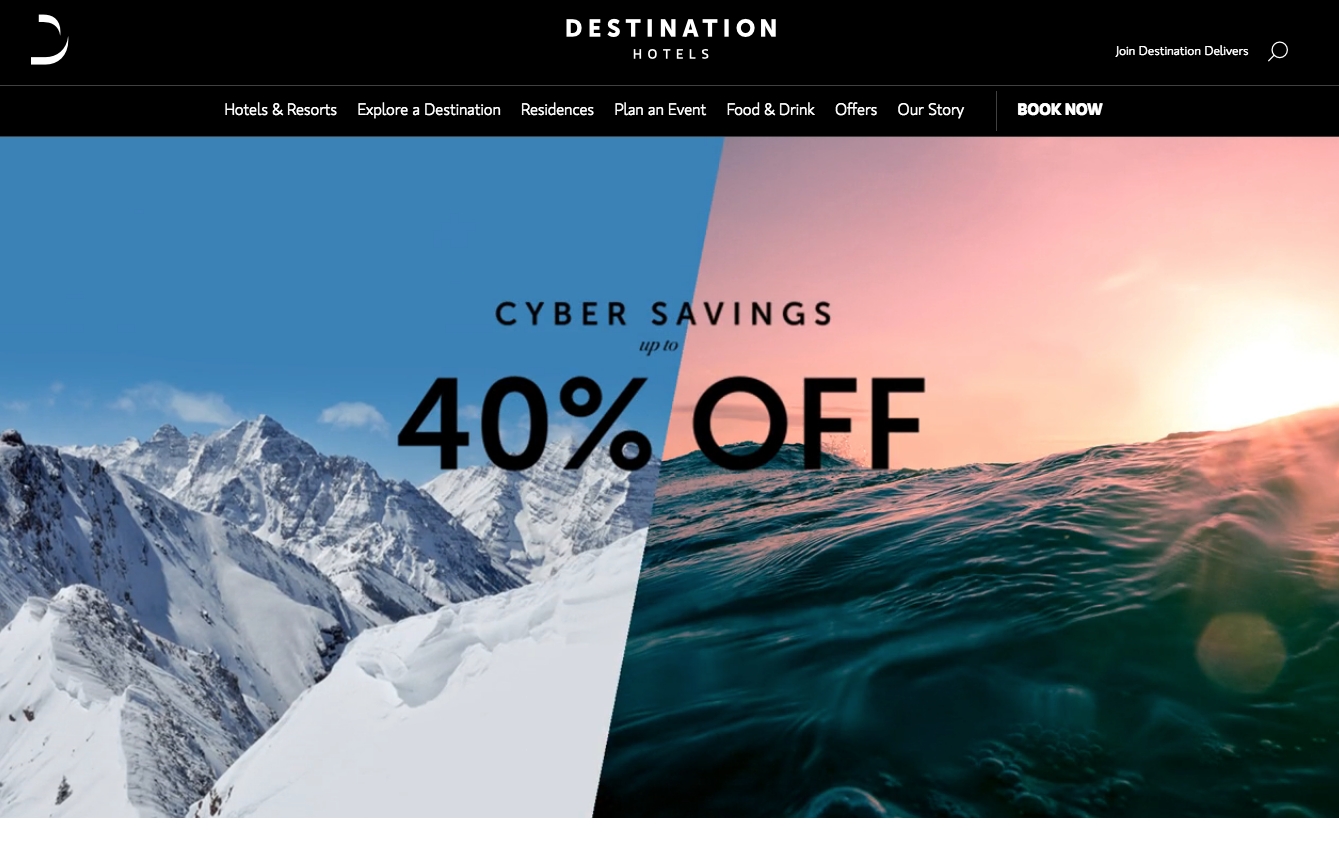 GENERATOR HOSTELS
Generator runs some of the dopest hostels on the planet. Their 14 properties range all over Europe and the U.S. They're running a sale that'll save you 25 percent if you book two or more nights at any property.
Theoretically, you can save that 25 percent on every place you stay on a European vacation if you time things right. That's a great saving.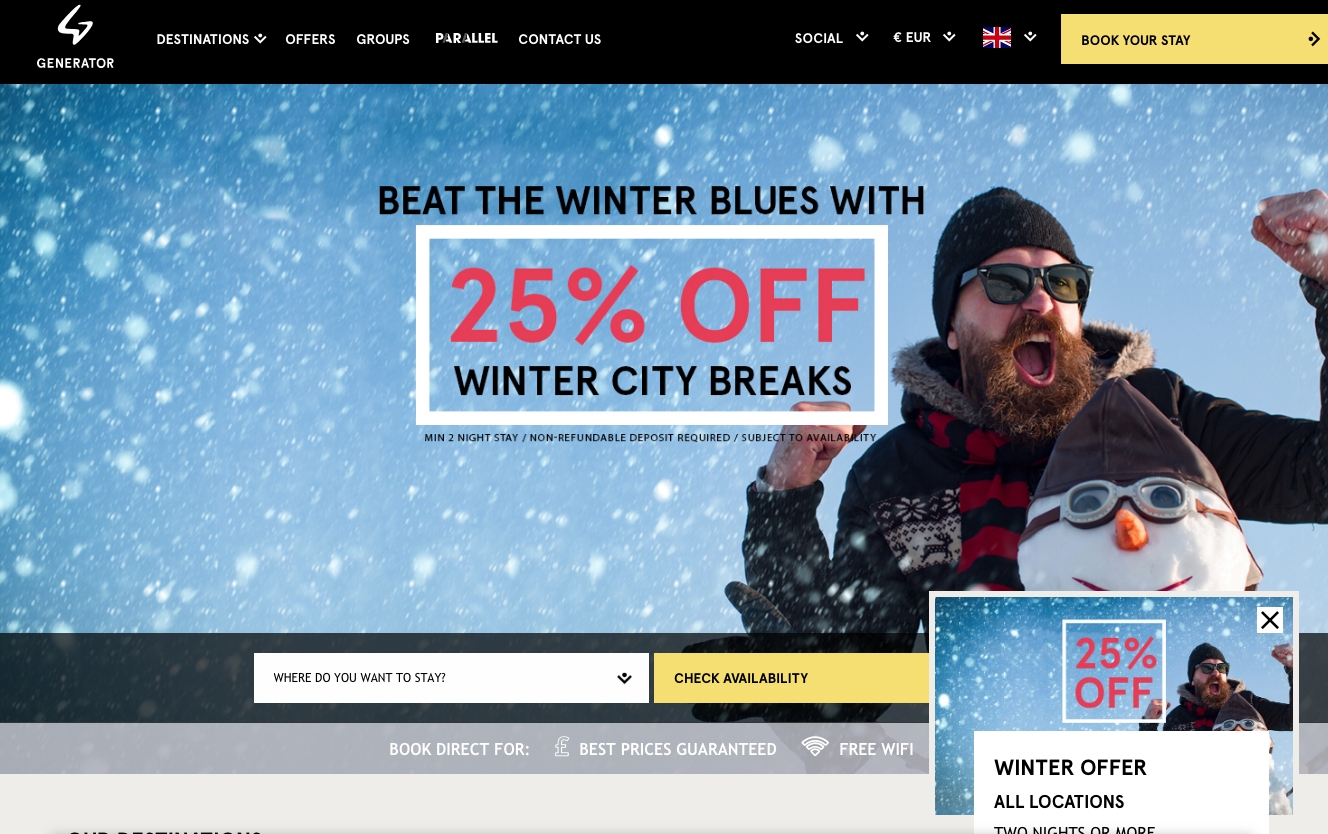 25% OFF KIMPTON HOTELS
Are you an IHG Rewards Club member? Sign up, it's free. Now, that you're a member, you can score 25 percent off rates at all the Kimpton Hotels. The boutique branch of the Inter-Continental has a chill vibe with international hotel service. It's can't be beaten. You'll need to book by Monday and travel before March 2019.
25% OF HILTON HOTELS
Hilton is running an over-all winter sale on their hotels across Europe, The Middle East and Africa. You'll need to join Hilton Honors to receive the discount. Again, this is free.
Right now, you can get 25 percent off their room rates. You have until January to book and you'll need to travel before mid-May 2019.
40-50% OFF PROVENANCE HOTELS
Provenance Hotels offer some of the hippest venues from Palm Springs to Portland to Seattle to New Orleans. Their hotels are experiences and geared towards making sure you have a killer time.
If you can book before Monday night, you can score up to 50 percent off their room rates. You'll need to travel by February 2019. Use code "CYBER" when booking.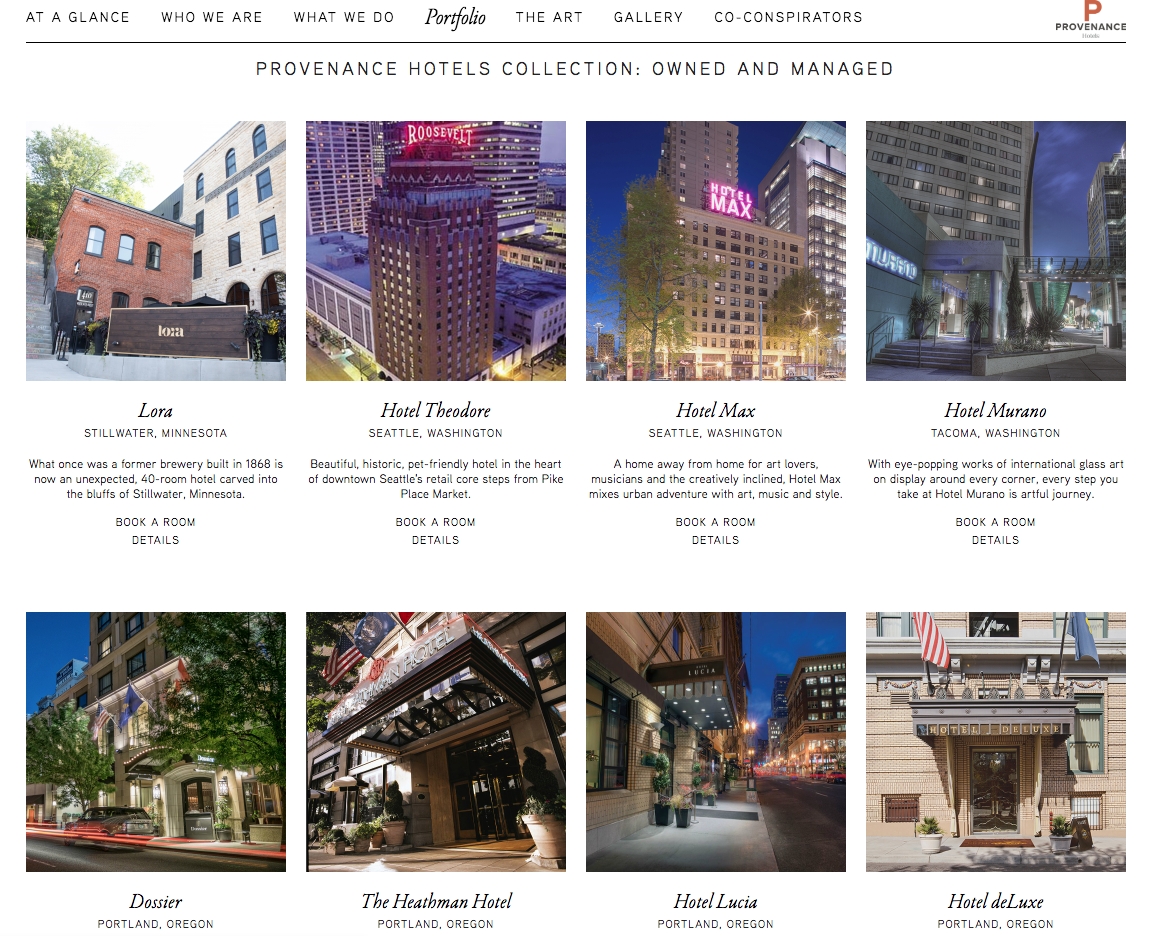 50% OFF B HOTELS & RESORTS
B Hotels & Resorts is a small five-property collection of gorgeous resorts across Florida, Georgia, and Louisiana. You'll be able to score 50 percent off their rooms between Friday and Monday this year. You'll need to use the code "BCYBER" to hook up this deal.
50% OFF SHANGRI-LA HOTELS
Shangri-La runs some of the most luxurious hotels in the world. This is high-end living, dining, and relaxation from Dubai to Mumbai to Singapore.
Basically how this one works is that you'll receive 50 percent off your booking as a resort credit to spend on spa or dining experiences at one of their luxe properties. You'll need to book by November 30th and travel between May 1st and September 30th next year.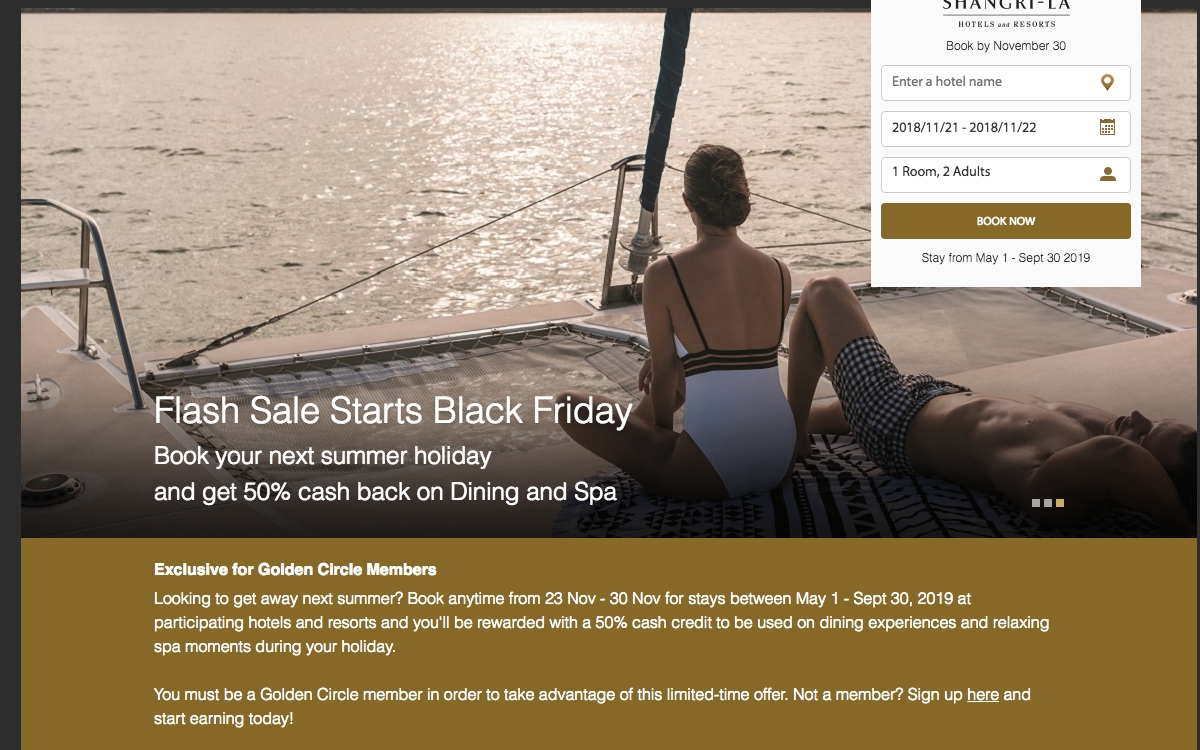 30-57% OFF BARCELO HOTELS
Barcelo runs luxury hotels from the Mexican Riviera to the Caribbean to North Africa, Europe, and the Middle East. Each of their properties is a luxurious experience that'll leave dreaming of coming back for more.
Their deal will get you anywhere from 30 to 57 percent room rates, depending on the location. Travel dates vary by location.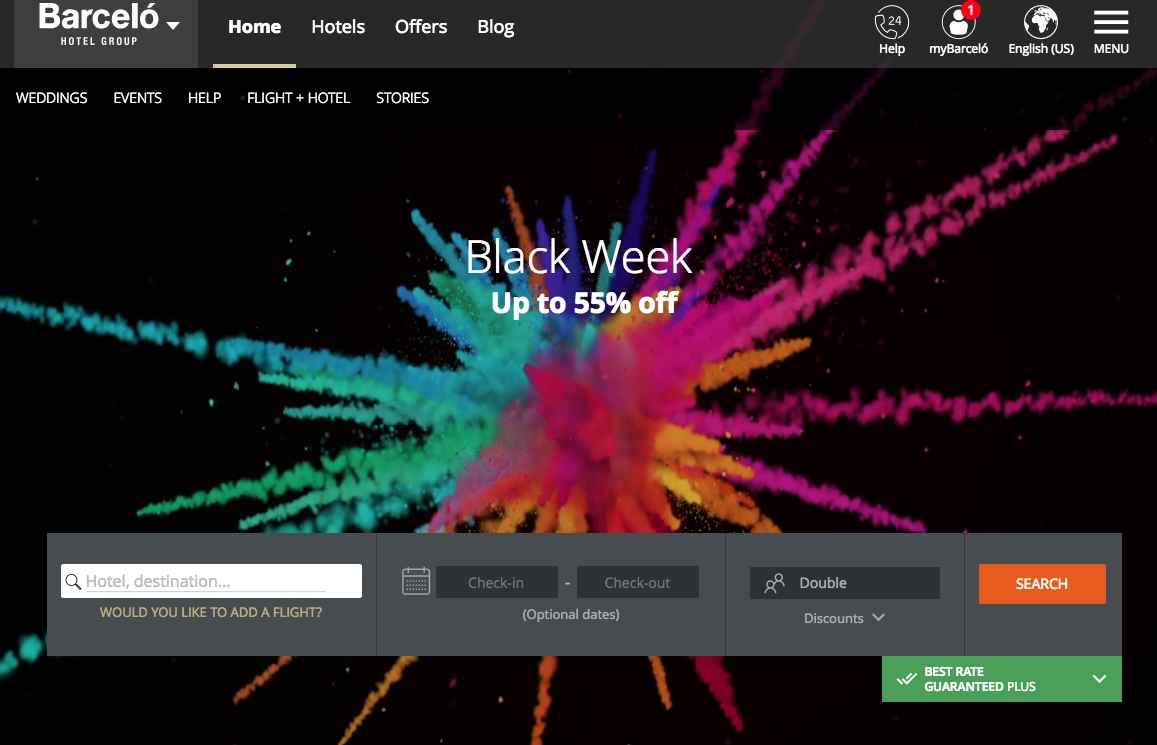 50% OFF DESIRE RESORTS, CANCUN, MEXICO
Desire Resorts are the couples only retreats in Cancun where clothing is optional and sex is very much encouraged. The whole place is themed to get you in the sack whether you're on the private beach or giving each other an erotic massage in the spa.
They're offering 50 percent of their standard rates on stays of three days or more during the whole of 2019. Book by Monday.
60% OFF TEMPTATION RESORT, CANCUN, MEXICO
Temptation, like, Desire, is all about having sexy good times. The singles and couples resort is geared towards luxury and hedonism, which equate to one hell of a party.
The Secret Sale offers 60 percent off room rates. It starts Friday and ends at midnight on Monday for travel throughout 2019.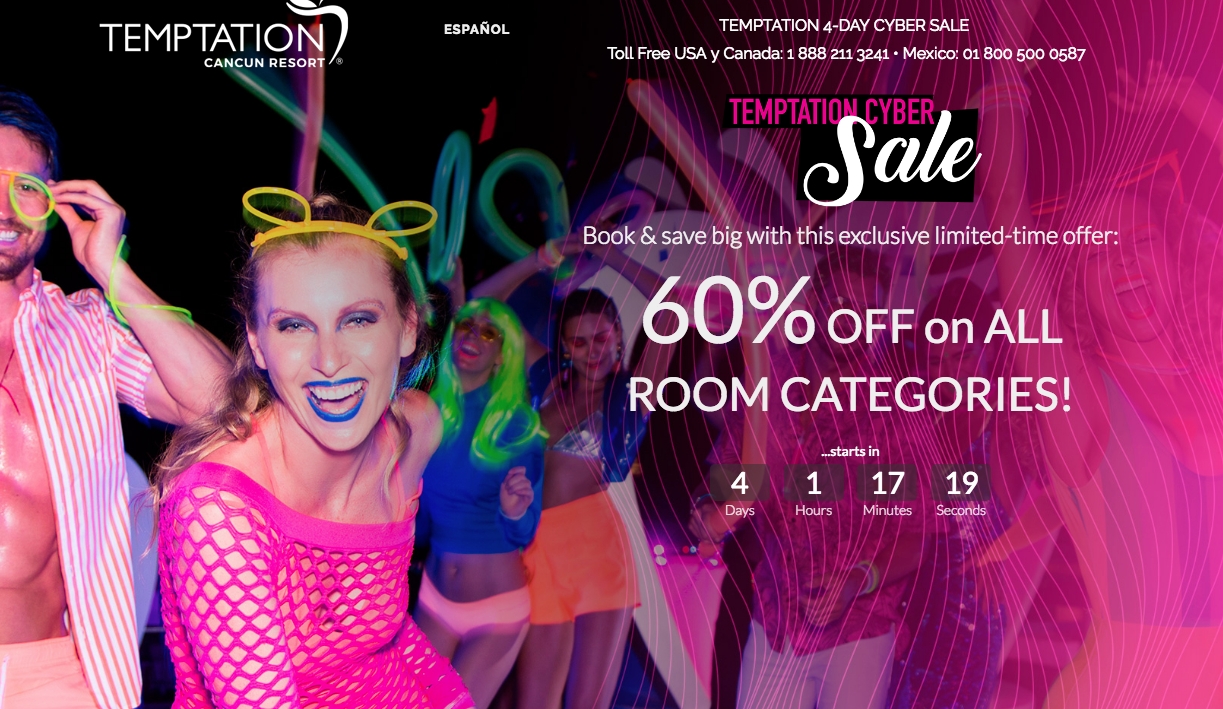 SANDALS THANKSGIVING SALE
Sandals has a very strong draw. You rock up and you do you. Feel like chilling at a bar all day, sipping on rum, and playing backgammon? You're good to go. Want to party all night until the sun comes up? You're good there too. Fancy eating at a high-end restaurant twice in one night? You totally can.
Right now, Sandals is offering a $1,00 resort credit which you can use towards spa treatments and any add-on excursions you want. You can also get one night free and up to 65 percent off rack rates if you book in the right window. You have until the end of Friday to book.
40% OFF JW MARRIOTT MIAMI TURNBERRY RESORT & SPA
Looking to hit up Miami next year? JW Marriott Miami Turnberry Resort will let you roll in in style. The plush resort has a killer discount of 40 percent off regular rates if you stay two nights or more. You'll have to book by the end of the day on the 26th and travel between November 27th and November 3rd, 2019.
20% OFF THE CURTAIN HOTEL & MEMBERS CLUB, LONDON
The Curtain Hotel is a destination in-and-of-itself in London with a chill bar scene and a restaurant from star chef Marcus Samuelsson. This is a dope place to crash, be seen, and have a great time in London without having to leave the hotel.
You can get 20 percent off their best room rate starting on Thanksgiving Day until Monday night. You can travel over Christmas or pretty much anytime in the first four months of 2019.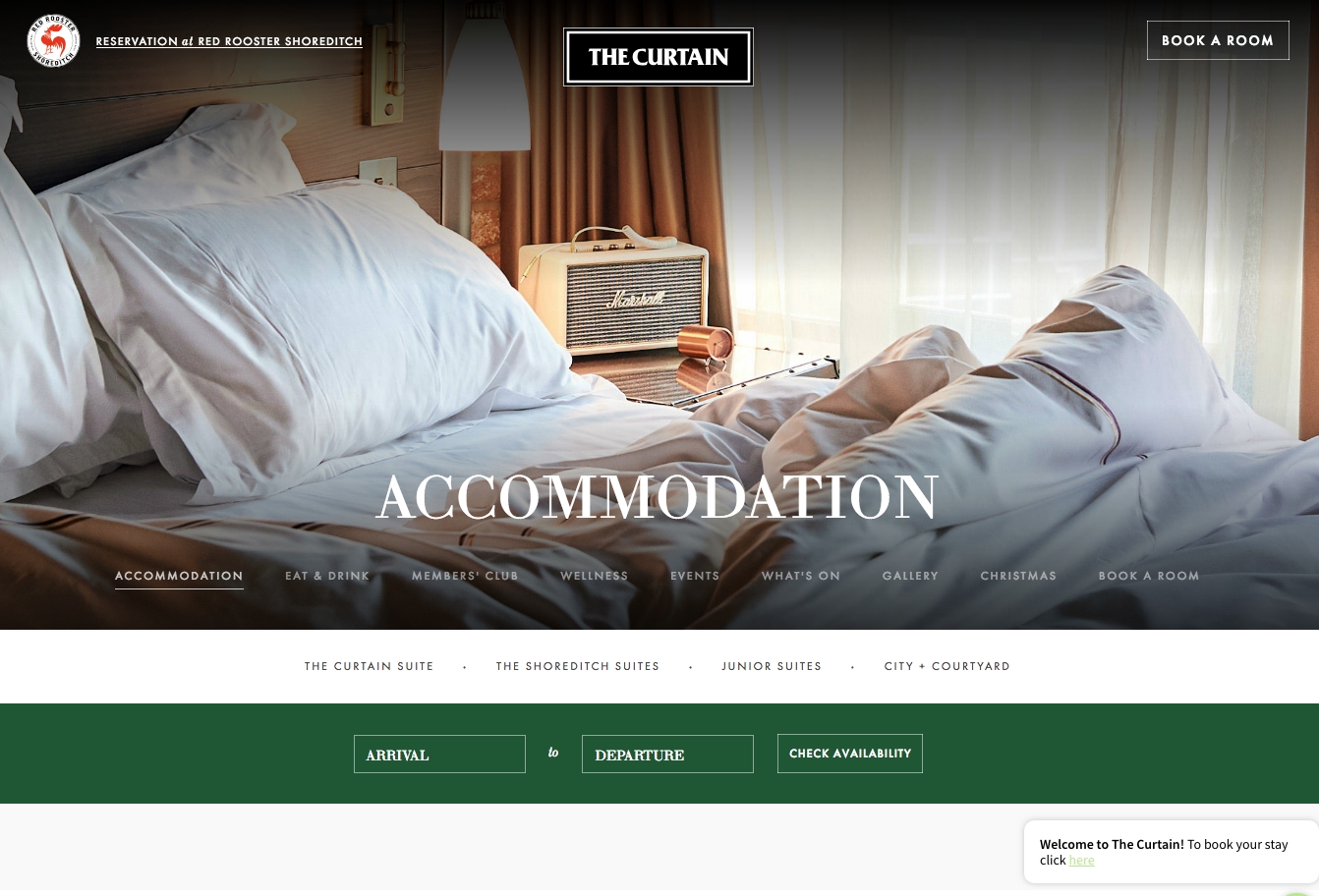 50% OFF THE ASBURY HOTEL, NEW JERSEY
If you're looking for that Springsteen rock 'n roller vibe in New Jersey, then look no further than The Asbury Hotel. The property blends Victorian-era industrial bones with a modern rock and luxe aesthetic to bring you one hell of a hotel.
You'll need to pull the trigger on this by Sunday night. You'll have to travel before May 23rd. Use code "CYBERSTAY" when you book.
25% OFF LADERA RESORT, SAINT LUCIA
Saint Lucia is straight up paradise. The Caribbean island is the perfect escape any time of year but especially when the streets back home are piled high with snow. Ladera Resort is offering a 25 percent discount if you book by Monday night. You'll have to travel by June 30th, 2019, and book at least three nights.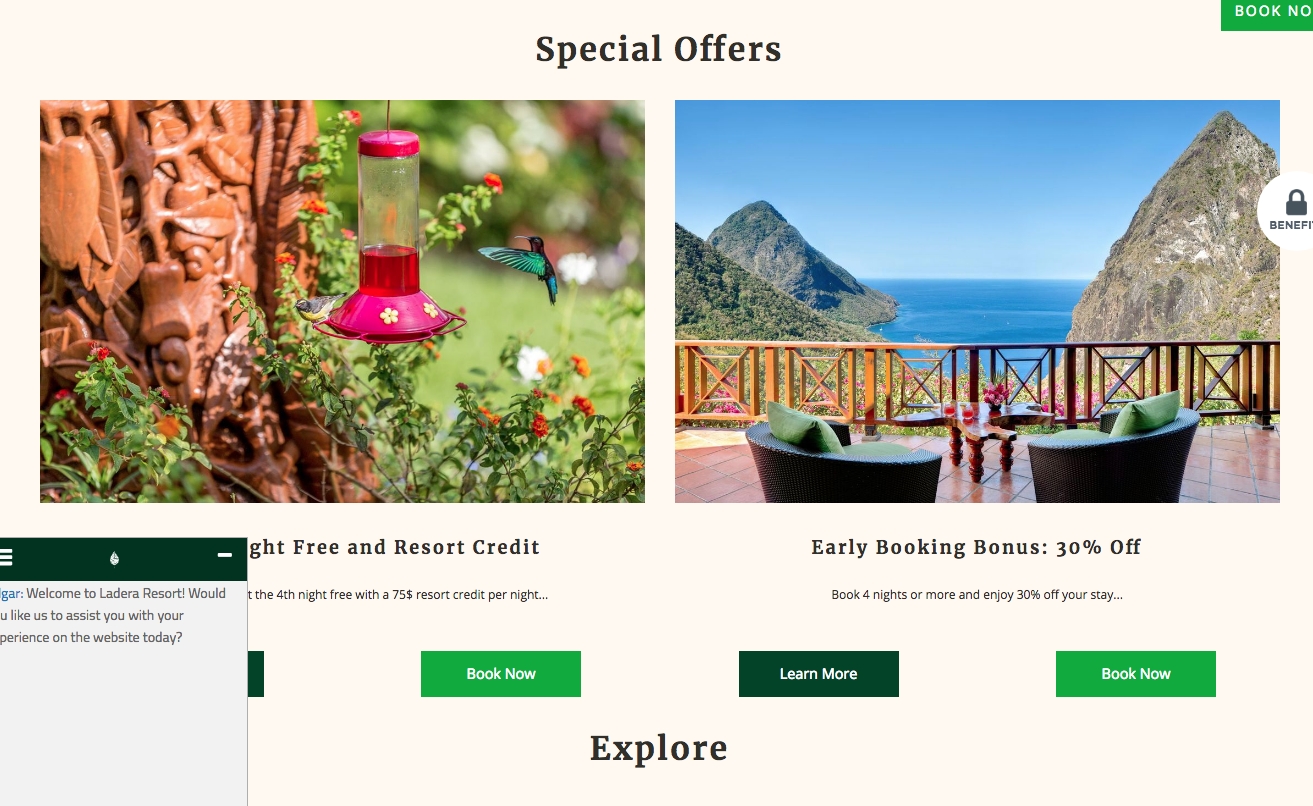 40% OFF INNSIDE BY MELIA NEW YORK
INNSIDE by Melia in New York is a boutique hotel experience that matches the hipness of the city. The rooms are comfy and chic. The bars are on-point. The vibes are chill.
If you can book by Monday night, you can score a 40 percent discount. Thing is, this one is only good for travel between December 16th to 27th. So, if you're planning on hitting the Big Apple for Christmas, this is your play.
40% OFF THE WATERGATE HOTEL, WASHINGTON, DC
Yes, it's that Watergate. Who doesn't want to stay in a place history was made — the sort of history that legit toppled a U.S. president no less.
You can steal a 40 percent discount at The Watergate if you can book between now and Monday night. You'll be able to stay pretty much any night until March 31st, 2019. Use code "CYBERM" when booking.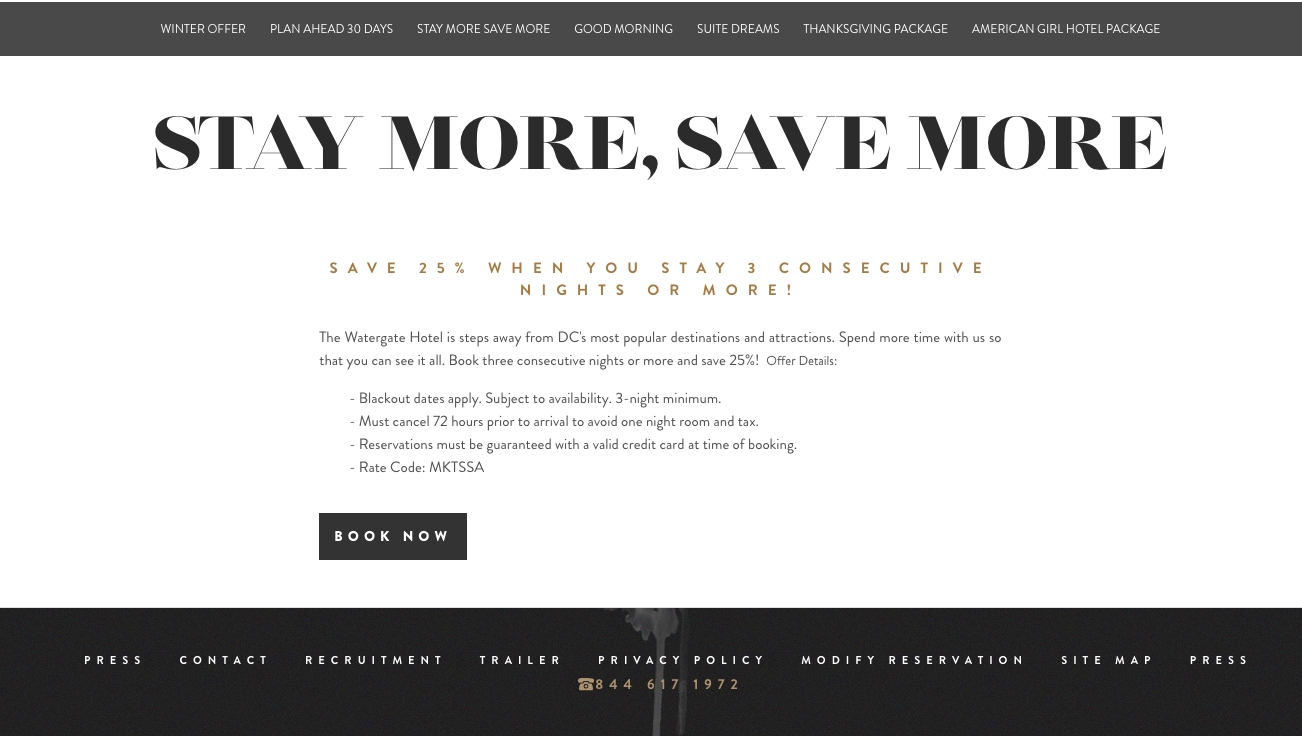 60% OFF GRAND ISLE RESORT & SPA, BAHAMAS
This is a seriously great discount. 60 percent off anything almost always warrants a buy. Grand Isle Resort & Spa in the Bahamas is a plush spot where your every vacation-focused whim will be met without question. Go! Soak up that sun and chill out on a white sand beach.
You'll need to book before the end of Monday night and travel on specific dates for the rest of 2018 and throughout 2019.
35% OFF NIZUC RESORT & SPA, MEXICO
Down Mexico way, NIZUC Resort & Spa is taking post-modernist luxury to all new levels. Their Black Friday and Cyber Monday deal will shave 35 percent off room rates and includes free breakfasts during your stay. The Mayan Riviera is beautiful year round and this deal gives you all of next year to find out for yourself.
25% OFF JACKSON HOLE LODGE, WYOMING
Spending time in the wilds of Grand Tetons and Yellowstone is a great idea any time of year. Jackson Hole Lodge offers a true lux cabin experience with great food, lodging, and nature right outside your door.
You can score a 25 percent discount between now and Monday. You can travel between now and December 2019.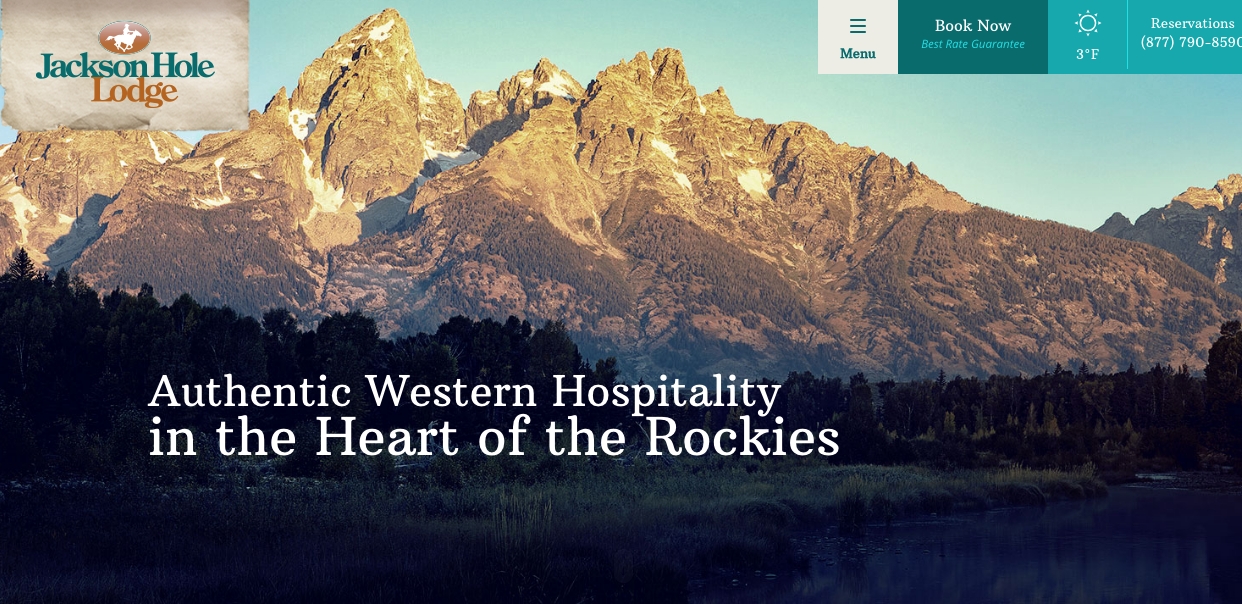 40% OFF THE WILLIAM VALE, NEW YORK
Brooklyn's The William Vale is a fantastic hotel that'll give a spectacular view of the Manhattan skyline every night. The hotel is well-appointed and worth every penny if you're in New York anytime between now and the end of March next year.
You'll be able to get a 40 percent discount between now and Monday night. Use code "CYBER18" when booking.
HOTWIRE BLACK FRIDAY SALE
Have you downloaded the Hotwire app? You can right now for free! Get the app so you can save $10 off $100 hotel bookings, $40 off $300 hotel bookings, and $75 off $500 hotel bookings. Use code "TREATYOURSELF" when you're booking.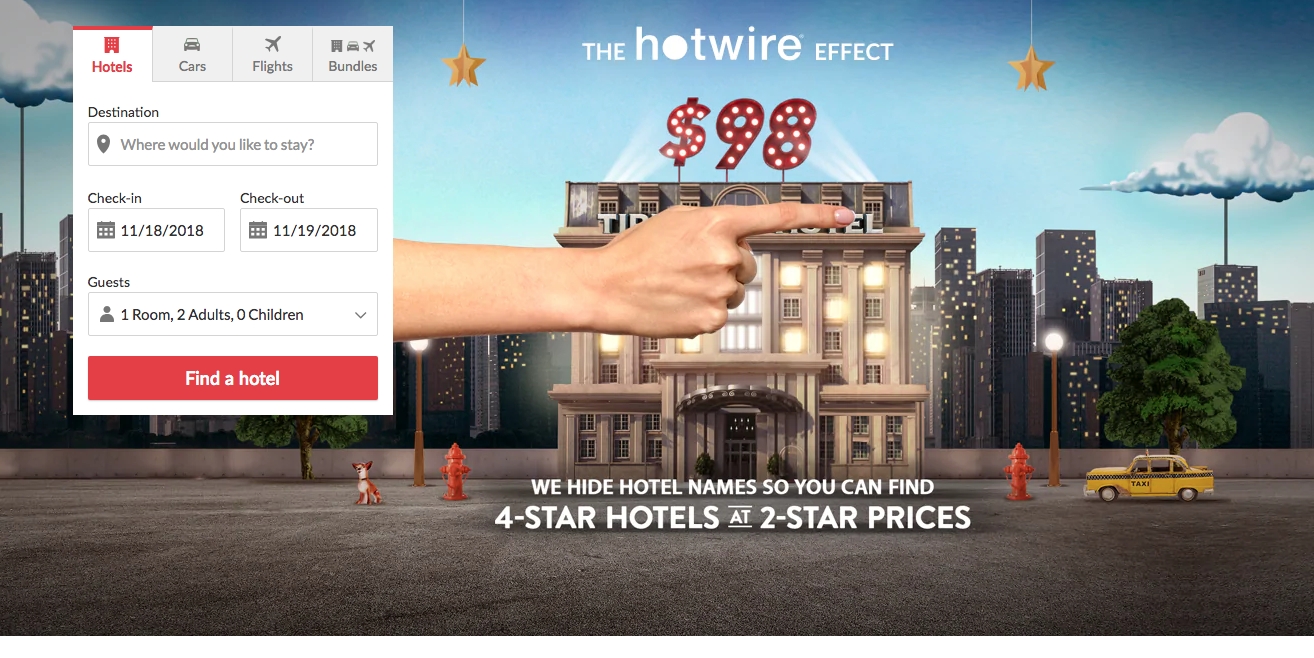 40 to 50% OFF AT HOTELS.COM
Hotels.com is a great source for finding cheap accommodation all over the world. This Cyber weekend expect to see steep discounts on hotels across the board, with up to 50 percent off per booking.
EXPEDIA BLACK FRIDAY DEALS
Expedia is offering a coupon on select hotels booked through their website. You'll get 75 percent off your booking which is about as good as it gets without being straight up free.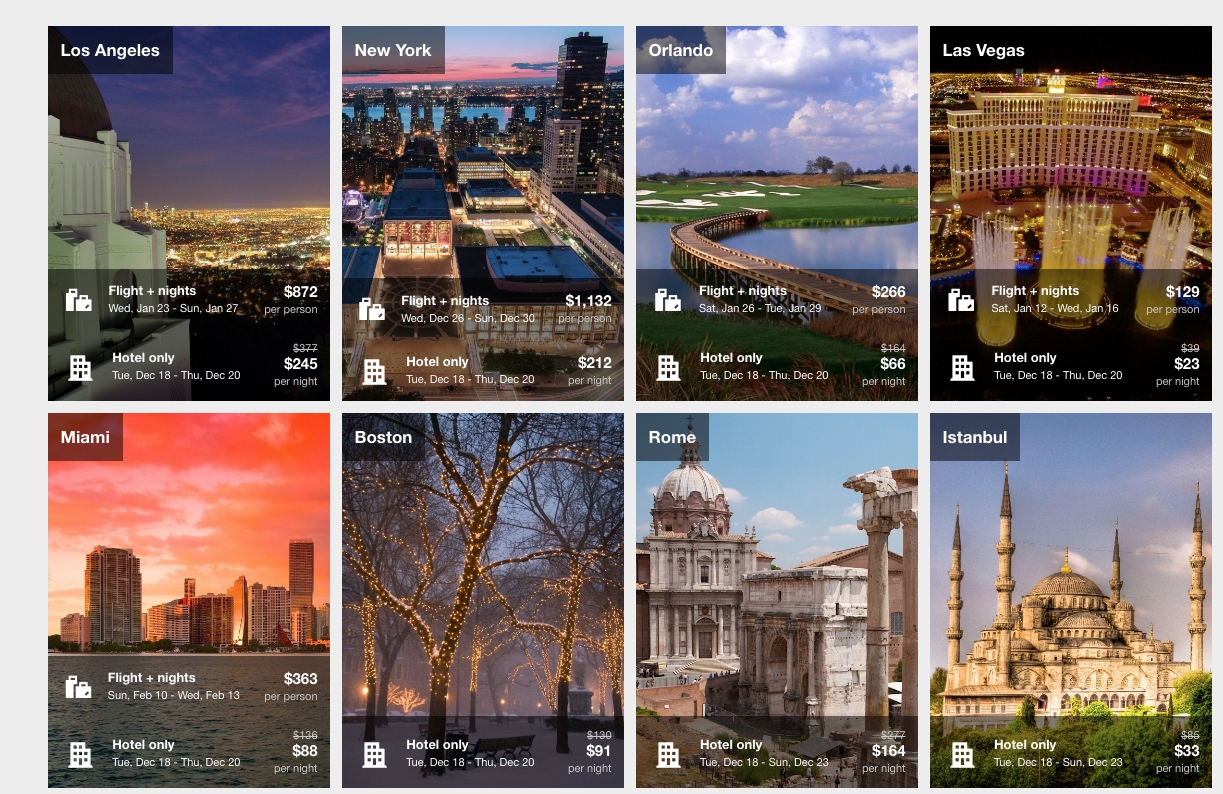 KAYAK BLACK FRIDAY DEALS
Kayak is offering great travel deals across the board. Currently, they're running 37 hotels with up to 70 percent off the listing price. You're going to be hard-pressed to find a better sale. And, don't forget to keep checking back in over the weekend as new sales pop up.
40% OFF BOOKING.COM HOTELS AROUND THE U.S. & CANADA
Booking.com is a great place to find inexpensive digs for your travel dreams. Over the Black Friday and Cyber Weekend, they'll be pinging U.S. and Canadian hotels with 40 percent discounts. This is one you'll have to shop but you'll likely hit the jackpot on at least one awesome hotel.