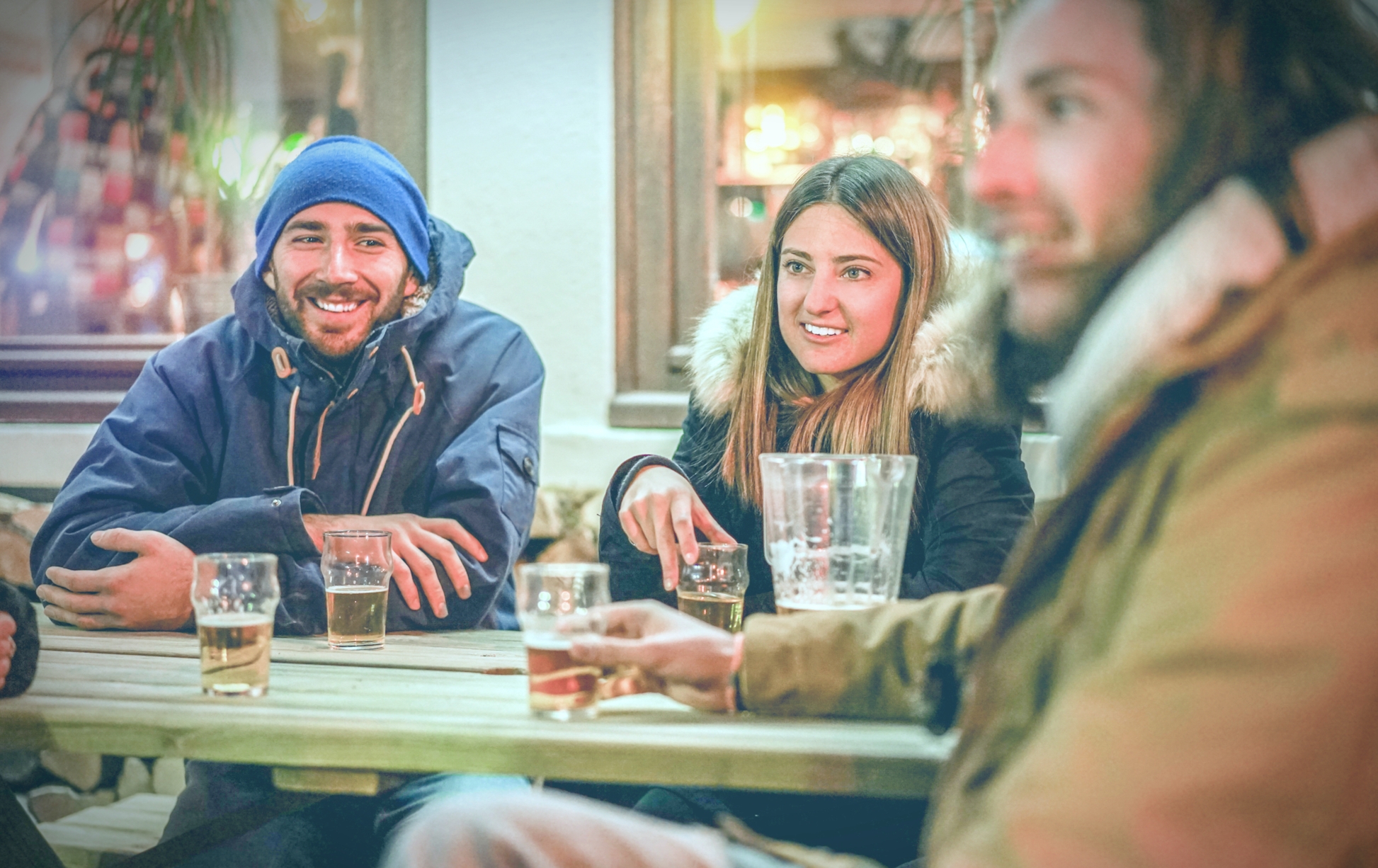 December is here and that means it's time for winter spiced beers and all those dark ales that are famous for keeping you warm when the snow starts to fall. This is the time of year to indulge and that means drinking the best beer you can find — high-quality brews with that little push of extra complexity, bringing a deeper flavor and feel.
Below, we've compiled a shortlist of some of the best beers being released and available this December. Some of them are easier to find and have larger distribution; some of them you'll have to travel for and do a bit of sleuthing to uncover. A good beer is always worth the effort! Happy hunting!
WILD CHRISTMAS ALE WITH BLACK RASPBERRIES — UPSLOPE BREWING COMPANY
We'll never get enough of Colorado's Upslope around here. That's in no small part due to their innovative nature, which is anchored in quality over all else. Their Wild Christmas Ale is the latest installment of the brewery's Lee Hill Series. The beer was aged for ten months in Leopold Bros. Maryland-Style Rye Whiskey barrels and refermented with 1,000 lbs of wild black raspberries. It's a sour bomb with hints of American oak, jam, and red wine.
It's also heavy hitting with an 8.7 percent ABV, making this a beer to drink all December long as you prepare to hibernate.
WINTER — ALASKAN BREWING CO.
Alaskan brews its beers with glacial water from the Juneau Ice Field, which is cool all by itself. Their Winter is an English Olde Ale which means you should expect more malt and fewer hops. It's a warming and toasted beer that leaves the bitterness on the backend. The addition of Spruce tip to the hopping adds an extra dimension of earthiness that's deeply satisfying without overpowering the other components.
ASTOUNDING ENTERPRISES — ALMANAC BEER
Up around the Bay Area, Jesse Friedman and Damian Fagan and making magic happen one barrel at a time — brewing some special beers that'll change the way you think about sour American ales, and adding a "farm-to-barrel" ethos. Astounding Enterprises is a great introduction beer to the brewery. The imperial sour ale was barreled with merlot grapes, raspberries, cacao, and vanilla beans, giving it a real winter feel.
The 9.2 percent ABV gives a nice kick that'll pair nicely with all those heavy December meals you'll inevitably be eating.
CHRISTMAS BOMB! — PRAIRIE ARTISAN ALES
Oklahoma's Prairie Artisan Ales keeps hitting it out of the park with their tasty, well-barreled ales. Their Christmas Bomb! is no different. The heavy-hitting imperial stout is aged with cinnamon, coffee, chocolate, vanilla, and chilies giving it a distinctly wintry vibe with a hint of spice in there to warm you up.
It may be easier to track this one down up and down the east coast, but it's worth the search if you're west of the Rocky Mountains too.
ACCUMULATION — NEW BELGIUM
The brewers at New Belgium went the opposite direction with their winter ale. Instead of dark and stormy, they went light and white. Their Accumulation White IPA is an IBU heavy beer that mellows out with the addition of wheat — hence, "white." The beer is reminiscent of the Belgian Whites with a much more American IPA feel, thanks to a resin-heavy hop bitterness. You'll be able to snag these from sea to shining sea all month long.
GOUDEN CAROLUS CHRISTMAS — BROUWERIJ HET ANKER
https://www.instagram.com/p/BST_w-mgPCF/
Indulgence time. Head down to your local beer shop and snag a bottle of this Belgian delight. Gouden Carolus Christmas is brewed in August specifically so that it can rest with six different winter herbs and spices to reach perfected heights every December. It feels like a delicious Christmas pudding in beer form, with a hard-hitting 10.5 percent ABV. There's a slight hop bitterness under the sweet roasted malts that brings a beautiful balance to the ale.
This is Christmas in a bottle and should be available everywhere good beer is sold.
N'ICE CHOUFFE — BRASSERIE D'ACHOUFFE
Chouffe makes some great beer in Belgium. Their winter ale, N'Ice Chouffe is a warming and glowing beer that hits the mark this time of year. Expect there to be a significant amount of peppery and herbal spice along with characteristic Belgian yeast tartness. This one is strong and will get there alcohol-wise with a hefty ten percent ABV.
It's a wintry delight and well worth the search.
AECHT SCHLENKERLA RAUCHBIER URBOCK — RAUCHBIERBRAUEREI SCHLENKERLA
This one is a bit of a wildcard. First, it'll only be available at higher-end beer shops and liquor stores, so you'll have to dig around for it. Second, it's an acquired taste (one that's worth acquiring this time of year). Aecht Shenlenkerla Rauchbier will hit you like swallowing fireplace smoke… but in a nice way. There's also an almost fatty, bacon edge going on in the suds which is shockingly addictive. Then there are hints of spice, sweet malt, and echoes of hop bitterness making this one complex and deliciously unique.
It's the perfect winter beer for sitting next to a crackling fire while eating some spicy, cured meats.