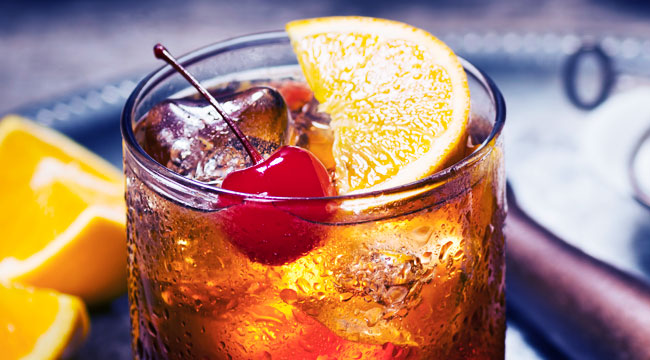 The whiskey sour is one of the most beloved of all the classic cocktails. It's simple and delicious; the kind of mixed drink we never get sick of. Made with whiskey (usually bourbon), sugar, lemon juice, and sometimes whipped egg whites, this cocktail is perfect for before dinner, after dinner, and late-night revelry. In a time crunch, it can be made by mixing whiskey with sour mix, but you'll enjoy it much more with fresh ingredients.
Uproxx's editorial director for LIFE, Steve Bramucci, considers himself a sour aficinado so we asked for his recipe. He was all too willing to comply.
.75 oz Lemon juice. .75 oz Simple syrup. Two oz bourbon whiskey. One egg white. Shaken without ice, then shaken with ice. Strain over ice. Garnish with a luxardo cherry and the tiniest bit of luxardo syrup (from the cherry tin) dotting the egg white foam. Done and Done.
Since August 25th is National Whiskey Sour Day, we decided to ask some of our favorite bartenders to tell us their favorite whiskeys to use to mix up this timeless drink. Check out their answers below.
Medley Brothers Bourbon
Constantin Alexander, director of beverage at Hakkasan in Las Vegas
Whiskey Sours need a high proof whiskey to punch through the flavors of the drink. For this purpose, I have been using Medley Bros bourbon lately. It's the perfect fit.

Rittenhouse Rye
Daniel Condliffe, bartender at JSix in San Diego
Not being a big fan of sweet personally I love the spice in Rittenhouse rye. It's got a nice bit of heat in the proof and strong flavors of rye that stand out well in a sour.
Jack Daniel's Tennessee Whiskey
Laura Mitchell, bar lead at BEER PARK in Las Vegas
Jack Daniel's is my go-to whiskey for sours. They pair well because the Jack has that bitter bite, while the sour also has a bitter, but sweet, taste.
James E. Pepper Rye
Ilan Chartor, spiritual advisor at KYU in Miami
My favorite brand of whiskey to mix with a whiskey sour would be James E. Pepper Rye. I like my sours a little spicy. JEP rye isn't so hot that it overpowers the other flavors. It's a great cocktail whiskey.
Old Grand-Dad Bonded
Erick Castro, co-owner of Raised By Wolves in San Diego
I know that this bourbon gets overlooked a bit too much, but I am fan of Old Grand-Dad 100 Proof. It is high ABV enough to shine no matter how much sugar and lemon juice that you throw at it yet is still polished enough to sip alongside a cold beer when you are not in the mood for a cocktail. Plus, the bottle is ridiculously affordable when you can find it.

High West American Prairie Bourbon
Phil Testa, beverage manager at The Rickey in New York City
When I want whiskey, I go straight to a sweet whiskey to help balance the tartness of the sour. A great one to use is the High West American Prairie Bourbon. It's a blend so there's a hit of spice notes to it from the rye as well.
Wild Turkey Bourbon
Eva L. Caló, head bartender at Officine Buona Forchetta in San Diego
My go-to whiskey would be Wild Turkey. It's a great value for the money, it's smooth and it's just perfect for a whiskey sour.
Maker's Mark Bourbon
Darren Fabian, national beverage manager for Moxie's Grill & Bar
I'm a big fan of Maker's Mark. I also like to make my whiskey sours with bourbon and egg whites, and I find it has enough sweetness to stay balanced.
Blanton's Bourbon
Lamarr Hawkins, taproom manager at Brooklyn Cider House in Bushwick, New York
Blanton's Bourbon-Whiskey is my go-to for making whiskey sours. The whiskey has a caramelized rich body to it which pairs well with any fresh citrus. The contrast really pops!
Russell's Reserve 6 Year Rye
Josh Cameron, head bartender at Boulton & Watt in New York City
I love using strong ryes in whiskey sours. If I can, I grab Russell's Reserve 6 Year Rye. It balances the sour and sweet perfectly, and when done classically-with an egg white (yes, kind reader, we don't all use the sour-gun), the consistency is perfect.
Journeyman Last Feather Rye
Sarah LM Mengoni, bartender at Double Take in Los Angeles
I love Journeyman Last Feather Rye in a whiskey sour. It has a high enough alcohol content to not get lost in the cocktail (90 proof), and a big rich robust flavor that really shines in a sour.

Elijah Craig Small Batch Bourbon
Weston Lou, head bartender at Hakkasan in New York
For whiskey sours, I prefer to use a quality bourbon like Elijah Craig Small Batch, an 8 to 12-year blend with front notes of butterscotch and vanilla and a slightly spicy finish. It's a very approachable and versatile bourbon that can be enjoyed on its own or mixed in shaken and stirred cocktails.
It's also not terribly expensive, which doesn't hurt.