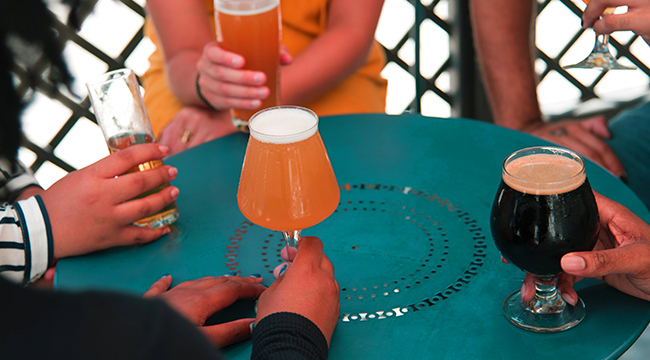 Everyone likes blue cheese, right? And we don't care that it's moldy. We'll cover our burgers in it, crumble it over our salads, and dip our hot wings in the stuff. Well, wild ales are the blue cheese of the beer scene. While they aren't moldy beers, they are beers made using natural, wild yeasts that can sometimes seem a little untamed or unruly. Surprising in every sip.
This is a beer that tastes like nature in the best possible ways. Sour, tart, and crisp — often more like tangy wine than traditional canned brews. Flat out perfect for the waning days of summer. To help you track down the best wild ales this August, we asked some of our favorite brewers to tell us their go-to bottles. Get in on the funk before the weather changes!
Allagash Coolship Resurgam
Justin Baccary, owner of Station 26 Brewing
My favorite wild ale is Allagash Coolship Resurgam. I don't get to drink Allagash beers very often, but when I'm visiting friends back on the East Coast I always try to get my hands on some Allagash bottles.

The Bruery Terreux Brazo Brazo
Scott Francis, president, co-founder, CEO and co-owner of Santa Monica Brew Works
My favorite wild ale is Terreux Brazo Brazo from The Bruery. When I'm down in Orange County heading to Angel Stadium for a ballgame, I make it a point to check out this spot. They're a boutique craft brewery specializing in barrel-aged and experimental ales. One of my favorites is Brazo Brazo, an American Wild Ale made with blackberries aged in oak barrels. Pleasantly sour with a crisp and refreshing finish.
Goose Island Halia
Noelle Witt, brand manager at Bluepoint Brewing Company
My favorite wild ale is Goose Island Halia. It was one of the first ones I ever had. It's simple. It's perfect. It's just a beautiful beer.
Jester King Le Petit Prince
Zack Kaplan, brewer at Bonfire Brewing
I have to go with Le Petit Prince from Jester King. It shows off the many unique characteristics of farmhouse beers — a touch of wild but still not too funky. It's delicious, and you pretty much can't go wrong with anything Jester King does in the wild/spontaneous categories!
Jolly Pumpkin and Anchorage Calabaza Boreal
Mark Theisen, head brewer at Coronado Brewing Company
My all-time favorite wild ale is Calabaza Boreal. It's a collaboration between Jolly Pumpkin and Anchorage Brewing. I love it because it has a really great brett character, and that classic Jolly Pumpkin farmhouse funk.

Jolly Pumpkin Bam Biere
Alex Coronado, Head Brewer at Nap Time Liquid Creation
It's really hard to choose between Cantillon or 3 Fonteinen. Classic, deep, balanced. Setting the standards for a style. If we're looking at America, I would drink La Roja or Bam Biere from Jolly Pumpkin Artisan Ales every day.
Allagash Coolship Cerise
Jason Santamaria, beer architect at Second Self Beer Company
My favorite wild ale is Coolship Cerise from Allagash Brewing. The careful amount of time taken to make these true wild ales shows. They're wonderfully complex beers you can sip and enjoy. Cerise is one of the best.
Drie Fonteinen Gueuze
Joe Connolly, Director of Springdale Beer
My go-to wild ale is Drie Fonteinen Gueuze. It's timeless while remaining accessible to all. I could just crush glasses all day long.

Writer's Pick: Troegs Wild Elf
More appropriate for the winter season (although I'll drink it any time of the year), Troegs Wild Elf is made using wild yeast from Pennsylvania-harvested Balaton cherries. Aged in oak foeders, Wild Elf is tart, subtly sour, and full of dark cherry and winter spice flavors.