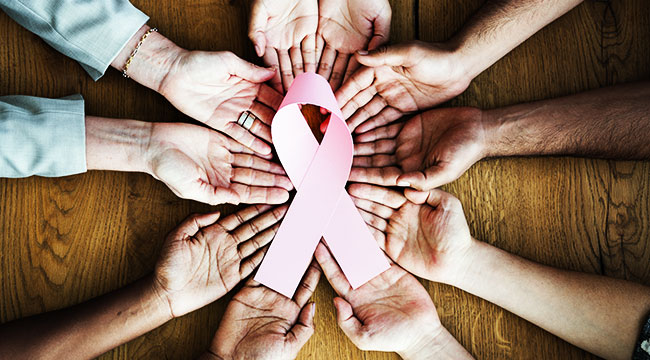 Breast cancer is one of the most common, and dangerous, cancers. It reaches everyone from celebrities to newscasters to family members. But, while it's still a dangerous ailment, the fight against breast cancer is a fight we've been winning.
The American Cancer Society conducted a massive study of breast cancer data between 1989 and 2015 and found that mortality rates have plunged by nearly half:
From 1989 to 2015, breast cancer death rates decreased by 39%, which translates to 322,600 averted breast cancer deaths in the United States. During 2006 to 2015, death rates decreased in all racial/ethnic groups.
Why? More mammograms and tests are catching cancers earlier, and treatments have been steadily improving. Chemotherapy drugs are better targeted as well. Essentially, decades of awareness and concentration on the issue have been paying off.
The fight's not over, though, not least because we'll still see more than a quarter of million new cases this year and 40,000 deaths. Despite the declines, breast cancer is still the most common cancer in women and the first or second most fatal cancer. Part of this is the treatment gap between racial groups that doctors have been attempting to bridge for years. For decades, black women have had a higher chance of dying from breast cancer than other groups, and the report has singled out this as the next battle. Access to screenings and treatments have, until recently, been limited based on where you live, especially in rural areas, so while we've had impressive advances, not everybody has been able to get them.
The good news is that the overall fatality rate has dropped, from 44% in 2011 to 39% in 2015. Furthermore, three states have apparently wiped out the treatment gap between racial groups completely, with the American Cancer Society praising Connecticut, Delaware, and Massachusetts for their efforts and another four that might have managed the same feat. But in other states, the difference can be enormous, such as Louisana having a 66% gap. Finding the causes, and fixing this gap, may be a thornier problem.
We've managed, in other words, to fight the easier battles. But by working together, raising awareness, and driving money towards research, we've made enormous strides already. Now it's just a question of tackling, and overcoming, the next challenge.