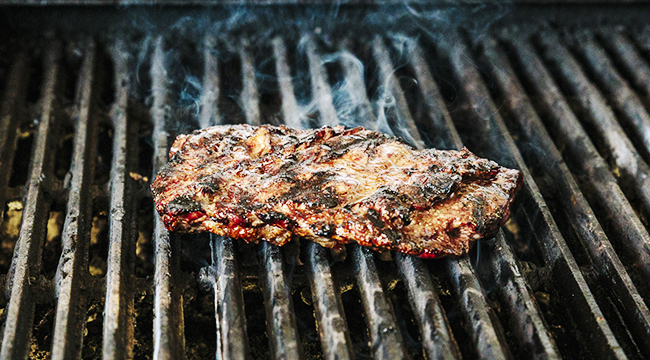 There's nothing Americans like to argue more over than food. Whether it's pizza, burgers, or barbecue, everybody's got an opinion. We like to go in on these opinions too, as if we're all James Beard acolytes. And, because nobody on the internet can just let people's opinions be, when Twitter was reintroduced to "Brooklyn barbecue" this weekend, they went after it with gusto.
It all started with a tweet from Munchies, Vice's food blog, stating what it called "Brooklyn barbecue" that was "taking over the world," featuring a small pile of brisket, two rolls from a package, two pickles, and beer served in a mason jar just to complete the hipster stereotype:
Needless to say, Twitter was not having this sad state of affairs:

Legit question: Who ruins a perfectly acceptable bar snack by turning it into a meal kit? Let's face it, if you're ordering meat with no sauce, pickles, and rolls straight from the bag, you're ordering something to put in your stomach while you work your way down the tap list. Just make it a sandwich and double-fist it!
Speaking of sandwhiches…
The article, for the record, is a recirculation of a 2014 post, and it's really a discussion of the popularity of Brooklyn restaurant Fette Sau, founded in 2007 and best known for its bar (like every other restaurant in BK).
The food, the author explains:
"…are heritage breeds raised naturally by small family farms and contain no antibiotics or hormones. The barbeque is one part Central Texas and one part New York Deli. The meat is ordered by weight and served on butcher paper. All the traditional barbeque cuts are served along with plenty of not-so-traditional things like beef tongue pastrami, pork belly, and veal heart."
Wander over to their Instagram, and you'll find far more traditional barbecue and food looking much more like you'd expect. The restaurant that spent the weekend getting mocked is well reviewed and wildly popular. The problem, according to the article itself, is that Fette Sau's food is becoming the global standard of barbecue:
The barbecue being assimilated in places like Colombia, Spain, Panama, Sweden, England, and Japan (and even other parts of the US) is not the killer 'cue from fabled Texas BBQ cities like Lockhart or Austin. Or even the pork-centric versions with sauce in the southeast. It's an adapted form of Southern barbecue from Brooklyn. And it all looks like it came straight out of Williamsburg.
There doesn't seem to be much basis for this argument besides the restaurant's hispstery prison-issue plating growing in popularity worldwide, but it's interesting to note that cultural exchange is a two-way street. It's not for us to decide which versions of BBQ, other nations choose to adapt (though, seriously, KC all the way). It's not like Americans can really complain, considering we made Indian religious practice into a workout routine and turned French croissants into unicorn-colored donut hybrids.