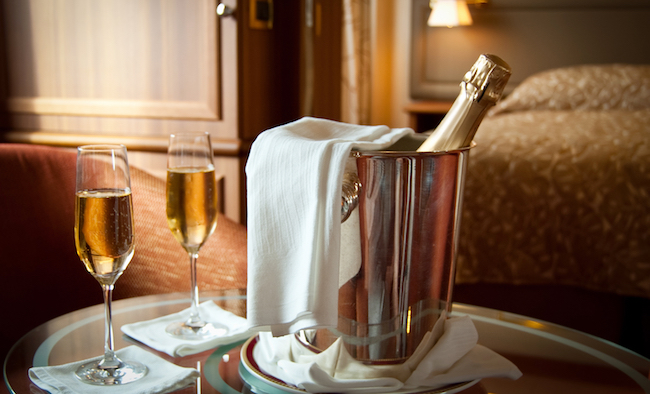 Taking a few days off and getting away from it all (the "all" being your work, family, and 99 percent of your friends) is a time-honored summer tradition which should always be observed. If you really want a vacation that you'll always remember — the kind that flashes through your mind as you're dying because it was just that good — you really need a luxurious-feeling hotel. But how to get that kind of hotel on the cheap? What exactly should you be doing to insure you have the best room possible? And how important is it to tip the people who are making your stay enjoyable?
To find these answers, we talked to Cheryl Rosner, the former president of Hotels.Com, Expedia Corporate, and the CEO and founder of Stayful, a website that allows you to bid on boutique hotel rooms online and provides concierge services throughout your stay. Rosner's been in the hospitality industry since she was a teen and she's got some tips for making sure you get the best value for your hard-earned money.
Don't Be Afraid To Book A Boutique Hotel
https://www.instagram.com/p/BCrOecOHUMk
Sure, The Marriott and The Hilton may always have rooms at the ready, but Rosner says that you shouldn't discount boutique hotels when you're looking for value and amenities. "What we discovered," she says, "is that independent and boutique hotels are the most unique properties and actually make up about 80 percent of the overall global hotel category, they are also hotels that are not as easy to find and they, as a result, will run lower occupancy."
These hotels, Rosner says, are also excited about filling more rooms and reaching out to millennials who crave a unique experience. Unlike large hotels that may offer you a continental breakfast and a city map, Rosner says that the boutique brands will provide guests with an opportunity to "explore a city from a local's view," offering recommendations and services that the bigger hotels might not.
https://www.instagram.com/p/BCIt3bDF9LZ/
In addition, Rosner says that booking at a boutique hotel will net you a discount of about 22 percent vs. a major hotel chain. Think you can't chill in the awesome bathtub at The Rivington (above) for less than the price of your first-born plus your left leg? Think again. Rates can run as low as $229 a night, which sounds like a lot, but is comparable (sometimes even lower) than chain hotels in the area.
Booking More Than One Hotel May Make Your Trip Even Better
Imagine you'd like to take a week-long trip that lets you check out all the sights and sounds that a big city like New York or San Francisco has to offer. You've found an awesome hotel, and it's dirt-cheap for the first two nights and then shoots up to a price-point you can't afford.
Many people might consider canceling the vacation right then and waiting for the off-season (which never actually comes). But have you considered booking more than one hotel for a trip? It sounds like a hassle, but it's really not that bad (stuff your things in a suitcase, call Uber and you're there!).
Rosner says when planning your trip, you should "book opposites." That means booking hotels in business areas on the weekends — when everyone's busy flying back home — and booking hotels in areas that are heavy with recreation activities during the week, when everything will still be open and you'll get to enjoy the hotel at its least crowded.
During our conversation, Rosner pointed out that the Hotel Drisco — a 5-star hotel with all the amenities in San Francisco — costs around $700 a night on the weekend. On the weekdays, however, it plummets to a much more manageable $369. It's sure not 98 bucks plus free breakfast, but if you want to splurge and stay somewhere that will make all your friends on Instagram keel over and gag with envy (isn't that what we do it for?), it's well worth it.
It's a good idea even if you're staying for business. You may have to get up a little earlier, but Rosner notes that many hotels have services that will send you to your city's financial district at no cost. Just ask when you're booking.
Book One Day, Seven Days, Or 30 Days Before Your Trip
Surprised to read this? Considering that the rule has always been "book as far in advance as you can," it's weird to hear that locking in a hotel months before your journey could actually be problematic. But there's some sense behind this advice. Booking too far out may not give you the best price because the hotel doesn't know what occupancy will be like. Thirty days in advance? They'll probably have a better idea. A week in advance may be a little tricker, but if the hotel's not full or approaching maximum occupancy, you may actually get a better deal.
If you're booking beyond the 30-day mark," Rosner says, "you're pretty much going to get the highest rates that the hotels are going to offer. At that point, they're not in that time period from a revenue perspective. When it coming to flexing prices, that's where you start to see the best rates."
"Waiting until you're about 24 to 48 hours out is a good time to take a look," Rosner says. "Because people are within the cancellation period of the hotels. Their canceling can be your great deal."
Always Ask For An Upgrade
Think it's tacky to ask for stuff you didn't pay for? Get those ideas out of your head and just be polite about possible perks. "Basically that's why a lot of people will go to our concierge, so they don't have to ask the question and we ask the question on their behalf," Rosner says. "This way, you don't have to feel embarrassed because a lot of people feel a stigma or feel anxious when asking for an upgrade when they get to a hotel."
"Frankly, I have no problem asking for an upgrade and the way that I always put it is, 'If there's an upgrade available, I'd love to have that experience, something that I can share on social media.' The response to that is 'Okay, great.' If someone's going to share something on social media, they want to be able to provide their very best. If there's an upgrade available, we tend to get them."
The good news? The hotel will likely offer you an upgrade if they have one. If they're busy, they'll probably offer you one at a discounted rate. No one will giggle slyly about your trashy ways. If you do get an upgrade, though, it's a good idea to tip. The amount is always up to you, Rosner says, but if someone's "done you a solid," you should thank them in kind. And it's okay if you don't do it right away. Rosner says you can go back once you've checked in, as long as you make sure to show your gratitude at some point.
If you're using the maid service, Rosner adds, you should tip $2-$5 a night on a per-room basis.
Consider Amenities When Booking Your Stay
https://www.instagram.com/p/BE6muBaEJbE
Some hotels may seem expensive, but may actually be cheaper once you consider what you'll be using outside of the bed, bathroom, and television. Paying a little extra may actually save you some money in the breakfast and Wi-Fi category:
"What people won't ask about or not realize is that they'll see a rate for hotels and compare the base rate, but not think about what things they typically use while at a hotel," Rosner says. "If you're someone that will order breakfast in the morning, drink coffee in the morning, or use the Wi-Fi at the hotel, those inclusion can be big savings. There are a lot of hotels that charge for Wi-Fi and that can be something upwards of $15 a day." If you've got coffee machines in the room, you're saving 10 bucks on coffee in an urban market. Add breakfast to that, and you're likely saving more than $25 a person a day. Kind of makes it way more worth it, doesn't it?
Just make sure your flight is as much of a value and you're set to have the greatest getaway of your life.