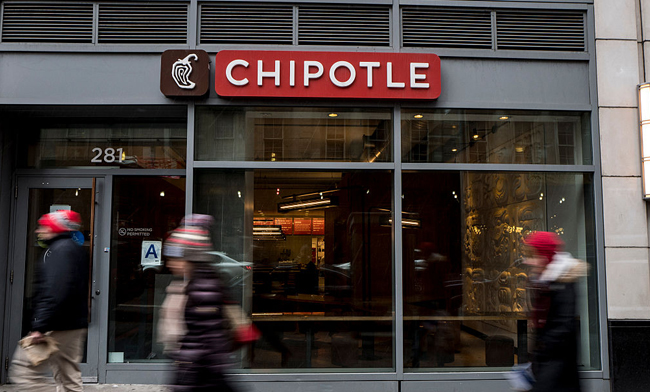 Chipotle has spent nearly two years trying to rebuild customer loyalty after an outbreak of E.coli. They've introduced loyalty programs, launched games, added dessert, and even rolled out queso. But all of that may have been for naught, because the chain has confirmed that it's closed a store in Sterling, Virginia after customers who ate there last week contracted what appears to be norovirus.
According to Business Insider, more than a dozen customers fell ill after dining at the restaurant on Friday and Saturday of last week. Submitting their symptoms to IWasPoisoned.com, a website that allows users to anonymously report restaurants at which they got sick, customers reported that they'd experienced nausea, diarrhea, vomiting, and dehydration after their visit to the Sterling store. One patron, BI notes, reported that at least two people had to visit the ER following their meal at the restaurant.
Friday 7/14: Daughter and friends went to Chipotle Saturday 7/15: stomach pains and nausea started in morning Saturday 7/15: violently sick, puking, diarrhea, severe pain, overnight into Sunday. Friends ill as well with one friend also in ER. Sunday 7/16: Hospital visit for dehydration, nausea, pain Monday 7/17: severe pain, trauma pain This is the worst that I have ever seen. Severe food borne illnesses can cause long-term damage to the gastro-intestinal track. This was BAD!
Another complaint alleges that two people who shared a burrito bowl got violently sick only a few hours after their meal:
My husband and I shared a burrito bowl last night for dinner around 6:30 PM. It had rice, chicken, corn, pico, sour cream, cheese, medium salsa. At around midnight my husband woke up vomiting violently. Less than an hour later I began vomiting as well. We have since continued vomiting in addition to having diarrhea, stomach pains, dizziness upon standing, and low grade fevers. Chipotle was the only thing we both ate yesterday.
Chipotle is taking the problem seriously. The affected store was shut down on Tuesday and won't re-open until it's been thoroughly sanitized. The chain's executive director of food safety, however, told BI that there's no reason that this closure should dissuade patrons from visiting the restaurant's other locations to enjoy a burrito bowl and pay two dollars extra for Guac.
"We are working with health authorities to understand what the cause may be and to resolve the situation as quickly as possible," Jim Marsden, Chipotle's executive director of food safety, said. "The reported symptoms are consistent with norovirus. Norovirus does not come from our food supply, and it is safe to eat at Chipotle."
Until further notice, the incident should be considered isolated, but it's also important to note that norovirus — outbreaks of which the chain has weathered in the past — is highly contagious. And considering that the most likely culprit is an employee who didn't wash their hands after visiting the restroom, it's probably best that management review health and safety practices with the employees before re-opening the location.