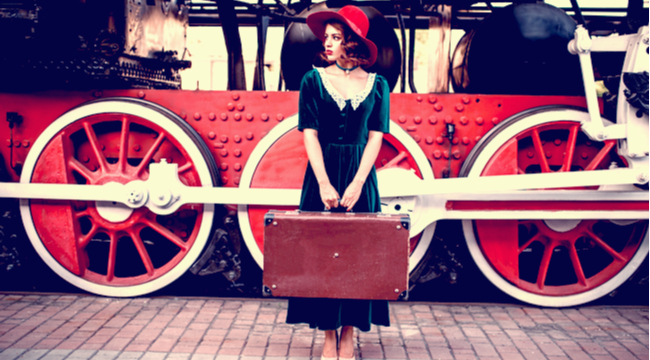 The holiday season is upon us. Soon, holiday parties will abound. Halls will be fully decked. Sumptuous meals will become a normal part of life. Lamps will be lit. Gifts will be bought, wrapped, and torn into all over America. Get ready.
This year, New York is adding an extra bit of whimsy to the holiday season with their annual rollout of their classic train and bus stock across New York City's roads and subways. The MTA — with the help of the New York Transit Museum — will release trains and buses from the 1930s to 1970s into the subway systems every Sunday starting this weekend until Christmas Eve. This might sound a bit gimmicky, but people get waaaaaaay into it.
New Yorkers and tourists take these vintage rides as an opportunity to dress up in throwback clothes and ride the rails with period-appropriate buskers jamming and plenty of holiday decorations hanging from the windows. It's where a bit of holiday fun meets dressing up in nice digs from the 30s and 40s.
Now, before anyone gets mad and cites the current state of the MTA and New York's subway, these trains are only running on Sundays on limited lines and times. So, don't worry. It's not going to interrupt anyone's commute or any tourist's attempt to get from Brooklyn to Manhattan during normal hours. The trains will run along the F line from 2nd Ave and the Q line from 96th leaving every hour between ten AM and five PM. You can catch the old school buses weekdays on the M42 route.
You don't need a reservation or a special pass. The nostalgia ride costs the exact same as a standard MTA fare: $2.75. That's pretty cheap for such a heavy dose of old school holiday spirit.
https://www.instagram.com/p/Bbeq19Jhnw6/