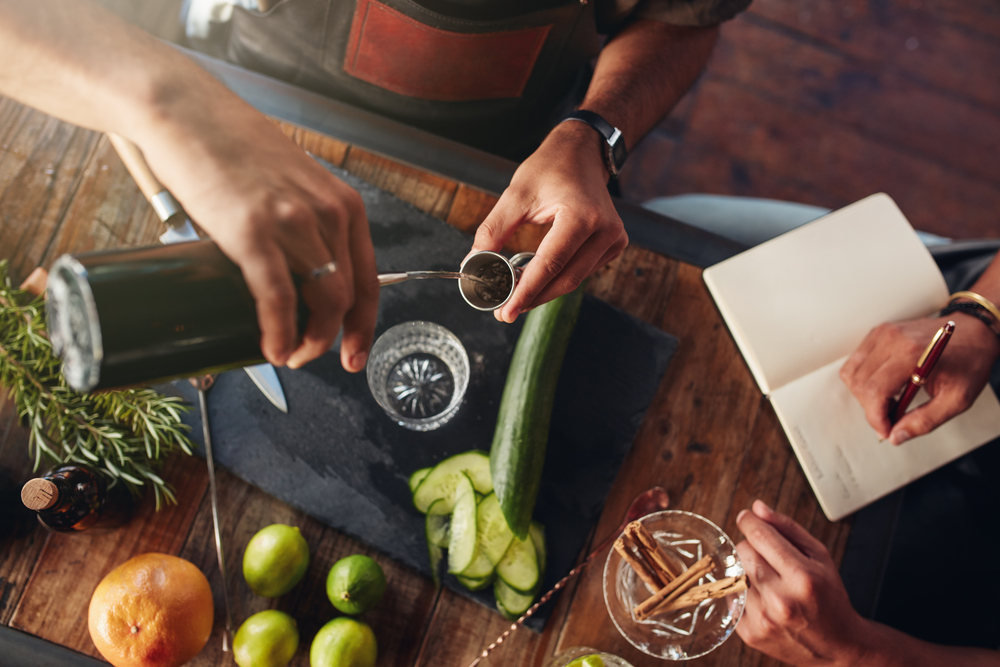 Unless you're stuck in the Upside Down, you're probably aware that we are in the midst of a craft cocktail renaissance. Every city has at least a handful of great cocktail bars. The rise of the American fascination with craft cocktails has also brought with it an increase in home-bartending. This means that more people are stocking up on the spirits and ingredients needed to make their favorite cocktails in the comfort of their own home. But, setting up a home bar can be expensive. That's why it's important to have a few cocktail mixers (and no we aren't talking about cloyingly sweet supermarket sour mix) on hand at all times, because who knows when a random party will just break out. It's the holidays after all.
You might enjoy a Bellini or a Momosa during brunch, but the real queen of breakfast cocktails in the Bloody Mary. A great Bloody Mary requires a great Bloody Mary mix. Collins' Classic Bloody Mary is made with real sugar, tomato juice and contains no high-fructose corn syrup. All you need to complete the world's best brunch is to add your favorite vodka.
https://www.instagram.com/p/BUXOGAZl4Zi/?tagged=thepicklejuicecompany
The pickleback is a drink that consists of a shot of your favorite whiskey followed closely behind with a shot of pickle juice. Why this is popular, we'll never know. But, to do it properly, you can open a jar of pickles and drain the juice or you can purchase a bottle of Pickle Juice. As a bonus, pickle juice is a great alternative to sports drinks and has been known to stop the cramps usually associated with athletic competition. Seriously.

One of the most popular cocktails on earth is the classic Gin & Tonic. Simply, this cocktail consists of gin, lime, and tonic water. You can grab a bottle of generic tonic at your local supermarket and the drink will be just fine. Or, you can stock up on a higher end tonic like Q. Made using quinine from the Peruvian Andes, agave sweetener, Q Tonic also has 60% less calories than bargain tonic water.
Tea and spirits were pretty much made to be together. Owl's Brew makes a handful of different tea-centric cocktail mixers, but the best is The Classic. It's called so because it's as classic as you can get — with lemon peel, lime juice, and English Breakfast tea. All you need to do is mix it with your favorite whisky and you've got the makings of a great evening.
For those unfamiliar, orgeat is an almond syrup that is used in many cocktails. Very common in tiki drinks, the most famous orgeat-based cocktail is the Mai Tai. This orgeat is made from California almonds, apricot kernels, cane sugar, orange flower water, and brandy. Perfect for a tiki-themed holiday luau.
If you're a fan of a dirty Martini, you're going to need at least a splash of olive juice to complete your cocktail. Now, instead of opening up a jar of olives, pouring out the juice, and ending up with dry olives, you can just open a bottle of olive juice specifically designed for cocktails. Dirty sue is filtered two times and is made from premium olives and deserves a spot on your bar, right between the bitters and lime juice.

Cocktails and Sons knows a thing or two about cocktail syrups. One of its best is the Spiced Demerara Syrup. It's the perfect compliment to your favorite whiskey. Made with white peppercorn, Sichuan peppercorn, coriander, cassia bark, allspice, birch leaf, wild cherry bark, raw sugar, and orange peels, it's the perfect addition to an Old Fashioned.
The unsung hero of the cocktail world is the bitter. Fee Brothers has been making bitters since 1864 and they are pretty damn good at it. If you've seen a bartender using bitters in a cocktail, chances are it's Fee Brothers. Some of the varieties they made include: Aztec Chocolate Bitters, Black Walnut Bitters, and Whiskey Barrel-Aged Bitters.