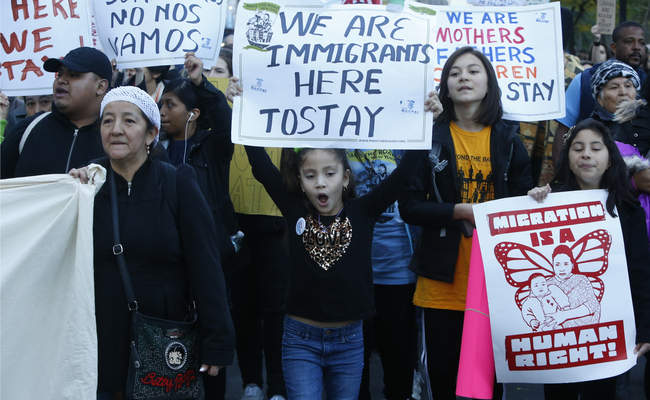 On Monday, thousands took the streets of Milwaukee to protest President Trump's executive orders on immigration as well as the county sheriff's interest in cracking down on undocumented immigrants in the areas. People came from all over to march on Milwaukee's courthouse and protestors were urged to leave work, school, and other everyday activities to show both the government and the nation that the new policies are unjust. The Huffington Post reports that over 150 businesses closed and students (with their parents' permission) were excused from school if they wanted to protest.
While the march, entitled "A Day Without Latinos," gathered a great deal of support, another, larger protest — "A Day Without Immigrants" — is coming to D.C. and, potentially, nationwide. Protestors are planning to strike on Thursday, closing businesses and not arriving for work to drive home the point that immigrants aren't just necessary to the country, but that they have a great deal of economic power.
From The Washingtonian:
The campaign has largely spread through word of mouth, paper and electronic fliers, and Facebook. One flier that's been circulating calls on immigrants not to go to work, open businesses, shop, eat in restaurants, buy gas, go to classes, or send children to school. "Mr. President, without us and without our contribution this country is paralyzed," the flyer reads in Spanish.
What's most surprising about this protest is the fact that many employers are standing with the protestors and preparing to either close up shop during the protest or ramp down deliveries and shorten hours.
"One of our delivery men who's Latino told our kitchen about it, and then it started spreading from there," says Compass Rose owner Rose Previte. In the kitchen, all but the chef and one line cook are immigrants and asked if they could participate. "My staff was like, 'We feel this is something we have to do.' They felt really strongly about it. I was like, 'Okay, absolutely.'" Previte says a friend and at least one manager have offered to help keep the kitchen running on Thursday.

If anyone's upset about the lack of service, Previte says that it will send an important message. "We're just going to go with what we have that day and tell customers, 'This is what happens when immigrants don't come to work," she said.
At other locations, only the chef will be left to fill orders and fend off hungry customers. At Bar Pilar, for instance, 17 people will take off to join the march. These employees include bartenders, bussers, and food runners, who are an integral part of keeping the restaurant running. Those who won't be participating — primarily the front-of-house-staff — The Washingtonian reports, will be donating their tips to their colleagues on strike. Some proceeds of drinks sold will go to the American Immigration Council.
While some restaurant owners are definitely considering the possibility of closing their doors on Thursday, not all employers are as concerned about the strike. One business owner expects his entire staff to be present, even though several of his employees know about the march. Jeff Black, another restaurant owner interviewed by The Washingtonian, however, says that he's let his employees know that he stands with them, even if that means not opening. His only request? That those who are striking let management know.
But if he has to close, then so be it. "We're just going to put a sign in the window letting people know that we believe in our employee's rights, and it's their right to stand up for what they believe in," he said. "Let the city see what impact it has when all their favorite restaurants are closed."