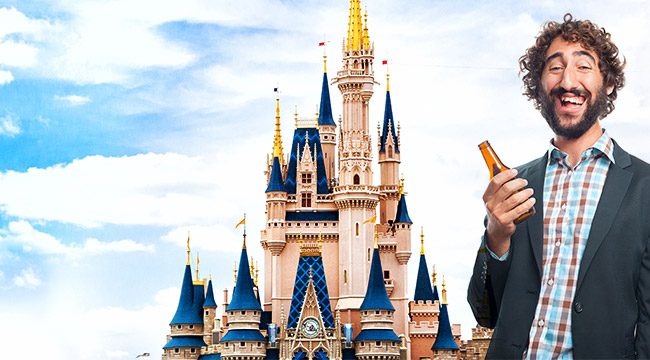 If you've spent any time at a Disney park, then you know that the reason California Adventure is so popular is due to the fact that you can get drunk (but not belligerently so) inside the park. Now Disney World in Orlando is turning up and serving beer at four of their finest heftily-priced eateries, bringing the count of places you can get drizzunk in the Magic Kingdom to five.
That's right, five. (Inside the park, outside is another story.)Forget about the pain of lines and screaming kids and parents forcing their children to stand in Instagram-worthy poses for hours. Forget the high prices and the fact that you're going to be so far back when the parade rolls through that you won't see anything. Forget that you're now too old to truly find the magic while you wander down Main Street. Forget it all! You're drunk and the world is good and beautiful.
From The Orlando Sentinel, which reported on the boozy new developments:
Tony's Town Square Restaurant, Liberty Tree Tavern, Jungle Navigation Co. Ltd. Skipper Canteen and Cinderella's Royal Table will serve the beverages daily during lunch and dinner. They will join Be Our Guest Restaurant, which in 2012 became the first Magic Kingdom eatery to serve alcohol.
Some bad news: You won't be able to order a bottle of wine and then take it into the park to enjoy while you wait to ride The Matterhorn or Splash Mountain (although that might be a good thing; imagine how terrifying the animatronics would be while sloshed). And, sadly, you won't be able to just crack the bottle against something when you realize how much a souvenir photo costs. But at least you'll be able to enjoy beer and wine table-side, which should dull the pain of dealing with the practicalities of Disney and allow you to focus on all that joy and excitement you're supposed to be feeling.

Plus, the restaurants below look kinda awesome.
Tony's Town Square Restaurant

Show up at Tony's Town Square Restaurant for fine Italian food and even finer Italian liquor. The Sentinel reports that you'll be able to pair your meal with a fine Chianti at this Lady and the Tramp inspired establishment. Drinks will be pricey — one of the ways Disney is curbing drunk and disorderly behavior is by serving alcohol only at sit-down restaurants — but the food looks great.
https://www.instagram.com/p/BN2vRUeDUMk
Liberty Tree Tavern
https://www.instagram.com/p/2_gCXCgivf
https://www.instagram.com/p/BN26tPZhZB4
https://www.instagram.com/p/BNM61VjDe6A

Not too adventurous? You can still enjoy a very patriotic mix of wine and beer at Liberty Tree Tavern, where classic American comfort food meets domestic spirits that are sure to make you enjoy Frontierland at least three times you would have sober. Just make sure you don't drink so much that you go "HUUUURGGEHH" as opposed to "AAAAAHHHH" as you take on the peaks of Big Thunder Mountain Railroad.
Jungle Navigation Co. Ltd. Skipper Canteen
The name's a mouthful, which could be a problem after your third glass of reisling. But considering that everyone with you will be stumbling over their orders as you all peruse the global menu at this travel-themed resaurant, it won't really matter. And Adventureland is right outside the door!
Cinderella's Royal Table
https://www.instagram.com/p/BOLfaR9lK4W/

What's a royal ball without copious amounts of alcohol to deaden the fear of social interaction? Exactly! The champagne will flow here as steadily as the stream of wedding proposals.
https://www.instagram.com/p/BOBPYjSDLxT
Be Our Guest
https://www.instagram.com/p/BOL9umUB3pi
https://www.instagram.com/p/BOPllkqBrKk/
https://www.instagram.com/p/BOOZ5Jag9WE'

Where else can you meet The Beast, enjoy a sparkling dessert, and then wash it all down with a glass of wine that will make your toes curl (and your wallet cry out in anguish)? (Whatever, it's worth it!)
https://www.instagram.com/p/BOLme8igDwS