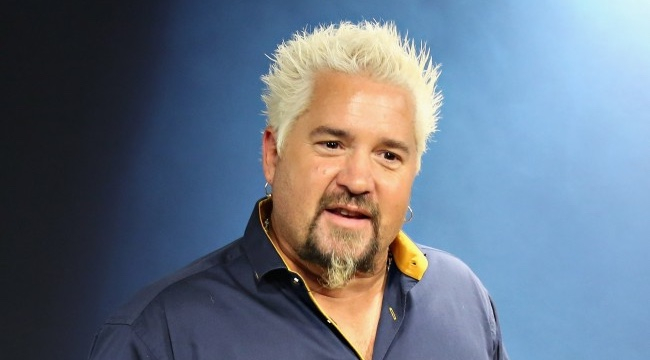 It perhaps says something about the rents in Times Square that not even Guy Fieri, arguably America's most beloved food celebrity, can keep a restaurant open there. But Fieri is welcome across the nation, and fortunately for him, one of the happiest places on Earth (we think swimming holes definitely compete) is welcoming him with open arms.
Fieri is rolling on out to Orlando, it turns out, to open a fast-casual restaurant called Chicken Guy!. Yes, with the exclamation point, and that's not the only way Food & Wine is reporting that this potential chain will stay on brand:
On Wednesday, Walt Disney World announced plans to open Chicken Guy!, a fast-casual restaurant from Food Network star Guy Fieri, at Disney Springs in Orlando. It will serve as the original flagship location of what will eventually be a restaurant chain that serves up chicken tenders every which way—grilled or fried, in a sandwich, on a skewer, or in a salad. There will also be 22 different sauce options (one being Fieri's signature "donkey sauce," presumably), and a "sauce slinger" who roams the restaurant with a holster full of condiments.
Yes, it's a restaurant that serves chicken tenders. Cheese fries and soft-serve, among other fairground classics, will also be on the menu, in case the tenders tossed with donkey sauce aren't appealing at the moment. But, really, if you were going to buy mass-produced chicken tenders from anybody, wouldn't it be from the one man who can legit lay claim to having eaten at least one in every state in the US and quite possibly every metropolitan area?
In truth, this makes sense for Fieri. It's difficult to think of a personality Americans trust more when it comes to food, and even underneath all the teasing, he is probably one of the nicest people in a notoriously edgy, angry industry. That said, the chicken tender business is a ruthless one, with KFC, Chik-Fil-A, Raising Cane's, and other chicken shacks all fighting for dominance as Americans turn away from burgers. If the King of Flavortown, part of the Smashmouth Principality is going to take on the Colonel, having Disney at his back feels like the right play.
(via Food & Wine