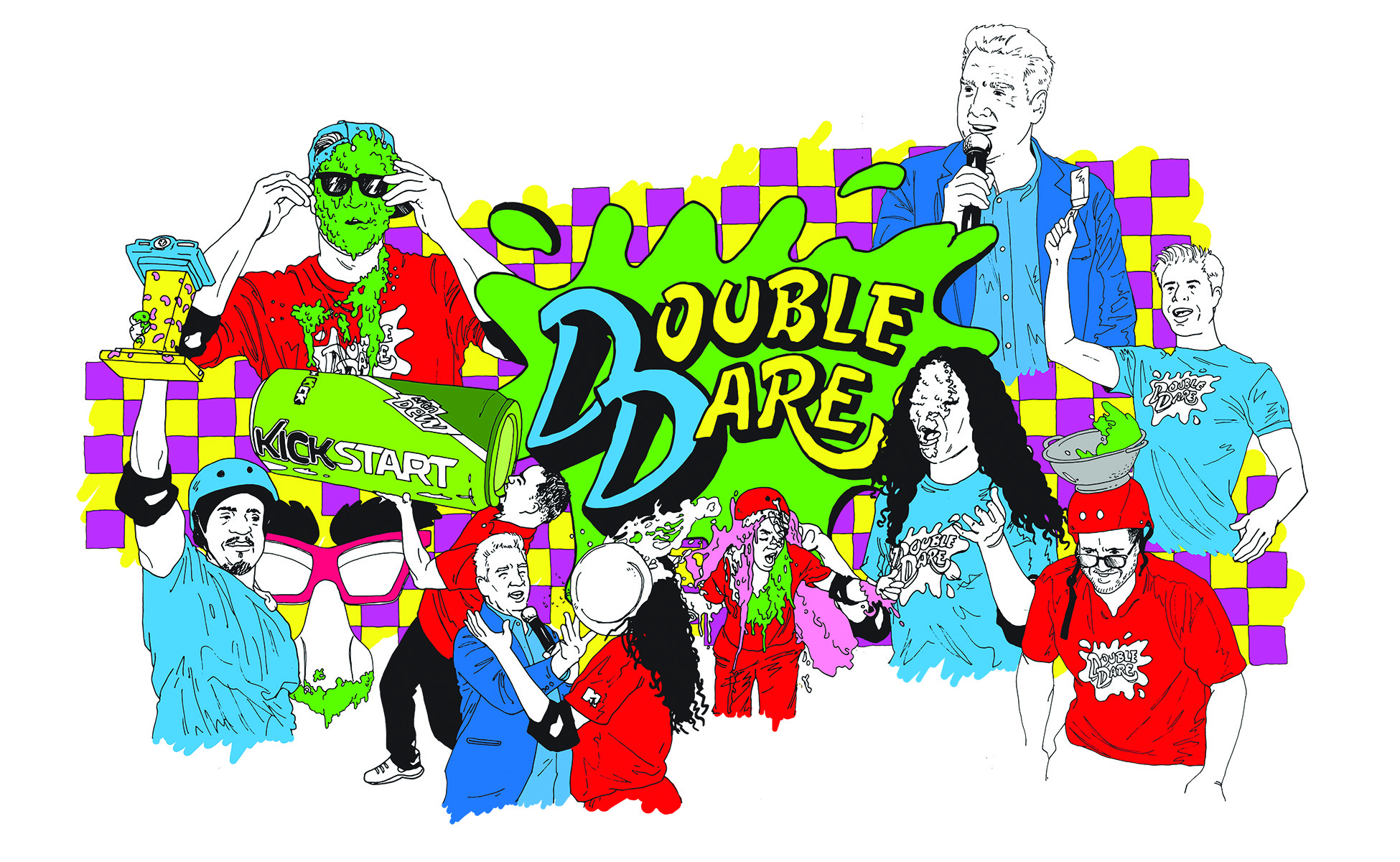 What's your happiest memory from childhood? Mine is from when I was about six years old. It's a weeknight, mom is cooking dinner and dad is still at the office. I'm in the family room with my brother and sister and I'm drinking my favorite soda, Mtn Dew Kickstart Original DEW. Despite the eight year age difference between me and my sister and the four year difference between me and my brother, we've all agreed to watch the same TV show: Double Dare. The contestant is a kid — not much older than me — and at the last second he grabs the last flag and the crowd goes wild. He won the game for his family, and that means they'll take home a Nintendo Entertainment system (including the dangerously cool Nintendo Zapper). My brother and I cheer and my sister laughs along. Sure, it's a pretty mundane memory, but the three of us were together, and we were happy, and for some reason that memory remains one of my absolute favorites.
Okay, so — alright — maybe I wasn't drinking a Mtn Dew Kickstart Original DEW. You got me: the drink was only recently released. The truth is that this year the good people at Mtn Dew invited me to Comedy Central's second annual Clusterfest in San Francisco to hang out on the set of the Double Dare experience (commemorating the forthcoming reboot of the classic game show), and it was so damn fun that I'm retroactively remembering Mtn Dew Kickstart Original DEW in all of my life's happiest moments. As of this writing, Mtn Dew Kickstart Original DEW is what I was drinking when I met my fiancée, when I graduated college, and when I found that $20 bill in a pair of dirty jeans just last week.
And if you don't think Double Dare is — or was — that much fun, well, I suggest you check your pulse. Because you're dead to me.
"Kids didn't have a gameshow," explained Marc Summers, as the two of us stood on the Double Dare stage at Clusterfest, with the burnt-rubber smell of slime floating on the breeze. "They were living vicariously through their parents, watching shows like The Price is Right."
Now, there's nothing wrong with The Price is Right. In fact, I have innumerable memories from my childhood of that show, too, which I watched under a pile of covers on the couch during one of my many dubious "sick days." But that show isn't for kids. How much does a gallon of milk cost? I had no idea. I was a child.
What made Double Dare different is that it was developed from the perspective of a kid. Rather than ask you how much a gallon of milk cost, it asked you to carry a gallon of milk to your dad via a complicated series of themed helmets.
"Kids were playing a game on the playground called 'truth or dare,' and what we did was we took that game, added slime and prizes, and it became Double Dare," said Summers. "And it exploded."
Marc Summers at Clusterfest in San Francisco.
The equation is really that simple, folks. Take a game kids made up, add slime and prizes, and you've got yourself a hit. "It was the right place and the right time. I mean, we were on at 5:30. That's prime time for kids. Mom would say, "watch your show before I make dinner" and it just had all the elements. Timing is everything."
He's not wrong. The original Double Dare was lightning in a bottle. It was 1986 and the world was a crazy, confusing place – much like it is now. In light of current — let's call them "super depressing" — events, it makes sense for a show that evangelizes play to come back onto the air.
"Look," said Summers, as crew members in the background filled a giant shower reserve with neon-green gak. "They brought back Pyramid on ABC, they brought back Match Game, but once again, they haven't brought back anything for kids."
And why not? We're living in something of a nostalgia-fueled reboot renaissance. The re-released Roseanne dove head first into political affectations, with the misguided perspective of "this is how Roseanne would act in Trump's America!" Of course, that approach quickly burnt itself to the ground, and I think it's safe to say that we would all would have been a lot happier if Roseanne had traded a touch nostalgia for a dash of nuance.
But maybe that's what makes the resurgence of Double Dare so special. The show was a welcome salve in 1986, and I dare say (or "double dare say"?) that this same, green, slimy salve is exactly what we need in 2018.
"You have the kids who grew up watching me, who are now in their mid 40s, and who have kids the same age that they were when they started watching the show," said Summers, as crew members plated trays of whipped cream pies. "And then there's a whole bunch of people who grew up recently who have no idea who I am but they know who Liza Koshy is, and she's got this huge following."
If you're not familiar (I wasn't but, hey, I'm 32), Liza Koshy is an actress and insanely popular YouTube personality boasting more than 19 million subscribers. A cursory glance at her channel will tell you that she's the perfect yin to Marc Summer's yang, with popular videos covering dollar store hauls and the struggles of doing makeup with gardening tools. It's silly, but silly is the point.
"[Double Dare is] one of those shows back in the day that always created a smile. For me everything has always been about positive energy and that show brings a smile to your face," explained Alfonso Ribeiro (yes, that Alfonso Ribeiro) after inviting me to join in on an impassioned conversation about The Golden State Warriors between himself and comedians Jeff Ross and Michael Rapaport.
Man, Clusterfest is buckwild.
"I think we need to stop being so serious," Ribeiro continued. "Let's just have fun. You know at the end of the day this show is about questions — can you answer the questions? It still is a bit educational, but it is a fun show at the same time. It's the perfect time to play and be light."
As he said it, I realized that Ribeiro was totally right: despite the fact that a heavy dose of nostalgia is sure to benefit Double Dare's return, the return of Double Dare isn't about cashing in on nostalgia. It's about reintroducing the idea of "play" into a world that definitely needs it. And even though the original Double Dare went off the air more than 20 years ago, I think it's obvious that Marc Summers is still the perfect choice to bring playtime back to America. The world needs his never-out-of-fashion blazer-and-tennis-shoe combo now more than ever.
It wasn't something that I realized until I spoke to Summers myself, but he's an incredibly authentic, sincere person. He's not coming back to Double Dare for the paycheck, no, he's doing it for the kids.
"I've done a lot of different things," said Summers. "I was at Nickelodeon from '86 to '94. And then I was at Lifetime doing talk shows. And then I was at The History Channel doing game shows. And then for the last 20 years I've been at Food Network, hosting their longest running show, Unwrapped, and I've been executive producing Restaurant Impossible and Dinner impossible. I've got a show right now with Guy Fieri called Grill Dads. But the show that launched me was Double Dare. And to go back at age 66 and do it again… I mean — I still have the same energy. I don't feel like that much time has gone by."
It's hard to think of Double Dare without Marc Summers. Maybe it's because he captures the perfect middle ground between youth pastor and Dennis the Menace, offering both a safe character to parents and a mysterious secret to kids. He's your fun uncle, ready to not only teach you how to ride a bike, but also how to ride it off a homemade ramp.
"When they were casting for the show they looked at about 1,000 people in New York and didn't like anybody." said Summers. "I was the first person they looked at in L.A. and they brought me back four times and then I got the job."
That being said, it may surprise you to learn that there's an old rumor about casting for Double Dare.
"To this day I can't find out if its true or not, but the rumor is that they had offered the show to Dana Carvey. That same week he was offered Saturday Night Live and turned down Double Dare — thank god — and he had a nice career, still does, and then I got my career." Summers took a beat and smiled. "You know, [Carvey] was at a comedy club about a month ago and I went and tried to get backstage to see him and he refused to see me. I don't if it's a rumor or if it's actually fact, so one day I need to actually ask him if he got offered Double Dare and actually turned it down."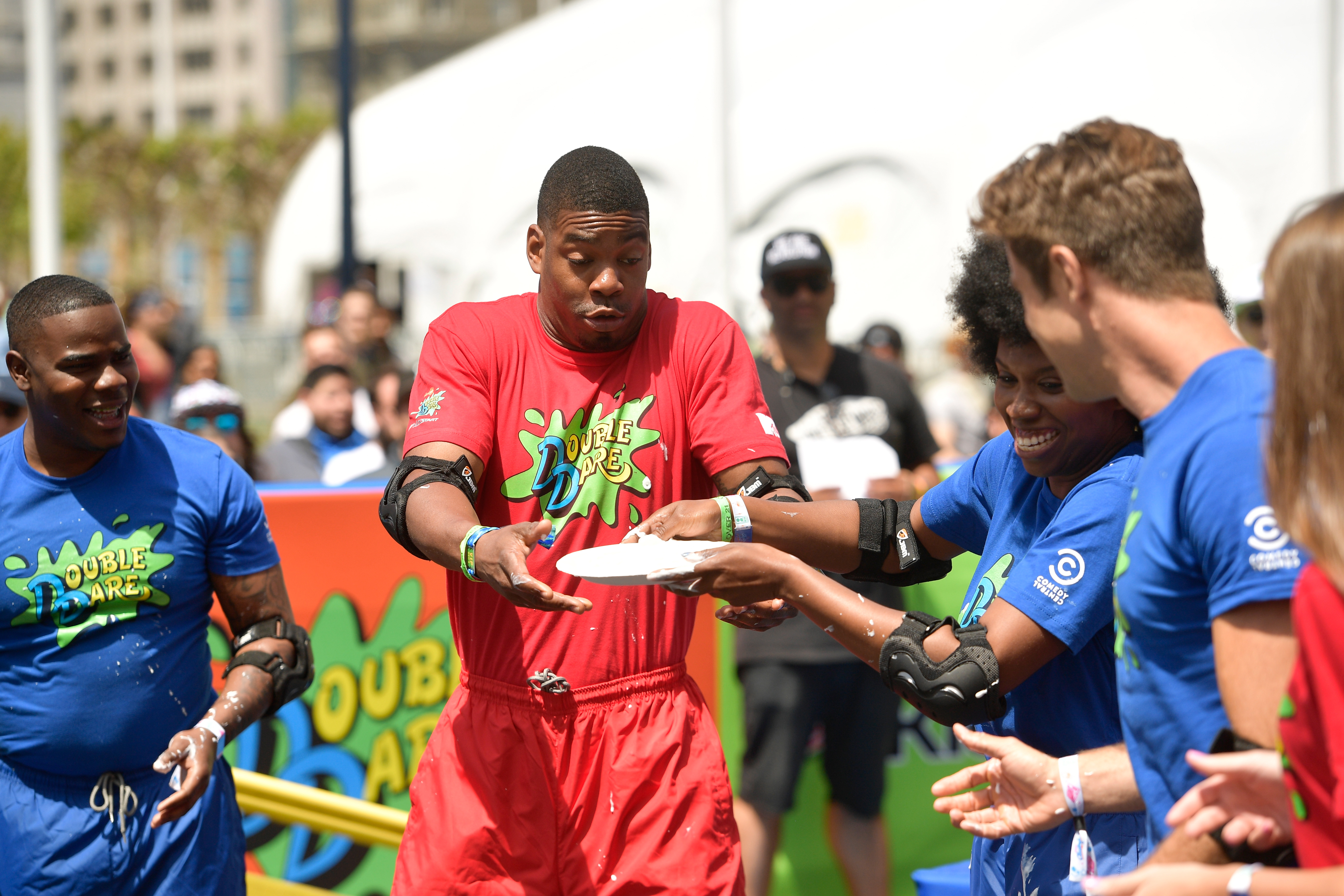 As much as I would have loved to have seen a version of Double Dare hosted by Dana Carvey, there's no denying that Marc Summers made that show. And that's why it's so important, as I would soon come to learn, to have Summers back on stage. All weekend guests of Clusterfest were invited to compete in the Double Dare experience that Mtn Dew had built, but the real show took place on Sunday when Summers played host to comedians from Comedy Central competing against a team of MTV's "The Challenge" cast members. The Blue Team – lead by Haha Davis –included Josh Johnson, Matthew Broussard and Rachel Pegram. MTV's Red Team – lead by Kam Williams – included Chris "CT" Tamburello, Jenna Compono and Leroy Garrett. If you're wondering if the live show was as insane as it sounds, then the answer is "Yes." It's exactly the fever dream that you're imagining right now, and it was absolutely wild.
[protected-iframe id="3fa3cd0770c6cda26204e94320d062dd-60970621-76566046″ info="https://www.facebook.com/plugins/video.php?href=https%3A%2F%2Fwww.facebook.com%2FComedyCentral%2Fvideos%2F10156303817404030%2F&show_text=0&width=560″ width="560″ height="315″ frameborder="0″ style="border: none; overflow: hidden;" scrolling="no"]
It should come as no surprise that MTV's Red Team won the match by a generous margin.
"I felt amazing about the win," says a gak-covered Kam Williams who, despite her natural grace, smelled strongly of Thousand Island dressing and mustard. "I never doubted my team, not once. I think the fact that we are actual challengers gave us the edge: we know how to work under pressure; we're not new to this!"
The obstacle course included classics such as the "Wringer," the "Icey Trike," and the disgusting — if not iconic — "Down the Hatch." While Comedy Central's Blue Team gave it their best effort, they were no match for the cunning ruthlessness of the Red Team.
"It was dope. I'm a sore loser though," explained a freshly showered Haha Davis. "I don't think the person counting the points could count, you know?. All the eggs I cracked on my head? I coulda sworn I got that one."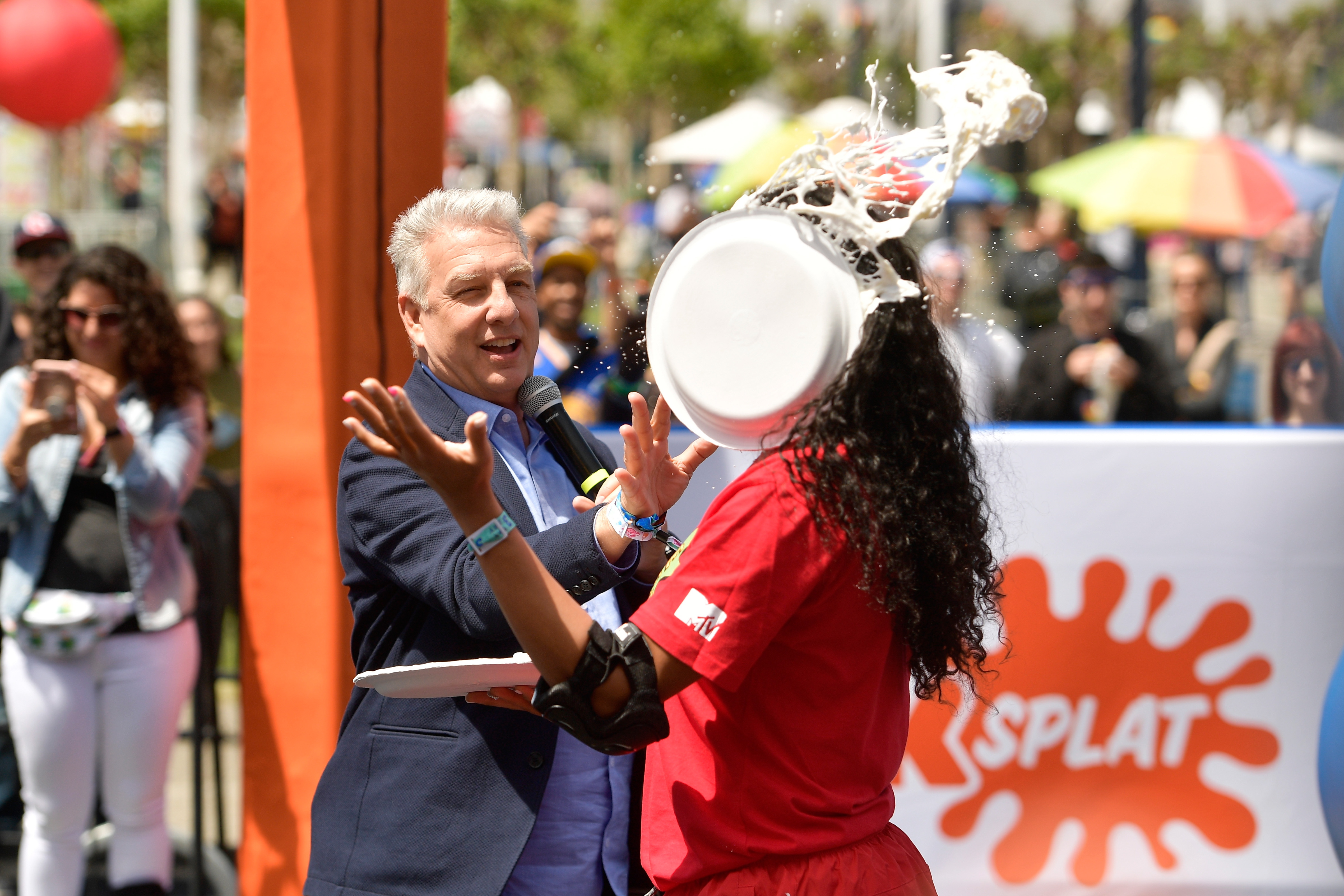 Sitting in the stands under a hot blue sky, drinking a cold can of Mtn Dew (this time for real, I swear), watching grownups make fools of themselves to the wild amusement of the crowd… well, it didn't feel that much different to me from watching the original series as a kid with my brother and sister. And I credit that to Marc Summers. He's still got it, he's still every bit the fun-but-collected host that you remember from your youth. My favorite moment from the game was when Summers, unimpressed with Kam Williams' self-inflicted pie to the face, grabbed a rogue pie and pitched it at her face with the dexterity of a god. Even more impressive, if you can believe it, is that Summers left the stage, unlike his contestants, without a single stain on his clothes.
People from the crowd were allowed on set once the game was over, and we walked around with an almost-religious reverence. I saw several people wearing their own Double Dare shirts, and even one man carrying a tattered and muched-loved Double Dare rule book – surely a relic from his own childhood – as though it were something truly valuable. After Clusterfest, I'd argue that it is something truly valuable because joy — especially the pure joy that only children can seem to access — is invaluable.
We all have memories from our childhood, and if you're lucky, you recall them with a kind of bittersweet joy. But if I can be overly optimistic for a moment, when I think about Double Dare coming back, it feels like our best days are ahead of us. Spending a weekend at Clusterfest watching adults fill their pants with whipped cream and crushing raw eggs on their foreheads, was easily one of the silliest, most juvenile weekends in my entire life. It has become, and forever will be, one of my happiest memories.