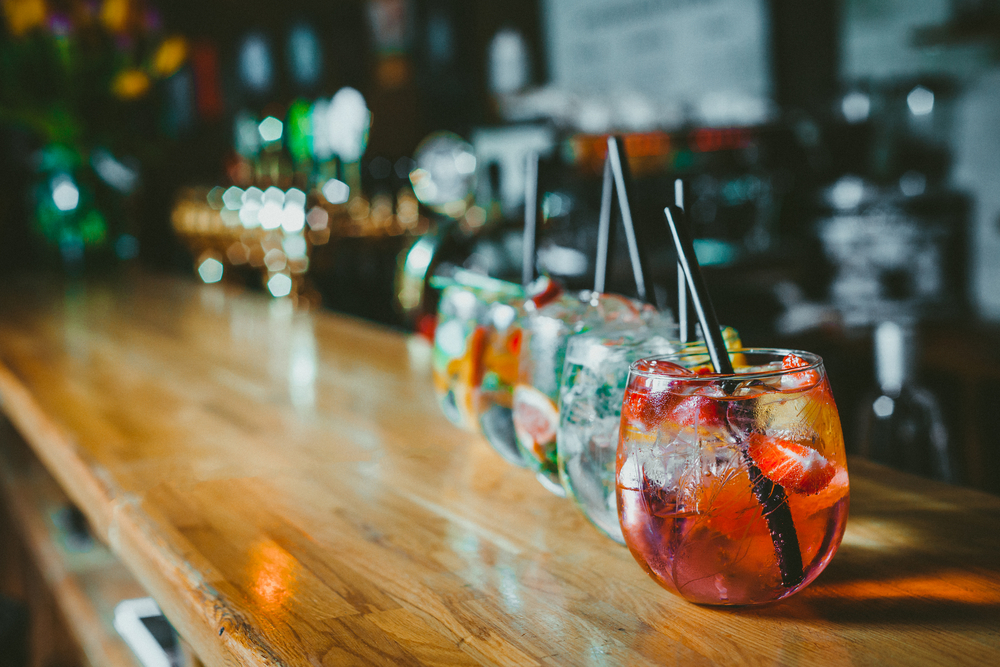 Obviously, Easter is a holiday based around religion. But, to many vile pagans it's just a day to get together with family and eat a ton of ham, maybe a few Peeps, and a handful of Cadbury Crème Eggs (in no particular order). Sometimes family time can be stressful though. You can only listen to Aunt Martha's bunion-themed tales for so long before you decide to hit the bottle.
This year, instead of grabbing for a loose jug of vodka, try one of these delicious, Easter-themed cocktails:
You might not immediately think of mescal when you think of Easter-themed cocktails. But, since Cinco De Mayo is just around the corner, the second most famous Mexican spirit is the perfect mixed drink base. Combine it with Licor 43. Crème de cacao, heavy cream, and an egg white for a creamy springtime cocktail.
Ingredients:
1.5 oz. El Silencio Espadin
.5 oz. Licor 43
.5 oz. White Creme de Cacao
.5 oz. Heavy Cream
1 Whole Egg
Dry Shake, shake with ice & strain into a chilled cocktail coupe
Glass: Cocktail Coupe
Garnish: Mint Bitters
This cocktail kicks up the Easter theme a notch by adding carrot juice into the recipe (Easter bunny. Get it?). Carrot juice, packed with vitamin C, almost makes this a healthy cocktail. But, it's not all veggies, as it also contains Angostura bitters, honey, lemon juice, and Tumeric-infused vodka. Everything comes together to make an extremely well-rounded sipper.
Ingredients:
2 oz Tumeric-infused vodka
1 oz carrot juice
¾ oz honey
¾ oz lemon juice
2 dashes Angostura bitters
Celery stick for garnish
Directions:
Combine all ingredients into a shaker tin and shake well. Strain. Serve on the rocks
and garnish with celery stick.
Just like Lunar Eclipse, this cocktail gets a kick of vitamin C from carrot juice. But, the additions of gin, lemon juice, and mint syrup give this a truly unique flavor. Extra mint leaves and carrot shavings just add to the appeal of this Easter-themed cocktail that is perfect for brunch, but is delicious any time of the day.
Ingredients:
1.5 oz. Gin
1 oz. Carrot Juice
3/4 oz. Lemon Juice
3/4 oz. Mint Syrup
Garnish: Mint Leaf & a Carrot Curl
Served in a Mason Jar
Combine ingredients into a martini shaker with ice and shake. Strain and pour into a mason jar filled with clean ice. Add garnish.

The basis for this cocktail is the Junipero Gin from nearby San Francisco. This is combined with Chambord, honey syrup, lemon juice, raspberries, Greek yogurt, and mint to create the freshest, smoothest Easter-themed cocktail imaginable.
Ingredients:
1.5 ounce Junipero Gin
.75 ounce Chambord
.75 ounce Honey Syrup
.75 ounce Lemon juice
6 raspberries
1 teaspoon Greek yogurt
Mint Sprig
Directions: Place five raspberries, yogurt, honey syrup and lemon juice in a cocktail mixing glass and muddle. Add in gin and Chambord. Add full scoop of ice and shake vigorously. Pour cocktail and dirty ice into a collins glass. Top with equal parts soda water and sprite. Garnish with inverted raspberry with large mint leaf inside of raspberry.
The name of the cocktail is a reference to the candy-filled Easter baskets of our sugar-infused youths. The cocktail, made with two types of rum, passion fruit, wheatgrass juice, lemongrass syrup, passion fruit puree, lime juice, sparkling water, and a few other ingredients is even adorned with an Easter basket made out of a lime hull.
Ingredients:
1 oz Mount Gay Black Barrel Rum
.5 oz Siesta Key Silver Rum
1 oz Passion fruit wheatgrass juice
.5 oz Monin Lemongrass Syrup
.5 oz Passion fruit puree
.5 oz Lime juice
2 oz La Croix Coconut Sparkling Water
Coconut shavings
Jelly beans
Lemongrass
Wheatgrass
Lime hull
Method: Combine Mount Gay, Siesta Key, passion fruit wheatgrass juice, Monin Lemongrass, passion fruit puree and lime juice in a mixing tin. Add ice and shake vigorously for 10 to 15 seconds with standard 1" cubes. Strain into an ice filled 16 oz mason jar. Top with La Croix Coconut Sparkling Water. Garnish with a lime hull filled with shaved coconut and jelly beans. Add lemongrass and wheatgrass for added effect

This cocktail might contain myriad fruit juices, but that doesn't mean it isn't also chocked full of booze. This mescal-based cocktail also contains Rhum Clément Mahina Coco, Giffard Vanille de Madagascar, carrot juice, lime, and a few other spring-like ingredients. This is an extremely complex cocktail, but all of the flavors work together to create a seamless, delicious Easter drink.
Ingredients:
.5 oz Rhum Clément Mahina Coco
.5 oz Mezcal
.5 oz Banana de Brazil
.5 oz Giffard Vanille de Madagascar
1 oz Carrot juice
.5 oz Lime
2 dashes
Orange bitters
2 dashes
Mole bitters
Shaved tricolor carrots, for garnish
Method: Combine ingredients in a shaker tin and shake for 15 seconds. Strain into a rocks glass. Garnish with shaved tricolor carrots on a bamboo pick.
This light, refreshing Easter cocktail is called Hemingway's Spring because it's an interpretation of one of the late writer's favorite cocktails: the classic daiquiri. Vivas' version also have cherry liqueur, grapefruit juice, as well as syrup made from rhubarbs and strawberries.
Ingredients:
2 ounces white rhum agricole
.25 ounce maraschino liqueur
1 ounce fresh pink grapefruit juice
.75 ounce fresh lime juice
1 lime wedge
.75 ounce Rhubarb/strawberry syrup
2 dashes rhubarb bitters
Garnish with a poached rhubarb.

The C-Sour is made using C, a 100% carrot-based spirit from Boardroom Spirits. By 100%, I mean that each bottle is made from 12.5 pounds of raw carrots. This spirit is combined with vodka, ginger simple syrup, lemon juice, and an egg white to create a refreshing, spicy, Easter cocktail.
Ingredients:
1oz Boardroom Spirits C, 100% carrot spirit
1oz vodka
1oz ginger simple syrup*
1.25 oz lemon juice
egg white
Method: Combine C, ginger simple syrup, lemon juice, and egg white in a cocktail shaker. Fill shaker with ice and shake vigorously. Strain into an ice-filled old-fashioned glass. Garnish with sugar
*For simple syrup – heat equal parts water and sugar until sugar dissolves. Add grated fresh ginger to taste. Cool, strain, and store in refrigerator for one week.
Remember those Reese's Peanut Butter Eggs that you'd always find in your Easter basket (or still do)? Well, this is pretty much the cocktail version. It's made with peanut butter infused vodka, coffee liqueur, crème de cacao, and simple syrup all mixed together to make this nostalgic, childhood treat a bit more grown up.

Ingredients:
1.5 oz Peanut Butter Infused Vodka
.5 oz Nola Coffee Liquor
.5 oz Crème de Cacao
.5 oz simple syrup
Shake and strain into a martini glass, garnish with a peanut butter & chocolate treat