It's fourth and goal. You're down three. The clock is ticking. You're on the road. And you have a decision to make: Take the field goal and tie it up, but give the opponent the ball with a two-minute drill and a chance to win. Or go for the win right now. You have to think fast. Make the call.
If you haven't coached football, the closest you can come to reenacting this situation is in Madden. And any armchair quarterback is convinced they would make the right decision if given the opportunity. The problem being that sports radio callers and Twitter at large has never had a situation where they can prove it. Well, until now.
This is where the Salt Lake Screaming Eagles, a new expansion franchise in the Indoor Football League (IFL), come in. At first glance, it's just another minor league team. But there's a hook (and everything needs a hook or a meme these days or you run the risk of being meaningless and doubting your own self worth): this team is going to be run with a great deal of fan input. And not just what food to serve in club levels, or what songs to play during timeouts. This team is letting fans download an app and pick everything from team colors to plays during the game.
"Who are the fans going to be mad at?" Green Bay Packers all-time leading rusher and Screaming Eagles investor Ahman Green asks. "Well, they're going to be mad at themselves. They called the plays. They made the team colors. They made the mascot. The only person they can be mad at is themselves when they look in the mirror. You're calling the shots. And you made the bad call."
Green met up with team co-founder Ray Austin, a former Chicago Bears defensive back at the NFL Draft in 2015. Austin explained what he was trying to do with the project, and due to Green's involvement with e-sports and his social media marketing work he's been doing post-football, he was hooked right away.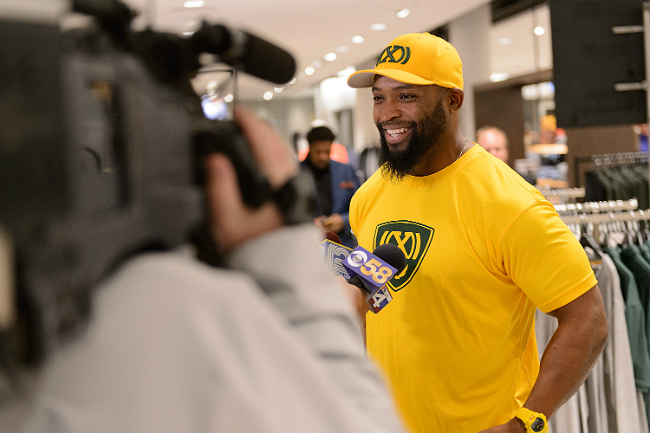 Being as involved in the Green Bay area as Green has been, he sees the passion of the fans, and the desire for them to have more involvement. But he's also seen a disconnect between fans' perception of team decisions, and how hard being a part of an organization really is.
"They'll understand all that now," Green says. "The more you learn, the more you respect the game."
Will this go horribly wrong? Maybe. Am I extremely here for this until it does? Absolutely. There are safeguards in place to avoid Reddit-style troll jobs (the team was almost named Teamy McTeamface), with fans who prove their "football IQ" getting more voting power than those who are coming in to try to screw with the system, and the people involved have been around NFL teams in the past.
Outside of Green and Austin, the Screaming Eagles brought in five-time Pro Bowler Al Wilson, and former San Francisco 49ers COO Andy Dolich (who also worked for the Washington Capitals, Golden State Warriors, Memphis Grizzlies, and Oakland A's over the years). And the group as a whole is excited to see where this social experiment goes.
The decisions leading up to the team's first official season should prove an interesting benchmark for what to expect. After selecting Salt Lake City, the name was picked next. Voting on colors came after that, and mascot and logo from there. Then everything from what beer to serve in the arena to who the general manager should be will be figured out. It's taking the old franchise dynasty model, crowdsourcing it to hundreds or thousands of people, and then setting it in action with real games and real players.
"Is it a guaranteed victory?" Dolich asks. "No, but that's what makes life fun. We're finally giving fans a chance to go behind the curtain and debunk the secrets. It just seems like a natural progression for those people who are already spending their money and who want to be involved in the business to finally do that."
If anything, it's a surprise this didn't come about sooner. With reality TV blowing up in the late 1990s and early 2000s, and people picking who sings, who moves on, who stays in a house, and basically toying with people's lives in the first place, it was only natural that sports get in on the action. And technology finally caught up to the premise. Sure, fans will argue that they want their sports teams to "preserve the sanctity of the game," but the second you give them the chance to actually call that fourth down play, all those arguments about "class" tend to dissolve.
The key, Dolich says, is in not taking things too seriously early on. There will be growing pains, as there are with any expansion teams, and ones not just limited to the fan interaction and involvement. Keeping players engaged shouldn't be an issue, Green argues, as guys in the pros already don't know so many of the people making decisions on their future, and many have expressed interest or at the very least a curiosity about the project.
"As players, you're not calling the plays anyway unless you're the quarterback," Green says. "It's not that different. Guys are just telling me, 'I hope the fans did their homework.' They hope the play is being called by a guy or a girl who actually knows what they're doing."
The way CEO Sohrob Farudi – an experienced tech field veteran – sees it, the first season is really a beta test for what to do in the future. Every vote, every game, and every decision offers up some data points and the potential to make tweaks for the future. Things won't be perfect, but nobody needs them to be. As long as there's some return on investment, and fans remain engaged with the product, the franchise will be deemed a success early on.
At the very least, we're coming close to a truly fan-run team, or what Dolich calls the "town square" model of sports. Fans can pick a team's identity, so if you want your team to run the dang ball, then you run the dang ball.
Just don't blame anyone else if you get stuffed on fourth and goal.