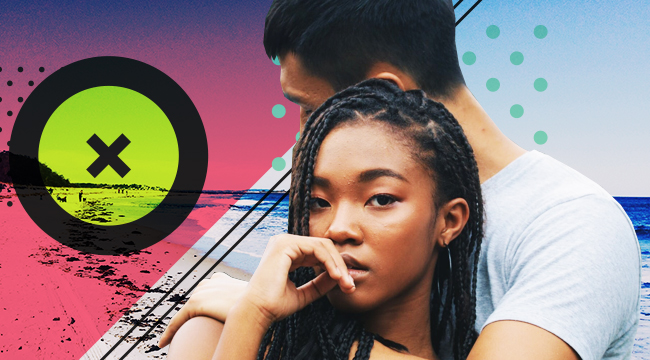 This time of year, you can't go anywhere without being reminded of romance. Construction paper hearts are stuck to the walls of the break room, red roses are overflowing from bins at the grocery store, and every alley we pass is filled with at least one dog couple sharing a plate of spaghetti. It all puts us in the mood for an unforgettable Valentine's… month. The kind where you run off together and leave the stresses of every day behind. We want the cliche: cozy white robes, champagne in bed, and lounging by infinity pools.
Yep, even after Valentine's Day is over, the romantic getaway vibes stay high. That means different things to different people, of course, but if the holiday finds you newly in love, then a first "couple's trip" might just be on your mind. Is it time yet? Are you ready to go off together on an adventure? Just think of the possibilities: Sitting by the fire! Long walks on the beach! Hotel sex!
Traveling together shows you all the hidden delights and challenges of a partner. Can you get through missing your train or the pictures from Trip Advisor being totally off base (Hey, they weren't lying. It WAS newly remodeled…. in 1987)? Can you handle one another when you're exhausted and grumpy? Do you make each other laugh through it all? Does your beloved still look incredibly sexy to you after a 2 hour hike through the rain and mud? We've said it before, but traveling is the perfect litmus test for your relationship. And there's nothing more fun than that first big trip with the person you love.
These are the first trips we'd suggest if you want to make your getaway an epic adventure; not a "the waffle iron is broken but they still have hard boiled eggs" adventure.
The Spa Trip
Why: It's never a bad idea to splurge on a fabulous resort with a gorgeous spa. Days filled with couple's massages in a hut overlooking tropical gardens, the gentle sound of crashing waves in the background, make for the kind of vacation that would make you want to be together forever. Or have to be together forever because you ended up in a debtor's prison together for putting a crazy, expensive spa trip on your credit cards. But, honestly, isn't love worth it?
Where: And if you're going to splurge….Laucaula Island Resort is one of the most romantic places in the world. Located on a private island in Fiji, its 25 private villas will ensure total privacy and luxury. Each has a private plunge pool, a deck overlooking the water, and a fridge filled more champagne than one could ever drink (I mean they haven't met me yet though, so…). Also, they've got a submarine that you can ride in to look at fish or whatever. AN ACTUAL PERSONAL SUBMARINE THAT YOU CRUISE THROUGH THE SEA IN LIKE YOUR JACQUE F**KING COUSTEAU, GUYS.
I'd almost say don't go here for your first trip because you'd never top it. But like, if you've got the cash, this is an amazing paradise.
The Beach Trip
https://www.instagram.com/p/BfHDDDOhj-B/
Why: A beach is the classic romantic getaway for a reason, it's just relaxing and fun. Holding hands while sprawled on side-by-side lounge chairs, sipping some sort of fruity cocktail and staring at a clear blue sky is pretty much everyone's dream vacation. Unless your partner is a vampire who can't be in the sun. Then it would be terrible.