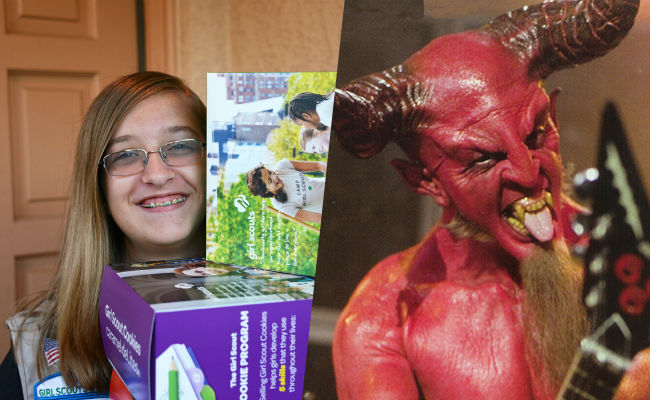 Girl Scout cookies are undoubtedly God's greatest creation. There are many flavors that can be ranked every which way from Sunday Mass, and different regions of the country really get into it with one another when discussing which is better — Thin Mints or Caramel Delights? For heaven's sake, the tasty morsels were even responsible for saving the lives of two elderly sisters in the Michigan wilderness in 2015. According to the Archbishop of St. Louis, Missouri, however, none of these positive traits matter because Girl Scout cookies are the devil's work.
No really. I'm not kidding. Per The Guardian, Archbishop Robert Carlson wrote a letter addressed to the "Priests, Scout Leaders and Faithful of the Archdiocese" claiming these delightful treats are a major part of the ethical dilemma posed by Girl Scouts USA and its parent organization, the World Association of Girl Guides and Girl Scouts (WAGGGS). I cannot, in good conscience, make this sh*t up.
So what's the dilemma? According to Carlson, WAGGGS directly and indirectly promotes abortion and contraception, or what he terms "abortion rights" and "reproductive rights," across the age spectrum of its members. In addition, the global organization utilizes its social-media presence and other partnerships to collaborate with public figures like Gloria Steinem and Betty Friedman, and other organizations like Amnesty International and OxFam. This too troubles the archbishop because of the church's aforementioned issues with abortion and contraception. Hence why he writes:
"Girl Scouts is exhibiting a troubling pattern of behavior and it is clear to me that as they move in the ways of the world it is becoming increasingly incompatible with our Catholic values. We must stop and ask ourselves — is Girl Scouts concerned with the total well-being of our young women? Does it do a good job forming the spiritual, emotional and personal well-being of Catholic girls?"
Carlson also brings up the church's continued disagreements with Boy Scouts of America over similar issues — especially its recent lifting of a ban on gay Scout leaders. Even so, he never states that the Archdiocese of St. Louis — or the Roman Catholic Church as a whole — should completely sever ties with either organization.
According to The Guardian, Girl Scouts USA responded to Carlson's letter:
In a statement, it said with measured diplomacy that it looked forward "to extending our longstanding relationship with faith-based organizations, including the Catholic Church and Catholic communities throughout the country… We remain committed to building girls of courage, confidence and character, who make the world a better place."
Too bad Archbishop Carlson isn't too fond of the group responsible for packaging and selling the Lord's most beautiful bounty. After all, as an early draft of the oft-quoted John 3:16 probably said, "For God so loved the world, that he gave his only begotten baked good, that whosoever consumeth it should not perish, but have an everlasting food coma."
(Via The Guardian and Boing Boing)