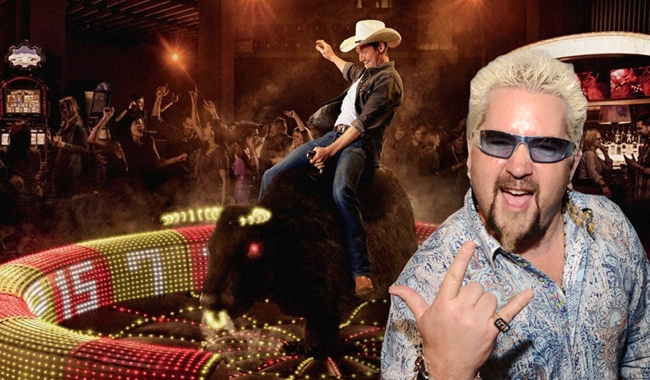 Guy Fieri currently has restaurants all across America and on the high seas, but that's not stopping him from expanding elsewhere on the globe. His latest grand opening is happening in South Africa at Sun Time Square in Pretoria, bringing a version of his New York hit restaurant to the country.
Now yes, you'll be able to find all of those Fieri staples and hit dishes from his New York locations — and possibly a few from his Guy's Chop House locations and his Guy's Burger Joint cruise ship restaurants. That includes his Dragon Chili Cheese Fries, his Grilled Margarita Tuna, and his Motley Que Ribs. But don't think there won't be some surprises along the way:
America´s 'culinary rockstar' is bringing his unique dishes to South Africa, with an American-Italian influence inspired by the dishes he grew up with and stories about his food journey. Get those cowboy boots out for an evening of line dancing, and shake it up on the mechanical bull for the ride of your life — a perfect choice for a fun night out on the town with friends or family.
Even though Flavortown is coming to South Africa, the restaurant will also feature some South African exclusives like "peri-peri wings and grilled sprinkbok loin" according to Eater. Drown those wings in donkey sauce, fill up a flagon with some mead, and pray your tasting boy does fall over into a flavor coma. That's how this all works, right? Either way, the restaurant should open this weekend if you want to charter a ship and sail your way into the port of Flavortown.
(Via Eater)