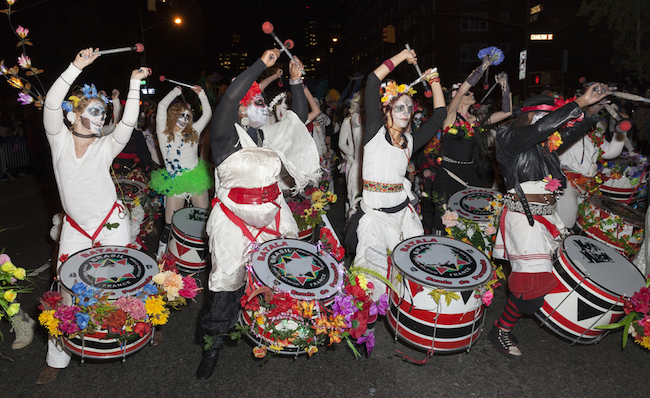 Boo! Halloween is here! Which means that if you haven't already planned out your costume and/or your fantastic evening of keeping the porch light turned off and staying inside with a giant bowl of candy on your lap and Hocus Pocus on the TV, you should probably get to it.
If you're a more social person, however, you might be seeking outside sources for your evening entertainment. The great news is, if you live anywhere near a city, you're likely to find a whole lot of excellent opportunities for good old-fashioned scary Halloween fun. We've got a roundup of some of the best Halloween-themed events taking place across the country this weekend.

Costume Dash 5K & 10K: Boston, Charlotte, San Francisco, Philadelphia
Expanded from last year's Boston-only offering, the Costume Dash offers miles full of fun — and booze — to costume-clad participants. The courses pass each city's iconic landmarks, and include epic pub crawls and post-race parties… Because it's important to hydrate after exerting yourself.
Monster Dash Half Marathon, 10 Mile, 10K and 5K: Chicago, St. Paul, Fort Worth
Why enter the Monster Dash? First off, the prizes: runners can earn a stained-glass medal, or race apparel. Second: the 5k runners get to trick-or-treat at water stops. Candy as race fuel? Yes, please. There's also a costume contest with prizes for best among adults, children, couples, and groups.
Did we mention the post-race party with free beer? Because there's also that. Sounds like it's time to lace up the old trainers and get going.

Rock 'n' Roll Los Angeles Half Marathon and 5K, Los Angeles, California.
The Rock 'n' Roll Marathon and 5k is a nationwide series of races, but LA's is different than most: theirs is Halloween-themed, and bills itself as the largest costume party in LA, with over 10,000 runners dressed for the event. If you're a music geek, this race is for you: 14 stages featuring live bands pepper the route, plus a post-race concert (headlined by the Mowgli's). There's also a costume contest, with prices for for Best Overall Costume, Best Rock Star, Best Superhero, Scariest and Most Original.
One more thing: the event is a fundraiser for the ASPCA, which means that there's also a 1-mile costumed dog walk. Pups in the Halloween spirit? So so in.
The Official Halloween Pub Crawl, Nationwide
Sponsored by PubCrawls.com, the Official Halloween Pub Crawl hits cities across the nation, from Boston to New York to San Francisco, this Monday. In NYC, costumed crawlers will be traveling through five neighborhoods, including the West Village, Chelsea, the Lower East Side, and more. With drink specials until 4 a.m., it sounds like one epic Halloween party is in the works.
Village Halloween Parade, New York City
If you're in New York, you're not going to want to miss the Village Halloween Parade, an annual tradition since 1974. This year the theme of the parade, which shuts down lower Manhattan with its costumed revelry each Halloween, is "Shine a Light," and will include walking chandeliers that give away shards of light. The best part: you can join in the parade at any time, as long as you've got a costume on.
Sleepy Hollow Halloween, Sleepy Hollow, New York
What better place to spend a spooky October than in the home of Washington Irving's Headless Horseman? In Sleepy Hollow, the fun lasts all month, with haunted hayrides, street fairs, live music, and of course, parades. Come evening, visitors can take a lantern tour through the Sleepy Hollow Cemetery or the crypt of vampire Barnabas Collins. With so much to do in Sleepy Hollow, you may never want to leave…

West Hollywood Carnival, Los Angeles
On the opposite side of the country, Los Angeles' West Hollywood Carnival is worth checking out. Known as the world's largest Halloween street party, approximately 500,000 people fill Santa Monica Boulevard each year for the totally free costumed festivities. According to the carnival's page, visitors can expect glitter, drag queens, muscle boys, and a freaking good time — culminating in the "Queen of the Carnival" ceremony, where an A-list celebrity (think Rihanna and Queen Latifah) is named as royalty.
Also, lots of MDMA.
Festival of the Dead, Salem, Mass.
Where was this during Hocus Pocus? Salem's annual Festival of the Dead is a monthlong celebration of Halloween that takes place in the town famous for its witch trials and draws in nearly 500,000 visitors each October. The city's busy schedule includes events like the Witches' Halloween Ball, the Annual Psychic Fair and Witchcraft Expo, and the Annual Salem Witches' Magic Circle. If only the Sanderson sisters had come back in 2016 instead of the early 90's!