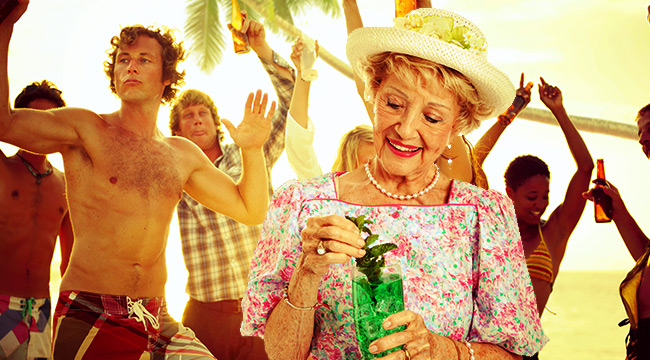 If there's one thing I've learned from infomercials — and my embarrassing TV Land habit — it's that growing old doesn't need to be sad or boring. Can't get out of the bath? There's a product for that. Need help getting up stairs? You can buy an actual chair that will slide you from one floor to the next. Got lots of money and a desire to spite your greedy family? Hire a young nurse to help you get dressed in the morning and get undressed at night! The possibilities are literally endless. Getting old sounds awesome!
But no one is doing their golden years quite like Doreen Grett.
Let's be real: Before this morning, I'd envisioned my own retirement as involving overalls, an aluminum cane, and a whole lot of obscenities hurled at children on my lawn. Now that I've witnessed Doreen, however, I only want to do one thing: get old, go on spring break, and do shots with college students who will willingly pay for my alcohol in return for photos of me getting turnt at their parties. Hey, that's three things, but what do I care? Doreen's already taught me to live in the moment and not give a bleep about society's rules.

This grandma didn't even expect go viral. It turns out she was on vacation in Mexico when she ran into some co-eds who were trying to have a good time at the resort she was staying at. They must have asked to borrow some sunblock or something and then, before anyone knew it, Doreen was out there swilling tequila with her new pals and posting videos of herself to social media to prove that whatever it is, she's still got it!
https://twitter.com/paytongrett/status/839930016922157056/photo/1
Thank good for Doreen's grandkid Payton, who couldn't just let this miracle of nature go under appreciated and had to post the pics on Twitter. You're doing the lord's work, Payton and we salute you for it…even though you'll never be as cool as your grandma. NEVER. Because look at this video:
You're a monster, Doreen! You should be on billboards everywhere! Oprah should give you a car. Forget the Most Interesting Man In The World because there's a new sheriff in town and she says things like "oh, that's a good shot" after downing glasses full of liquor. She's both wild and polite/ responsible.
Twitter, of course, has been dying over Doreen's antics. So much so, that users have completely ignored the women Doreen's pictured with — the ones who dressed to impress — and are focusing only on this lit granny's zest for life.
Take note, Kim Kardashian: This is how you break the internet! Not with a butt pic, but with a candid photo of you knocking back some hard liquor with your young homegirlz4Lyfe!
(Via Happy Place)