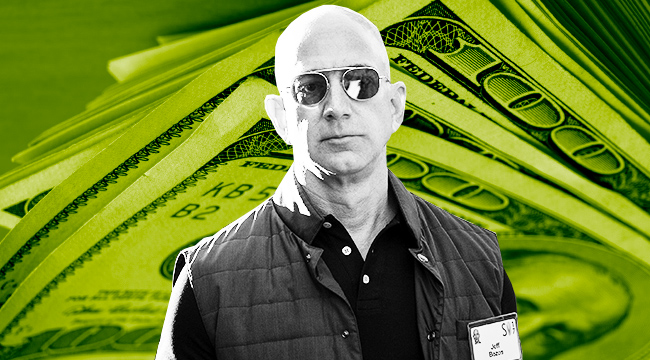 Jeff Bezos just slid ahead of Bill Gates in personal wealth after Amazon shares bounced to over a thousand dollars on Thursday morning. If shares hold or keep gaining, the Amazon founder will become the richest person in the world, unseating Gates for the first time in four years. Though Bezos owns just 17% of Amazon shares, the company's massive success has propelled it to 40% gains and a quarterly revenue of $37.2 billion. That puts Bezos at a personal net worth of $90.9 billion, surpassing Gates by a tiny .2 billion.
Amazon Prime and Amazon web services are two divisions that have done especially well for the company. Not only has Amazon Prime been outpacing brick and mortar retail, it's also going to bat against Netflix and Hulu with original programing that pulls major star power. And Amazon Prime Day is a retail event on par with Black Friday and other retail holidays with much longer histories. The innovative company continues to branch out into new sectors, such as its recent purchase of Whole Foods that could make Amazon a contender with meal kits services like Blue Apron and Purple Carrot.
Bezos' wealth has grown especially quickly this year. At the start of 2017 he was only the fourth wealthiest person in the world. In the past six months he's shot past Warren Buffet and now Bill Gates. Who will unseat him? Maybe you?
Update: It turns out Bill Gates was the one to unseat Jeff Bezos. Despite the Amazon founder's brief stint at the top, thanks to stock market fluctuations by the end of the day Bezos was back to being only the second richest person in the world.
(Via Bloomberg)