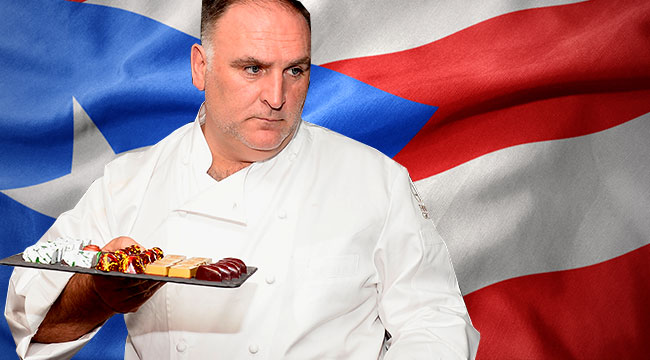 We love José Andrés. We love that he brought Spanish tapas to the US. We love his 26 restaurants and his one food truck. Seriously, the man has food cred. Name an honor, and he or one of his restaurants has it. Michelin stars? Yup. Bib Gourmands? Absolutely. James Beard awards? Uh-huh. But, what we really love is his humanitarianism, his fierce commitment to the people around him. In recent years, he has become an active presence in American disaster relief, driving a team of chefs to assist thousands of displaced people in accessing food.
He was one of the first responders in Haiti and in Houston, and yet again Andrés is one of the first on the ground in Puerto Rico. Along with his crew from World Central Kitchen, the chef is cooking for victims of Hurricane Maria, as well as relief workers and emergency personnel.
The category 4 storm with winds of over 150 MPH ravaged the small island, destroying 80 percent of the country's agriculture and shutting down the power grid for the whole island. This left 3.5 million people desperate for shelter, food, water, and other necessities. As of October 3, only 295 of Puerto Rico's 456 supermarkets were able to open , and those only prove helpful to people who can access them.
Chef Andrés arrived in San Juan September 25 and immediately went to work with local partner to coordinate volunteer efforts to serve meals. He began working with Jose Enrique at his eponymous restaurant in the Santurce district. The men (and a slew of volunteers) made copious quantities of sancocho (Puerto Rican stew) and sandwiches to deliver to six local hospitals. On September 29, they prepared 8,000 meals, bringing their total number prepared to 15,000.

Meals are also being prepared out of Mesa 364 , Enrique L Piñeiro's private-events restaurant. Volunteers from the mainland and from the island are preparing stews, paella, sandwiches, and pastelon (a Puerto Rican casserole that uses plantains instead of noodles). You can see their efforts by searching social media for #chefsforPuertoRico.
According to the World Central Kitchen website, with the help of thousands of families across Puerto Rico, Andrés and his non-profit have served 50,000 meals in the last week. Thanks to the support that the organization has been getting, they have been able to send additional chefs from their Chef Network to the island to run kitchens in areas like Ponce and Cataño. The Chef Network matches socially conscious chefs with communities that need their skills, and it includes big names like Anthony Bourdain, Andrew Zimmern, and Mario Batali. Their goal is to serve 100,000 meals daily.
Chef Andrés is using Twitter to keep everyone updated. Yesterday, he posted a video about relocating his main kitchen to the Coliseo (the largest indoor arena in Puerto Rico) in an attempt to serve even more people. And, a mere 14 hours later he was posting images from a meeting with Puerto Rico's Secretary of Education. They were discussing using school kitchens across the country to serve hot meals to people who need them.
He's also using the social media site to take jabs at Donald Trump, with whom he has had beef in the past. In April, the pair finally settled lawsuits against one another that originated when Andrés pulled out of his lease to open a restaurant in Trump International Hotel. His reason? Trumps hateful comments about Mexicans. Currently, the chef is appalled by the president's lack of response to the crisis.
The Washington Post was able to connect briefly with the incredibly busy chef. When asked how he is getting supplies to the island, he simply stated, "When you have a credit card, everything is possible." Well, yes.
He also explained his hopes to extend his current relief operations to Vieques, a small island off the coast, which has been without communications since Hurricane Maria struck. But, he may not be able to make that happen. "We have to be realistic about what we can do," Andrés commented.

Despite being expected back in Washington, D.C. to run his business, the superstar chef has extended his stay in Puerto Rico. "I cannot leave," he said.
When José Andrés was presented with the McCall-Pierpaoli Humanitarian Award from Refugee's International, he gave an impassioned speech about his work in Haiti after the earthquake. He emphasized the people World Central Kitchen helps "don't want our pity, they want our respect." Well, he gave the people of Haiti the respect they deserved. And, he gave it to people in Houston. Now, he is giving it to the people of Puerto Rico. Bravo!