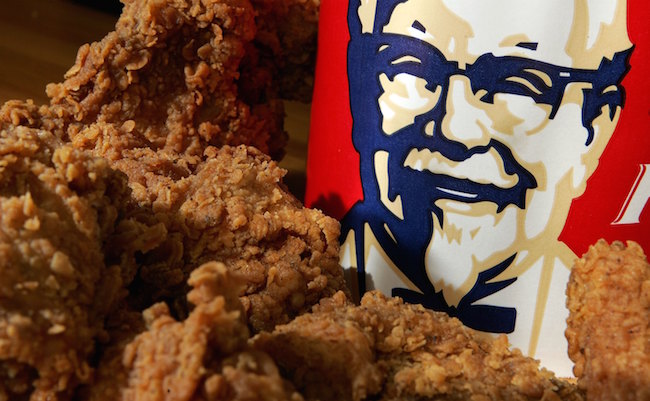 Fantastic news for anyone whose vacation choices are dictated by a mix of gluttony and naughty herb and secrets! An Osaka KFC location is getting into the all-you-can-eat buffet game and they don't care what your punk-ass cardiologist has to say about it.
We're not talking one of those weird renegade Kentucky Fried Chicken buffets you'll sometimes see in rural outposts while driving between cities. Nope! This Osaka buffet (scheduled to open on November 19) is something put into the world by KFC themselves with its own unique set of rules and pricing.
According to RocketNews24, customers will pay 1,880 to 2,480 yen (essentially $16-$21 U.S.) to eat at the Expo City location with the price changing depending on the time of day. Eating on a weekday afternoon is the thriftiest route and weekend evenings are the priciest time to go.
If you pony up for the KFC buffet experience, you'll have 90 minutes to go full Caligula on the establishment's many fried offerings. The introduction of a timer is bound to give the whole experience an exciting Supermarket Sweep type feel, so the pressure's on Osaka to post some disgusting food orgy pics on Instagram.
Over 60 menu items have been promised for this exciting milestone in KFC history and we're absolutely certain this can only end well.
(via Foodbeast)