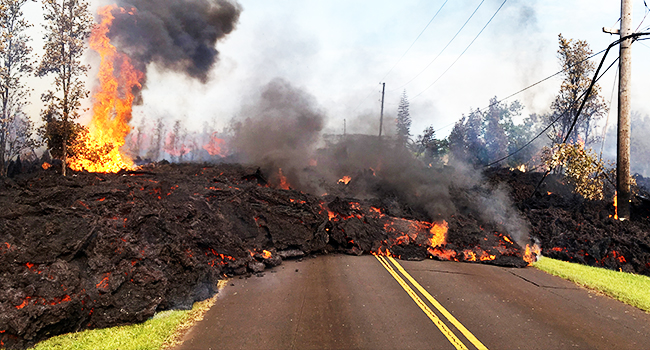 Hawaiian officials had been worried that Kilauea, the most active and emoji-friendly of the five major volcanoes that make up Hawaii, was about to blow for a week, and had been warning residents and tourists alike away from the area. Then, last Monday, the Puʻu ʻŌʻō crater began collapsing, setting off earthquakes and forcing magma into new chambers, and, well, the results speak for themselves.
Over the past seven days, slow-moving lava flows and crevices belching sulfur gas have cracked roads, burned down forests, eaten away homes and even erased a Ford Mustang from existence:
The good news is that despite giant lava floes trudging slowly down roadways, spitting balls of molten fire into the air, everybody had plenty of advance warning. So far, there haven't been any fatalities. Still, at least 26 homes, and possibly more structures, have been destroyed and plenty of others remain at risk.

As for when this might stop? Nobody knows. Kilauea has been erupting more or less continuously since 1983 and had frequent eruptions before that. The only thing that's changed here is that the magma is erupting from new vents, so it's not clear yet when the flow might ebb.
This leaves those living in the eruption zone unsure of where to go and what to do. While they were briefly allowed to return for their possessions, most residents in the area simply have no timeline for getting back, and their homes, if not destroyed, are likely severely damaged. So, while we admire the fury of Kilauea, let's take a moment to remember some of us will be dealing with its fallout for a long, long while.