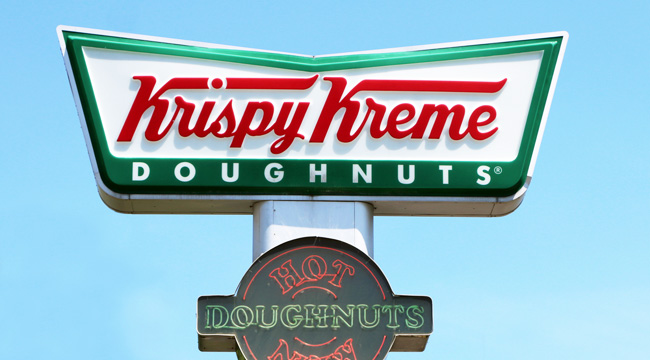 Krispy Kreme is being sued for a stack of cash (and not over last week's election fraud). The doughnut brand is looking at a $5 million class-action lawsuit after it was discovered that multiple products' ingredients don't correspond to their advertised names.
Californian Jason Saidian is suing Krispy Kreme for false advertising and fraud for its Glazed Blueberry Cake doughnut omitting blueberries — instead containing "blueberry gumbits" made of corn syrup and food coloring — its Glazed Raspberry Filled doughnut not containing raspberries, and its maple bars not including a single drop of maple syrup.
Typically brands that produce donut-infused-soda aren't generally known for nutrition, but the lawsuit alleges that the company still ought to list actual ingredients next to labelled names:
"The donuts sold in-store by [Krispy Kreme] are displayed in a tray behind a glass counter, along with a small placard in front of each tray that provides the name of the donut variety. No ingredients list is provided or available to customers in-store."

Saidian takes things even further by claiming that the company is depriving its customers of nutritional value: "[Blueberries] have the potential to limit the development and severity of certain cancers and vascular diseases … and neurodegenerative diseases of aging."
Krispy Kreme doesn't comment on ongoing legal action.
(Via Eater)