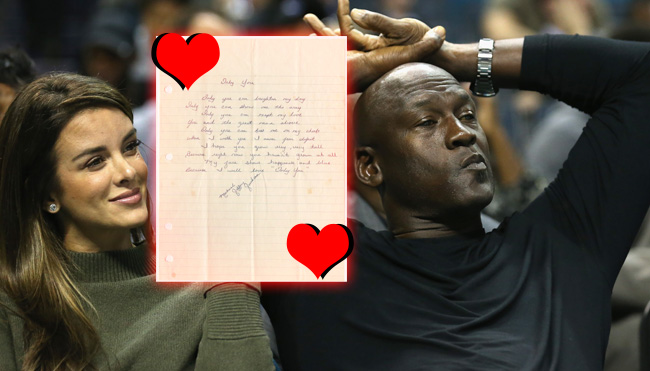 We all know that Michael Jordan is a level of NBA legend that only a few could achieve, like say LeBron James. But did you know he was also quite the tender heart with an affinity for poetry? At least a younger Jordan apparently was, penning a love poem to his grade school crush. We know this because the note is going on auction with Goldin Auctions — and Darren Rovell shared it on Twitter:
Sure, it seems like Jordan likely got the idea from a doo wop song. That doesn't mean the heart isn't there, showing that his romantic side was the perfect counter to his ferocious on the court personality. Just take it in for a moment and imagine you're a teenage girl, being wooed by the future lord of the basketball court:
Only you can brighten my day
Only you can show me the way.
Only you can except my love.
You and the great man above.
Only you can kiss my cheek.
When I with you I never fear defeat.
I hope you grow very, very tall.
Because right now you haven't grown at all.
My face shows happiness and blue.
Because I will love Only You.
Love is pretty strong for a teen to be tossing out there, but what are you going to do. Kids are stupid. And little did he know, but this love note is going to fetch a hefty price for somebody at auction. Hopefully not somebody that's looking to court their own lover.
(Via The Root / Darren Rovell)