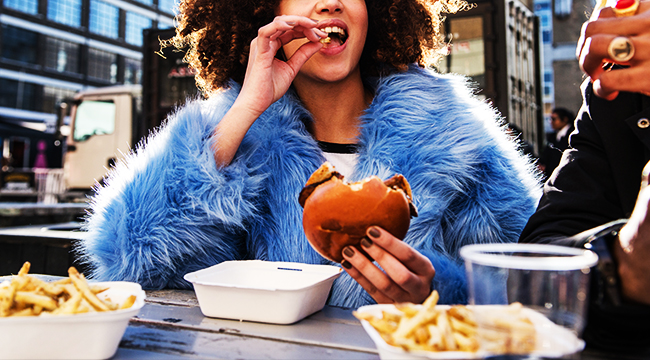 We all know that these national day deals are all about getting you great savings on food (and thereby building loyalty). So it came as a surprise to us that several fast food chains haven't seemed to bother to create any deals specifically for National Fast Food Day this year.
Shouldn't this be like their Christmas or something, what gives? I tried to further investigate but even Wendy's — the snarkiest and most active of the food-brand-Twitter-personalities — had no answers for me.

They eventually came through with a weak-sauce discount, but there are better offers on the table. To help you sort through them, we compiled all the ongoing food deals across the fast food space to ensure that you get to take part in this year's National Fast Food Day.
Arby's – Free Small Fries and Drink when you purchase a Smokehouse Brisket Sandwich. Grab the coupon here.
Burger King – Three pancakes for just .89 cents and a Series of app-only deals that include BOGO Whoppers, $5 Crispy Chicken or Whopper meals, $5 for 2 Whopper Jr meals, or a $3 double cheeseburger deal.
Chick fil A – Get a free chicken sandwich when you place an order exceeding $5 through DoorDash after 10:30 a.m.
Dunkin' – No donut deals here, but you can get a free sample of the Dunkin's Caramel Iced Latte between the hours of 10 a.m. and 2 p.m.
Hardee's – Post a selfie with an order of chicken tenders using the hashtag #CauseItTastesBetter for your chance to win a gift card, make it a good one!
Jack in the Box – Free medium curly fries with your purchase of a large beverage and sign up for Jack in the Box's rewards program. New signees will also receive a free cheeseburger.
McDonald's – McDonald's app deals include $1 fries, 20 McNuggets for $4.99, and free soft drinks!
Panda Express – 35% off of online orders in celebration of Panda's 35 years of business!
Pizza Hut – Two specially curated items for only $5 each. Choose between a medium one-topping pizza, eight boneless wings, Tuscani pasta, garlic knots, breadsticks, Cinnabon mini rolls, or an Ultimate chocolate chip cookie.
Popeyes – Try Popeyes new Tabasco-marinated Red Stick Chicken, a biscuit, and a small side of your choice for just $5.
Sonic – Quarter-Pound Double Stack Cheeseburger with tater tots for just $2.99.
https://www.instagram.com/p/BpuHrGLgB_i/

Wendy's – Download the Wendy's app and receive a free Baconator Jr. with purchase. Other deals include BOGO arrangements for various food items. The any size fries for a $1 deal is still ongoing as well!
White Castle – Six bacon cheese sliders for $6.99!
Wienerschnitzel – Two chili cheeseburgers for $4. Download this coupon to claim your savings!
Taco Bell – $2 Beefy Crunch Burrito Duo. One burrito and one medium drink. Pretty, pretty, pretty good deal.