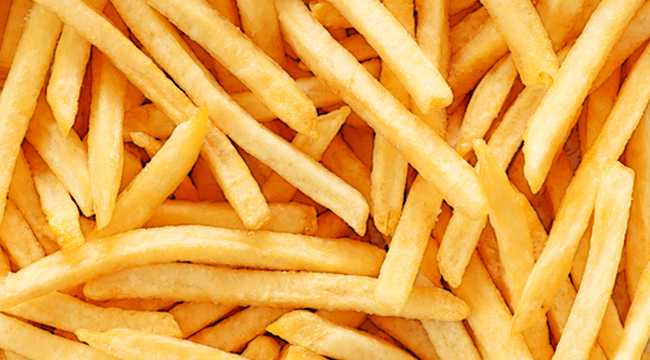 French fries might be the perfect food, particularly because of their customizability. You can go basic and eat these crispy, fried gems on their own or with ketchup (or any other crazy sauce). But if you want to really get the most out of French fries, you'll enjoy them slathered with chili and cheese, gravy and cheese (poutine), or blanketed by pulled pork, brisket, or any other magical meat. They're amazing on their own, but really shine when paired with cheeseburgers, hotdogs, and every other sandwich and wrap ever invented. French fries are so sublime, they deserve their own holiday. Oh wait, they already do — and it's today. Here's where to get all the best deals for National French Fry Day.
Arby's
You can get free fries (and a drink) at Arby's. All you need to do is purchase a Brown Sugar Bacon Sandwich. You don't need a coupon to take advantage of this offer.
BurgerFi
Buy any burger or hot dog at BurgerFi on National French Fry Day and you'll get a free regular size order of French fries for free.
Dairy Queen
DK is offering small fries for only $1 all day today at select locations. Check your local Dairy Queen to see if this deal is available.
Fox Pizza
On National French Fry Day, Fox Pizza is offering customers a half hoagie, a 20-oz. drink, and wedge fries for only $6.99 with the coupon code HG699.
Houlihan's
To celebrate the holiday, the chain is offering customers bottomless Parmesan Frites (as well as regular French fries) all day. All you need to do is pay for the first order and they'll keep refilling it for free. This deal is available at select locations. Check and see if your local Houlihan's is honoring it before you go in.

McDonald's
Customers can get an order of medium French fries when they purchase any other menu item using the McDonald's app. This deal continues every Friday until September 7th.
Meatheads
Visit any Meatheads location to get bottomless French fries for only $2 with any purchase.
Omaha Steaks
Visit any Omaha Steaks' location or order online to get a burger and an order of steak fries for only $2.99.
Pizza Hut
Us the coupon code YWM to get 24 Wingstreet chicken wings with sauces, and two orders of waffle fries for $19.99.
Tango Yankee Burger Company
To celebrate National French Fry Day, Tango Yankee Burger Company is giving away free orders of their Sidewinder fries.
Wienerschnitzel
Use this coupo at any Wienerschnitzel location to get $1 off an order of chili cheese fries. This deal isn't only good today, it lasts until the end of July.