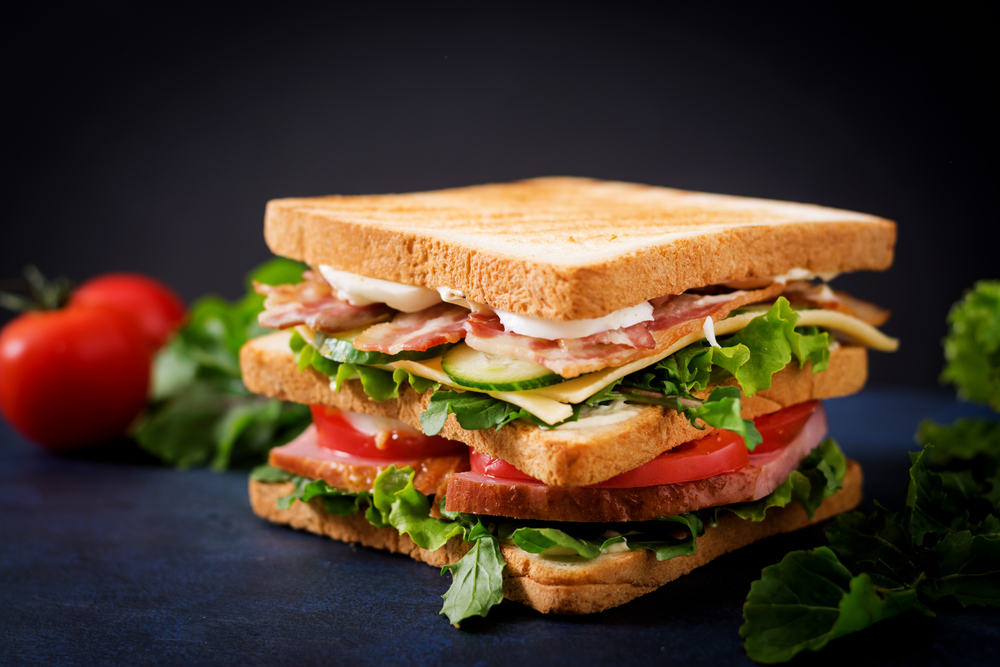 There's something special about sandwiches. It might seem like they're simple, but there are few foods as customizable as the mighty sandwich. You can choose from a seemingly never-ending parade of bread options from the simple Wonder Bread with Bologna, American cheese, and ketchup to the 12-foot party sub featuring ham, turkey, roast beef, four different cheeses, mayonnaise, mustard, lettuce, and tomato. And let's not forget the lovable hangover-curing, breakfast sandwich — chocked full with cheese, eggs, and bacon (or sausage). It doesn't matter how different they seem, they are all sandwiches (like hot dogs!).
As long as you have two slices of bread, you can pretty much put anything (as long as it's edible) between them and it's instantly a sandwich. This marvel of human ingenuity deserves to be praised 365 days a year. But, we'll settle for one magical, cheese, meat, and condiment-filled day. That day happens to be today. Like most food days, Sandwich Day is full of exceptional deals from coast to coast. Check out the best below.
Stop by any Arby's location and get a free Roast Beef Classic sandwich (with the purchase of a drink) when you sign up for the restaurant's newsletter.
The restaurant chain is celebrating National Sandwich Day by offering guests the ability to upgrade from small to medium size subs at no additional cost.
Get to Firehouse subs early because they first 50 people to order any size Hook & Ladder today will get free chips and a medium drink with the purchase of a medium or large sub on their next visit as well as a custom sub enamel pin.

If you happen to live in South Florida, Jon Smith Subs is celebrating the holiday by customers a coupon for a free 6-inch sub when they purchase a 12-inch sub. This offer is only good at the Stuart, Oviedo and Royal Palm Beach locations.
To celebrate National Sandwich Day, customers can get the chain's famous McAlister's Club sandwich for only $4. This includes the aforementioned sandwich, a pickle, and a side.
To celebrate the holiday, Penn Station customers can get any 6 inch sub (at participating locations) for only $3.99 from 4-9pm. You don't even need a coupon to get this deal.
Visit any Potbelly location and buy one pastrami sandwich and get a second one for free when you sign up for the Potbelly Perks, the chain's rewards program.
In honor of National Sandwich Day, Press'd is offering customers a buy one sandwich (and drink) and get one free deal at every Press'd location.
Stop by QuickChek today to get a free six-inch sub with the purchase of a six-inch sub. To get this offer, you will need to download a coupon from the store's mobile app.
To celebrate the holiday Quizno's is offering its 8-inch Classic Italian for only $5 at all participating locations in the US.
Visit any Schlotsky's location today to get a small Original for only $2.99.
Stop by any participating Subway location today to get a free sub with the purchase of any size sub and a 30 ounce drink. The free sub will be of equal or lesser value than the one you purchased.