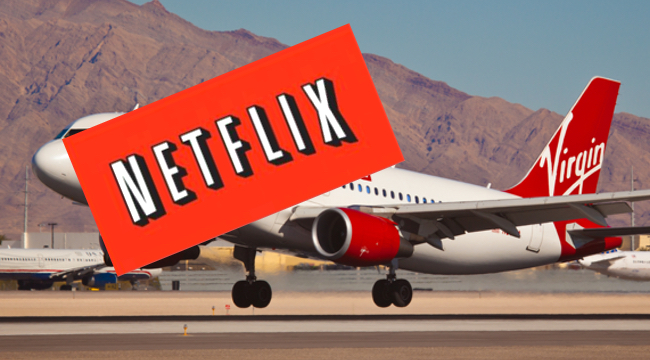 In early September, Amazon made travel a relative pleasure by offering an offline playback video service. The generous gesture eliminated the need for constant wifi connection in order to enjoy Amazon's library of Prime content; and the move added to Amazon's previous positioning of partnering with JetBlue in May to allow travelers free streaming of their service. The deck was stacked and primed for a move by Netflix.
Netflix has revealed their cards, and it's a winning hand. The streaming service with the most extensive catalog made its library available (free of charge) to travelers in an exclusive contract with Virgin America. On Tuesday morning, the new partners recruited Michael Kelly of House of Cards to entertain travelers on a six-hour flight from San Francisco to Washington, D.C., which was reportedly filled with "morally ambiguous political advice over the aircraft's intercom." It sure sounds like these passengers got their money's worth:
"As Wi-Fi becomes more ubiquitous, it's going to be increasingly possible for members to enjoy Netflix wherever they want," said Bill Holmes, Netflix's global head of business development. "We're delighted to partner with Virgin America to extend the joy of Netflix to our members at 35,000 feet."

"We hope our guests enjoy the offering and know that even President Frank Underwood can't get entertainment this good on-board Air Force One," said Abby Lunardini, Virgin America's VP of brand marketing and communications.
In a sneaky twist (you knew this was coming), users of the free service will also be prompted to sign up for a 30-day Netflix trial on solid ground. They don't have to bite to take advantage of the in-flight service, but this should ramp up subscribers. By this time next year, the whole world except for Quentin Tarantino could be signed up for Netflix.
Virgin America celebrated in the most appropriate manner on Twitter.
(Via Variety)