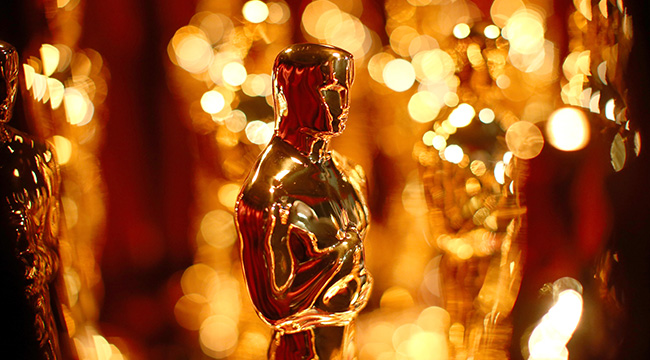 What did you have for dinner last night? A grilled cheese sandwich, perhaps? Maybe some cauliflower on the side to make you feel just a little bit healthy? Congratulations! You're now just like everyone who attended the Governors Ball Oscars after-party last night, where the celebrities also enjoyed "comfort foods" meant to nourish the soul. Except their sandwiches were made by Wolfgang Puck. And the cauliflower was dipped in edible gold (I'm assuming, because that's the only way you'd ever get me to eat it) to make it shine like the golden statuettes that DiCaprio and company won last night.
Okay, so maybe it wasn't the cauliflower being dipped in edible powdered gold, but something sure was because according to a report by The CBC, the event called for thirty pounds of the stuff to be used in the making of the food. And before we get to the rest of the shopping list (which is pretty impressive), let's just do some quick math on exactly how much all of that powder cost.
One hundred and twenty five milligrams of Manetti edible gold dust powder costs $44.50 (before tax and shipping, which I'm not including because I don't math so good), which means that one gram of the stuff costs $356. And because there are 453.592 grams in a pound, that means that if Puck just purchased one pound of the stuff to disseminate among the guests, whoever was footing the bill for the party would be out $161,478.75. Now multiply that by thirty, take two aspirin, and come back, because the dollar amount spent on edible gold for this party will remind you that no, celebrities are not just like us, unless the celebrity we're talking about is Ashlee Simpson, who probably ate a burrito last night because it's not like she was invited.
You ready for this? Assuming that Puck purchased Manetti's edible gold powder (and why wouldn't he, reviews suggest Manetti makes excellent products), the bill for just the gold came to $4,844,362.56. He probably got an insane bulk deal, but still — the sewers of Hollywood are probably flooded with enough gold dust today to buy you a new house. Not at all wasteful or gratuitous.
Might have just been cheaper to hand out glitter pills to the guests and wish them the best for the morning? (Of course they might have gone with the one gram jar of gold powder? That brings the cost down to a very manageable $2.99 million, but why skimp?)
But that's just the beginning. Here's the rest of this year's party shopping list of stuff you (mostly) can't buy at Costco:
10 kg American farm-raised caviar

1,000 stone crab claws

350 pounds house smoked salmon

6,500 pieces wood-fired, Oscar-shaped flatbread

20 pounds house-pickled ginger

175 pounds Parmesan Reggiano

15 pounds winter black truffles

300 whole Jidori chickens

1,000 grilled cheese sandwiches

6,000 mini homemade brioche buns

100 pounds signature blend prime chuck

800 figs

5,250 handmade artichoke and fromage agnolotti

1,500 quail eggs

400 heads of cauliflower

300 pounds Snake River Wagyu short ribs

200 pounds Honey Crisp apples

10 gallons orange miso vinaigrette

450 quarts heavy cream

450 pounds organic sugar

20 pounds peanut butter

10 gallons housemade banana ice cream

5 pounds homemade hot fudge

1,000 homemade mini cookies

5,000 cage-free eggs

1 ton 70 per cent Fleur de Cao Cacao Barry chocolate

30 pounds edible gold dust

7,000 mini chocolate Oscars

2,400 bottles Piper Heidsieck Champagne

2,700 bottles Sterling Vineyards wines

130 bottles Haig Club single grain Scotch whisky
And a paaaarrrrrttriiiiiiiidge in a pear treeeeeee.
Honestly, that's probably more money than anyone reading this will make in one lifetime, but at least we can take comfort in the fact that even those who didn't win an Oscar last night were able to partake in gold-dusted chocolate miniatures while they watched combatants from all 12 districts duke it out on big screens.
Celebrities: THEY'RE JUST LIKE OTHER CELEBRITIES AND NOTHING LIKE US.
(Via The CBC)