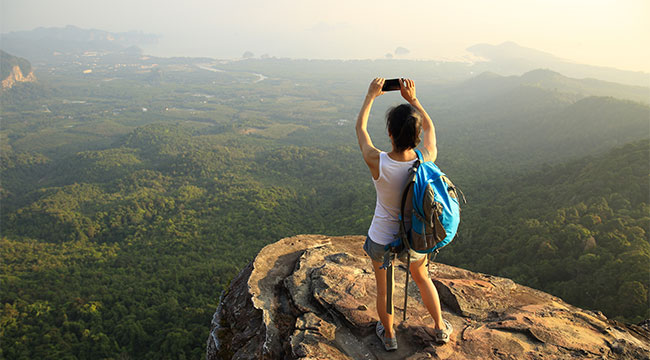 We live in a fascinating time. Technology is evolving at an insane rate. We're at a point where we're creating products we didn't even know we needed yet — like hoverboards (thanks McFly). Times are good. Occasionally chaotic, but good.
The world of photography is no different. Gone are the days that required photographers to have a kit worth tens of thousands of dollars for the sake of creating a decent image. These days, all you need is a smartphone. Smartphone technology has evolved to a point that it almost eliminates the need for a traditional DSLR or SLR setup. That being said, owning a paintbrush doesn't make you a painter and having a smartphone doesn't make you a photographer.
That's why we sat down with Matthew Rycroft of The Cooperative of Photography, who sent us this helpful video, as well as some good tips, to get our smartphone camera game on point.
On smartphone photography: The new generation of smartphones coming in have insane functionality — for example, a lot of new phones are able to shoot long exposures with a slow shutter which is crazy. One thing I think is incredible about smartphone photography is the convenience. I used to take panoramas on a DSLR, stitch them in Photoshop, then distort them into "Tiny Planets". The whole process took me hours and hours for just one image. In our latest video, we show an app that can do that in 10 seconds. 
On starting out: Get feedback from pros. It's the most valuable thing. Join groups on Facebook or internet groups, post your images and ask for constructive criticism (CC). It may be hard to hear that people don't like your lighting, composition, post-production — but it's a great way to improve!
https://instagram.com/p/zmoaghwTo1/?taken-by=leorosasphoto
On finding your style: Find topics / photographers that inspire you, push yourself, and shoot as much as you can. When you get bitten by photography it can be anything — panoramas, astrophotography, street. You've got to get all weird and go nuts on it. Your style will find you…

https://instagram.com/p/vMEBpNL1De/?taken-by=matthewrycroft
On when to photograph: Definitely download a "golden hour" app which tells you when golden hour begins. This is always the best time to shoot! And never be lazy. Nobody ever regretted waking up for a sunrise!

https://instagram.com/p/u3eikdL1BS/?taken-by=matthewrycroft
On where to photograph: I recommend going for a walk and getting lost, you'll always find a cool new place. Otherwise check out the web and see what interesting buildings are nearby — join an Urbex or Rooftopping group and check out some abandoned buildings or rooftops!
https://instagram.com/p/2rOQ-uwTsp/?taken-by=leorosasphoto

 
On cameras: I think we need to stop differentiating now that smartphone technology has developed. I don't really like differentiating between smartphone and DSLR photography — for me, it's just photography and the camera is just a tool. The magic of this modern era is that everyone now has a camera in their pocket and photography is super accessible. As discussed, it's the wizard not the wand!
https://instagram.com/p/ieMWV2r1K5/?taken-by=matthewrycroft
Matthew went on to recommend Richard Koci Hernandez, Mustafa Seven, and Gareth Pon — three Instagram photographers who shoot mostly on their phones and are guaranteed to inspire you to get more from the tech you own.