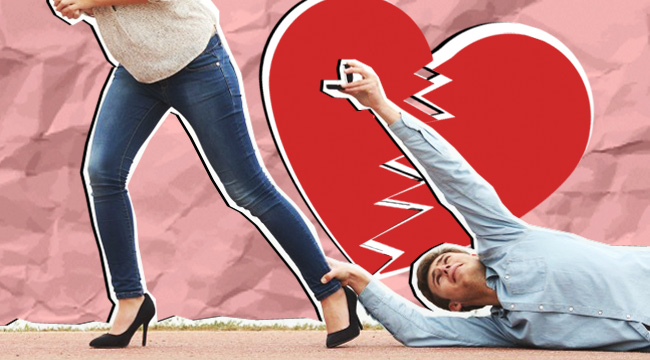 Valentine's Day is dreaded by many for good reason: if you're single, it's a 24-hour long reminder of that fact, and, if you're in a relationship, it comes with pressure to top every other romantic date in your coupling history. Aside from a huge spike in chocolate and greeting card sales, the day also marks the perfect occasion for a proposal – or does it?
With hearts and flowers everywhere, many lovers have used February 14 to get down on one knee. And while numerous couples wind up with a romantic engagement story, others will forever despise the calendar date. So, in honor of Cupid and his damn arrow, here are some disastrous proposals (from Valentine's and otherwise) to remind you to tread lightly this Sunday.
Anotherdirtyword's tragic tale actually takes place on the day in question, when the Redditor was only a 19-year-old freshman in college.
He was 21, stationed on the other side of the country with the Air Force, and we had been dating four months. He flew to my college town to surprise me on Valentine's Day and, as soon as I walked into my dorm room, he got down on one knee with an okay ring (he really didn't make that much money) and asked me to marry him. I said no… I told him I couldn't do it right now, I'm too young, we're long-distance, it's not the right time. I also let him know I couldn't say yes until he could learn how to treat me like a human being.
So how did Mr. Romance respond? He stood up, grabbed his stuff and left without a word. Anotherdirtyword was shortly thereafter blocked by him on all forms of social media.
Poster verdandi's significant other flip-flopped about popping the question, all within about an hour of getting down on one knee. "In one day, I had a boyfriend, a fiance, an ex-fiance, and an ex-boyfriend," she wrote.
We went for a walk one day and he was visibly nervous. He finally stopped and said very hesitantly, 'I've been thinking . . . of the long-term benefits of . . . marriage. Of a marriage-type thing.' Then he said he'd left the ring in the car but would pretend his wallet was the ring box. He got down on one knee and asked officially. I said yes. We walked home and he told me not to tell anyone yet….

We got back to our apartment and ate dinner as usual. He was quieter than normal. After, when we were sitting on the couch, he put his head between his knees and said, 'I've made a huge mistake."'We ended the engagement (only a half hour) and broke up. I took a very long drive and came back three hours later. We talked and agreed to keep dating.
Four months after that, he told me he wanted to break up for good. When I asked him why, he hemmed and hawed awhile before responding, 'We went to Target way too much. Also, I didn't love you.' We still haven't talked. We dated for nearly four years before the "proposal" then he almost immediately vanished without a trace when we broke up.
Proposals gone awry at famous landmarks are, surprisingly, common. Two users shared tales of actual Sydney Harbour Bridge walks that didn't end as happily as they do on The Bachelor. First, a poster wrote, "When I climbed the Sydney Harbour Bridge we were told that proposals were very common and that you had to let the guide know ahead of time and he or she would attach the ring to your climbing gear so that it would be safe." Redditers imagined the pain of a "no" and then having to trek down with your group in awkward silence.