"Ecclesiastes assures us… that there is a time for every purpose under heaven. A time to laugh… and a time to weep. A time to mourn… and there is a time to dance," Ren says dramatically in the 1984 movie Footloose. "And there was a time for this law, but not anymore. See, this is our time to dance. It is our way of celebrating life. It's the way it was in the beginning. It's the way it's always been. It's the way it should be now."
When you think of a town that has banned dancing, you automatically think of Footloose. But what most people don't know is that similar legislation has been on the books in New York City for the last century. And in the real law, Ren's convincing line, "And there was a time for this law, but not anymore," would be highly contested.
The Cabaret law (which bans dancing in any establishment without a Caberet License) was enacted specifically in 1926 with the intention of cracking down on the African American jazz clubs in Harlem. The original law not only banned dancing but banned jazz instruments, too. It also prohibited more than three musicians from playing at a time in unlicensed clubs.
Jazz saxophonist Coleman Hawkins and jazz trumpeter Dizzy Gillespie in concert with the Cannonball Adderley Quintet, 27th November 1960. Jazz musicians weren't allowed to play in groups bigger than three or use traditional jazz instruments in most bars and clubs in NYC due to the Cabaret Law.
Later, in the 1940's, the law was expanded to include artists needing a "Cabaret Card" to perform at bars and clubs. To get such a card, musicians had to go to the police department to be fingerprinted, photographed, and interrogated about their personal lives. The cards had a two year renewal process and authorities could revoke or deny at their discretion. Drug use, arrests, and homosexuality were all acceptable reasons to revoke a card. During its history, African American musicians were targeted at much higher rates than other races with the requirement, and many famous musicians had their cabaret cards revoked, including: Billie Holiday, Charlie Parker, Thelonious Monk, and Miles Davis.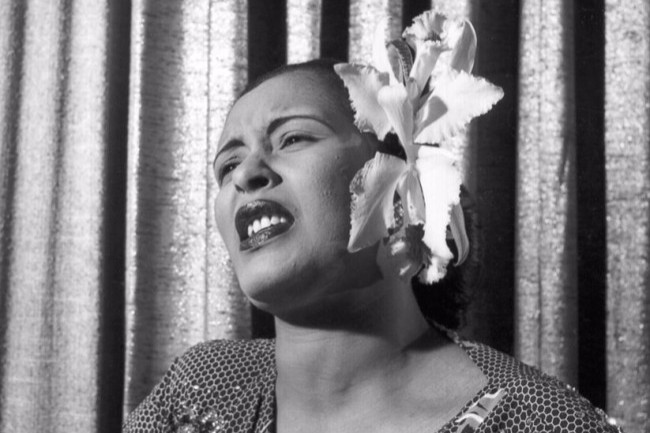 Billie Holiday was amongst the musicians targeted in the 1940's, 50's, and 60's with the Cabaret Card requirement.

Most of the Cabaret Law's additions have been repealed due to the aforementioned racism and general ridiculousness (the Cabaret Card rule was only taken back after Frank Sinatra refused to play in the city because of it), but the overall law remains in effect. In the 90's then-mayor Rudy Guiliani used the law to crack down on clubs and bars in the city in an attempt to reduce drug use and underage drinking in the city. However, some claim the enforcement of the law continued to slant towards an unfair bias — closing down and fining bars that were primarily patronized by marginalized groups.
Now, the group Dance Liberation Network is trying to get the unfair legislation repealed for good. They've posted a petition on Change.org in which they say, "We believe the Cabaret Law criminalizes the act of dancing without providing meaningful additional safety or quality of life measures. All NYC bars and restaurants are already held to a multitude of noise, safety and fire codes which ensure that their establishments are safe for patrons and respectful of their neighbors."
Currently, getting a Cabaret License is nearly impossible. Only 118 out of NYC's 25,000 bars and clubs have one. That means that if you've danced in the city, there's a good chance you were breaking the law. The definition of dancing is notoriously loosely interpreted. Some bars have been fined simply for letting patrons sway.
"It's hard to believe that our city government has a law on the books banning an act of expression as basic and universal as dancing," Dance Liberation Network writes in their petition. "It sounds like the behavior of a repressive regime and certainly has no place in a city as tolerant, diverse, and respectful of human expression as ours is."
The group hopes that the city will repeal the outdated law, and allow people to dance freely again. We certainly hope that the next time we go to New York, we can kick off our Sunday shoes (legally), and cut loose, footloose.
You can sign Dance Liberation Network's petition to repeal the Cabaret Law here.