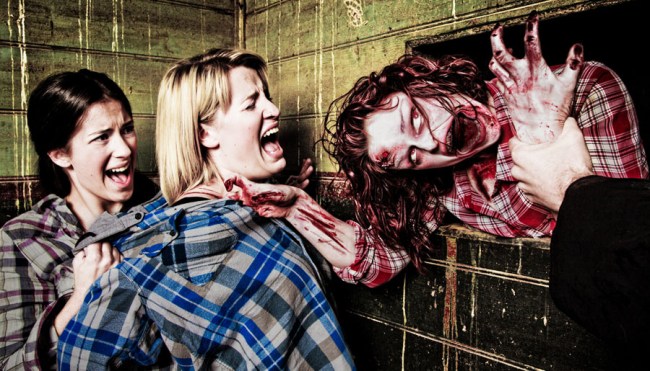 If you happen to be in Orange County at some point before Halloween, perhaps you'd like to test your willpower against the real terror of The 17th Door. It's a haunted house experience that is apparently so rough and terrifying, you need to sign a waiver before entering. Sounds intriguing, right?
Many haunted houses claim to be the scariest things around (and some aren't really haunted houses at all, like your local Hell House). But apparently The 17th Door offers something more, with an experience that blends horror and the terror of everyday life. It's all the work of Robbie and Heather Luther of Tustin, California, and they're aiming to make this holiday memorable for anyone who dares to enter according to ABC 7:
"There's a lot going on, where it's very interactive and immersive and kind of invades your space. You will get touched and you might get wet," Heather said.

Once curious visitors step through the door, they're inside the demented head of Paula, a first-year student at Gluttire University.

A group will spend about a minute in 17 different rooms, each with a unique theme and created with a painstaking amount of detail. All of them are filled with monsters lurking around every corner.
The news reports are just the beginning, though, especially if you're interested in visiting. There's an entire storyline behind this place, one that you can explore through the official web site. As it turns out, the entire experience is meant to be the nightmare of one disturbed college girl that blasts your senses for 30 minutes. Just reading through the description takes you back to films like A Nightmare On Elm Street:
Come walk with Paula for over 30 minutes through The University and its seventeen rooms of psychological terror… A place so sinister that the personal demons of her past take pig form and roam the campus waiting to haunt her. In this decrepit institution, where evil breeds unchecked, go along with Paula as her life falls hard and fast down a spiral of torture: uncontrollable purging, excessive abuse and bodily harm. Try to calm your senses and gather your courage as you progress from room to room because under the disturbed and watchful eye of this monstrous school, each space tests your emotions and endurance more than the last.
If you think you are prepared to enter Paula's world, then know this: everything inside this realm, which assaults your senses, is real. All you'll feel on your flesh, the heat and the freezing chill, is real. The putrid odor that invades your nose from the stench of her rotting life is real. Know that when you walk into the frozen locker and are surrounded by the carcasses of her demons, what hangs from those hooks is real. And when you linger in her dorm room, what scurries under your feet and along the walls is real. The question is: can you make it? Can you walk in Paula's shoes through the dissolution of her life to withstand what's behind that final door? Or will you want to escape along with her…perhaps even before her? Can you survive this, or will you scream MERCY in order to be escorted out of this nightmare? Are you brave enough to make it through… The 17th Door?
You can take a quick tour yourself below, filled to the brim with creepy sights and pig-men. All looking to kill you or push you to the limits. Personally, I believe they're really trying hard, but it's hard to get scared by something along these lines. Guys yelling at you and grabbing you is a bit different than actually fearing for your life. Not sure I'd want to be locked in a box, though.
(Via ABC 7 / The 17th Door)