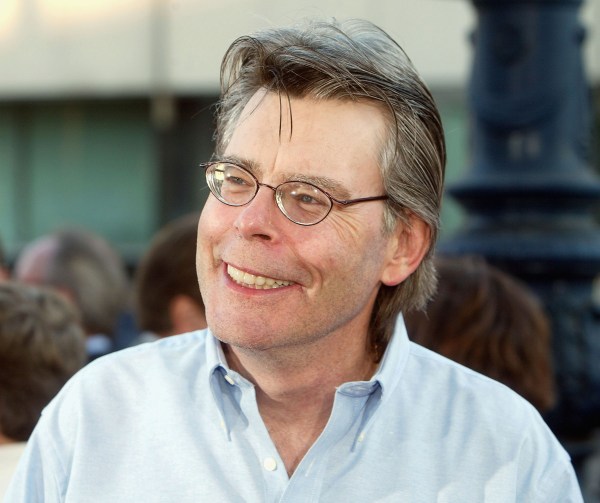 In a move that finally recognizes the literary merit of killer cars, killer dogs, killer clowns, killer maids, killer knick-knack stores, killer cars (again), killer sniffles, killer killers, killer Elvis Presleys, and little-league baseball, Stephen King has just been announced as the winner of the National Medal of Arts.
The award will be presented to the prolific author (and terrible actor) by President Barack Obama in a ceremony that will also recognize Tobias Wolff and Larry McMurtry (author's note: Larry McMurtry had better get an extra gold star for Lonesome Dove). The National Medal of Arts is the highest honor the United States government can bestow on an artist, and is reserved for people who deserve "special recognition by reason of their outstanding contributions to the excellence, growth, support and availability of the arts in the United States."
This honor, along with his Medal for Distinguished Contribution to American Letters from the National Book Foundation in 2003, is sure to be counted among the highlights of Stephen King's long and wildly successful career. However, Mr. King's greatest contribution to the arts is, and will forever remain, his 1986 directorial debut, Maximum Overdrive. Seriously, you should spare a few minutes to watch the trailer.

Some (super grumpy) people like literary critic Harold Bloom believe Stephen King does not deserve this level of recognition. Bloom even went so far as to call King's 2003 National Book Foundation medal "another low in the shocking process of dumbing down our cultural life." He continued his Tupac-esque diss track in a Boston Globe editorial with:
I've described King in the past as a writer of penny dreadfuls, but perhaps even that is too kind. He shares nothing with Edgar Allan Poe. What he is is an immensely inadequate writer on a sentence-by-sentence, paragraph-by-paragraph, book-by-book basis.
While Stephen King's literary merit will likely remain a hotly-debated question for years, when it comes to Poe comparisons, I prefer to let the man speak (and battle rap) for himself.
Real talk for a second: While it's easy to make fun of Stephen King (and it is), the man is one of my favorite authors (I especially loved the one about the killer sniffles). His book "On Writing" inspired me to try being a professional writer when I was in college. Granted, "trying" to be a professional writer has been an almost unrelenting d*ck-punch ever since, but Stephen King is still an inspiration and a mentor, and (in a totally non-Misery way) I'm his biggest fan.
So, in the event that Stephen King has stumbled upon this article during a feverish session of self-Googling (which, along with drug abuse and suicide, remains one of literature's most hallowed traditions), I would like to offer my congratulations on the National Medal of Arts. I am forever grateful for all the wonderful, frightening, insane, thought-provoking and inspiring books.

Also, and just as importantly, thank you, Mr. King, for writing the book, that was adapted into the movie, that brought these wonderful quotes to the world.