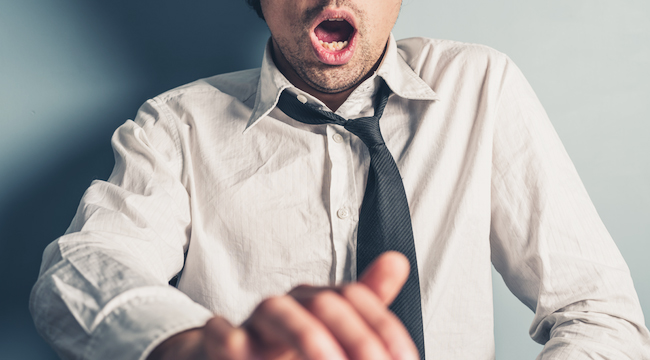 Sweden seems like a pretty nice place to live. As long as you're okay with the living in a place that doesn't really get temperatures higher than the 60s at any point during the year. This is a country with free healthcare (and education), a ridiculous number of paid parental leave days, outstanding food culture, one of the highest standards of living in Europe, five weeks of paid vacation every year, and a "mansplaining" hotline. How could this country possible get any better?
Even with all of the amazing things happening every day in Sweden, people still have to go to work. As well all know, work can get pretty stressful. And as a way to relieve some of the stress (and the rest of our daily stresses), a Swedish official in the town of Overtornea has a very risqué proposal.
Per-Erik Muskos wants to give municipal employees a "release" from their long days on the job. He wants everyone to get a paid, hour-long break once per week to go home and have sex. Yes, he wants them to have sex on the job (as long as they go home to do it). The town is pretty much situated on the edge of the Arctic Circle so, if anything, this unique proposition should at least help to keep couples warm during the very frigid winters.
"We should encourage procreation. I believe that sex is often in short supply," Muskos said in his motion to the town council according to the New York Times. "This could be an opportunity for couples to have their own time, only for each other."
It's not known whether or not this proposal will pass when it is formally presented to the council in the spring, but Twitter users made their opinions known about this cheeky idea:
There are 550 municipal employees in the town and Muskos, when proposing this paid hour of passion, pointed out that while helping employee morale, it might also help out the population. A town that close to the Arctic Circle isn't the kind of place people are flocking to live. Employees already get a paid hour per week for physical fitness and Muskos says the workers can use that time for sex if his proposition doesn't pass after it's voted on this spring by the 31-member town council.
Sweden wins. We can't even get free college (most of us are paying until we're fifty) and they might offer a free paid hour per week to get hot and heavy. Are they hiring? How much are flights to Sweden?