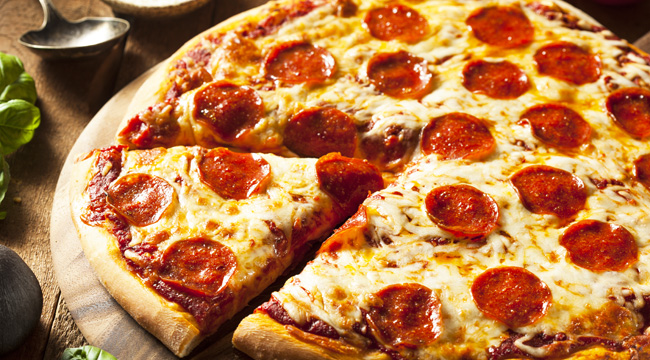 Every year in mid-April the "Tax Man comes a knocking" and you better be ready to pay up. For some, tax day is a glorious, magical time. That's because these individuals actually get a refund check. For others, it's a nightmarish, horrible hellday when they feel as though some unseen force is holding them by their ankles, shaking every last penny out of their pockets.
But, whether or not you got some extra cash or you're going to be writing an annoying check, there are deals to be had. To celebrate tax day, restaurants all over the country have special offers and these are some of the best. Some places have lowered prices for tax day or are running 2 for 1 deals. Others will literally hand you free food just for walking through the door.
In honor of tax day, the roast beef sandwich chain is offering free curly fries for anyone who stops in. There's no purchase required. You don't even need to buy a Big Montana to get them.
The chain is giving customers 15% off their bill all day on tax day. You don't need a coupon. They'll just take off 15% when you pay.
To celebrate tax day, Bonefish Grill is has a $5 deal on Ban Bang Shrimp from 4pm until closing. This is available everywhere except Indianapolis, Greenwood (Indiana), Michigan, and Illinois.
On tax day, you can get a baker's dozen (13) bagels and 2 packages of cream cheese for only $10.40 (get it?). But, you cant just walk in and ask for it. You have to get a coupon on the company's website.
With a tax day coupon (link above), save 30% off of your purchase whether you eat at the restaurant or get your food to go.
This fast, casual chain is offering a $10.40 tax day special that includes: a half chicken, 2 sides, cornbread, a cookie, and a regular-size fountain drink.

All day tax day, stop by Cinnabon to get two free classic Bites. There's no purchase necessary and you don't need a coupon to get this deal.
For only $10.40, you can get a large one-topping pizza and an order of Monkey Bread at any Godfather's Pizza location. You do need an offer code to get this deal and it's 8011E.
Stop by any Hot Dog on a Stick location and grab a free original turkey dog on tax day. You don't even need to buy anything. It's absolutely free.
Stop by any Hooter's restaurant on tax day to get a free kids meals with the purchase of an adult meal. Kids must be 12 or under in order to get this offer.
The restaurant chain is celebrating tax day by offering a medium one-topping pizza for $0.15 if you purchase a large one-topping pizza at the regular price. To get this deal, you need to use promo code TAXTIME.
Between 4-10pm, kids (12 and under) eat for free with the purchase of adult entrees. If you have more than one kid, you need to order more than one adult entrée.
Kona Ice trucks will be parked at tax preparation centers and post offices on tax day. They'll be giving away free shaved ice (while supplies last). To find a Kona truck near you, visit this site.
Order a large pizza with a two-liter bottle of soda for only $10.40 at any Papa John's locations. To get this deal, you need to make your purchase online with the promo code TAXSPC.
If you visit any Sclotzky's location on tax day, you can grab a free, small Schlotsky's Original with the purchase of chips and a drink.
To celebrate tax day, Sonic is offering single-patty cheeseburgers for half price all day as well as half priced drinks. You don't even need to buy anything else to get this offer.
Stop by this iconic burger chain to get 15% off your purchase all day on tax day.
Visit any World of Beer location to get a free beer or $5 off your bill on tax day. Depending on where you live, you'll either get a cold one or money off your bill.