Being a first responder for a natural disaster has got to be the toughest job in the world. Physically, mentally, logistically. Also one of the most important. When all people want to do is leave, they are just showing up…
Meet the organization that has just that mission: Team Rubicon. While we're at home quietly grateful we're not where the latest earthquake, hurricane or flood just hit… Team Rubicon has already dispatched emergency response teams (military veterans and first responders) to go straight into the heart of our world's most devastating natural disasters.
That's just a regular day's work.
"We help people on their worst day," says David Burke, Director of Field Operations for Team Rubicon, an organization that formed after a 7.0 earthquake hit Port-Au-Prince, Haiti, on January 12, 2010, killing hundreds of thousands and rendering almost another million homeless.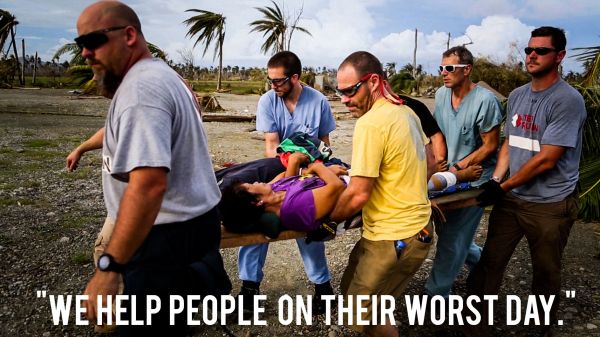 That's when two Marines, Jake Wood and William McNulty, took action. They put together a small team of veterans and first responders, generated funds and medical supplies from people close to them and headed for Haiti. Straight into a land filled with heartache and headaches: a place starving for help and human compassion. The last place anyone else wanted to be.
That's just the beginning of the story of who Team Rubicon helps. For many military veterans who return from war or service in a condition that society might view as damaged goods, Team Rubicon provides a safe haven where a vet's very particular set of skills can be utilized… and appreciated.
Want to learn more about the people who have lent aid to over 100 natural disasters across the globe? The team that gets to disaster zones, usually before anyone else? Check out the video above and see how these game changers get to work.
—-
When opposing forces collide and stakes couldn't be greater, it takes an exceptional individual to see beyond the challenge, sacrifice everything and change the world. The #Gamechangers Campaign celebrates everyday people who tackle great challenges and triumph in the face of adversity. We seek to honor the underdogs who don't just beat the odds, they change the game.
Are you a Game Changer? Do you know a Game Changer? Submit a picture or short video with an explanation up to 500 words about how you (or your nominee) are currently changing the game. Upload proof of your game changer to the Uproxx submission page or via social media using the tag #GameChangerContest @ConcussionMovie. You could win funding for your/their cause.