While I was researching and writing Cooking with Spices, my kitchen transformed into a laboratory reminiscent of an archaic alchemist's dungeon. Spices, blends, and sauces cascaded off the shelves and counters similar to the potions and dusts of our favorite wizards and apothecaries of lore. Yet, out of this madness blossomed the one hundred recipes contained within the book. Each recipe compliments one of the fifty total spice profiles that accompany the regional chapters.
Many of us create a similar culinary environment in our homes when prepping Thanksgiving dinner. Increasingly dirty pots and pans get strewn about. Unsupervised kids run through the kitchen chasing equally liberated dogs and cats. Pots bubble over. Meat falls on the floor then goes into the pot. Somehow, the culmination of this chaos always inspires that particular oddball relative to offer unsolicited, last-minute counsel on how to improve one dish or another.
Those of us who maintain a delicate, undecipherable — to our family at least — rhythm in the kitchen can attest to the apocalyptic nature of such impetuous suggestions. As dinnertime approaches, one unexpected change in the process can result in the whole affair coming down like a house of cards.
Thankfully, I have an ace up my sleeve to help you fend off nosy cousins. This year, if you're looking to enliven your traditional Thanksgiving recipes while still maintaining their spirit and integrity, experiment in confidence by adding the following spices:
Turkey
Try adding a handful of juniper berries to your turkey basting marinade this year. Juniper is the piney, citrusy seed of a European shrub (think evergreen) that is most known for providing to gin its signature flavor. Berries come dried or fresh and do well to be crushed before use. They'll give your turkey or poultry bursts of fresh, astringent flavor. Throw any extra in your gin and tonic. Note: pregnant women and those with kidney problems should avoid.

Gravy
In a dry skillet, toast two star anise pods for a minute on each side and plunk those into your gravy. Earthy yet sweet, star anise will boost your gravy with a slight licorice punch. There is an added aesthetic quality to a buoyant star anise gently floating around a gravy dish, too. If that tiny life preserver gets poured out on your lucky plate, stash it aside. Those hard wings are not fun to bite down on.
Stuffing
Sumac is one of the best-kept secrets of the spice world. Many in the US associate the name with its relative, the tree of poisonous reputation. The spice, well known in the Eastern Mediterranean, is an emboldening, sharp and lemony substance that will make your stuffing irresistible. With sesame and thyme, ground sumac is one of the triumvirate of flavors that make up za'atar blend (not to be confused with the herb "zaatar").
Cranberry Sauce
Stay with me here, but chile peppers can lift cranberry sauce out of banality and onto everything on your plate. Trepidation is natural, especially for those that don't celebrate heat. However, the tart cranberry can cut heat like a hot knife through butter. Ancho chile powder is smokier and more docile than cayenne, to put it mildly. Remember, it is much easier to add than subtract chile heat. Start with ¼ teaspoon and add until the heat level is to your preference.

Pumpkin Pie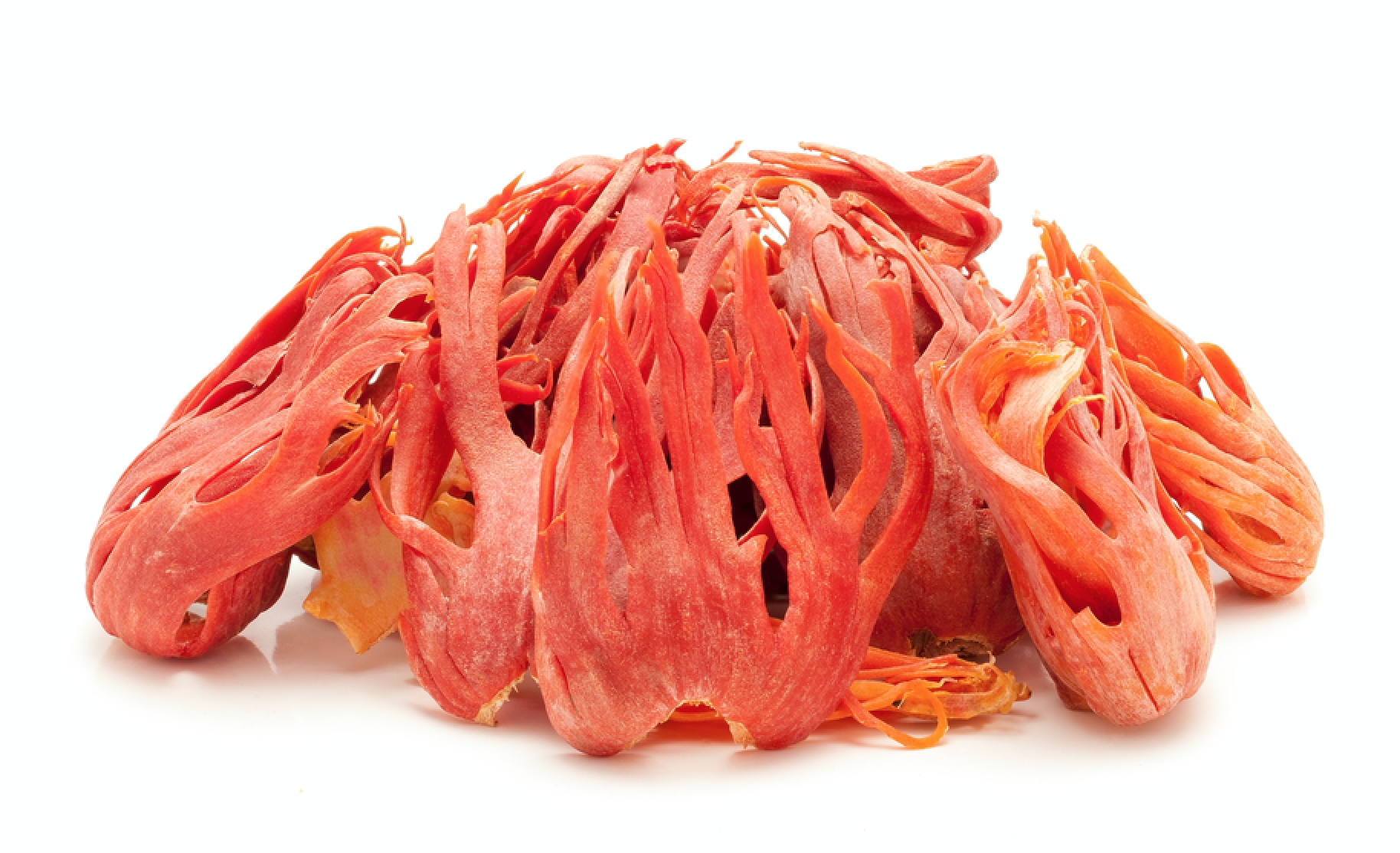 Cinnamon, nutmeg and cloves are the three musketeers of pumpkin pie. Consider adding mace as the D'Artagnan to their Porthos, Athos and Aramis. Mace comes from the brainy aril that surrounds the nutmeg seed. Before it is dried and ground it looks somewhat like a baby alien squid trying to swallow a helpless black walnut. Mace has a musky, earthy sweetness that emphasizes and gives layers to pumpkins and squash.
Mashed Potatoes
Apologies in advance to your bank account, but saffron is a wonderful addition to mashed potatoes. The world's most expensive spice (pound for pound) imbues to silky potatoes a yellowish hue and a grassy, honeyed sweetness. The move here is to let the saffron stigmas sit in a small amount of warm milk. After the milk turns goldenrod, add it in its entirety to your potatoes. Though expensive, more than just a dash of threads is rarely needed, so your saffron should last quite some time. Beware pre-ground saffron, which is almost always cut with turmeric.
Ice Cream
What else but an oldie? Vanilla is well known as an ice cream flavor but I'd encourage you to consider buying a bean (or ordering several online to make it cost effective). Cut your vanilla bean down the middle using a good knife. If the bean is fresh it will be supple to the touch. Scrape out from each side the tiny vanilla seeds and mix them into your ice cream. The flavor is mind-blowingly incredible and comes with zero of the waxy twang that arrives from vanilla extract.

Cakes and Crumbles
Alas, it is time to reveal the secret weapon: Spunky Grains of Paradise. Freshly pulverized in a mortar and pestle, this little known spice enhances nearly any cake, bread or sweets like apple crisp and peach cobbler. I admire it because it acts as two spices in one. First, a lemony, woody taste arrives before being overwhelmed by a peppery heat at the end. Drop a couple of the extras in your glass of wine. Seriously.
Mark C. Stevens is a filmmaker, traveler and the author of Cooking with Spices: 100 Recipes for Blends, Marinades, and Sauces from Around the World. Follow him on Twitter or Instagram!