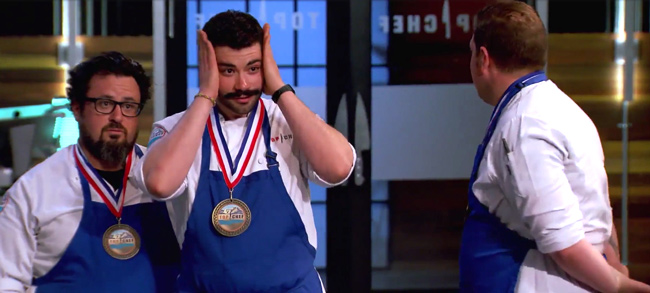 This week on Top Chef, there were no Vine Stars, social media challenges, personal brands or thinkfluencing. The show went back to the basics — namely, trick challenges judged capriciously, and interpersonal DRAMA.
It all started with a breakfast Nutella challenge, in which the NINE cheftestants had to try to cook in their rental house's kitchen for some reason (were none of the local chefs out of town that weekend? "Dangit, I guess we have to party in Dave's basement again…"). That was guest judged by 2015 winner Brooke Williamson, and it was followed by an Olympics team challenge, judged by some Olympians (including an obnoxiously handsome freestyle skier) and Gail Simmons.
Brooke AND Gail? Why, it musht be my lucky day.
Or at least… it would've been, if the judges table hadn't been a nightmarish tangle of passive aggression and hurt feelings. Remember watching old episodes of Lost, and there'd be two characters having a big argument and you'd be screaming at the TV JUST TELL THEM THE TRUTH ABOUT WHAT HAPPPENED, because if they'd only offer a one-sentence explanation of all the stuff we'd just seen it would resolve the entire conflict?
Well, this was kind of like that, only real life, with two people getting pre-defensive with each other and making the conflict worse and worse out of hurt — like one of those trains that goes super fast using polarized magnets. In fact the last 10 minutes of the show was basically two characters sniping in front of the judges, intercut with a carnival of reaction shots by the other contestants as they tried to jump out of their skin to avoid watching the utter meltdown happening in front of them.
I did really appreciate the cringey reaction shots editing package, though. They really sold the unwatchableness! It was kind of the television equivalent of "Oh my god, you have to taste this, it's TERRIBLE."
Food Words Introduced But Never Explained
Brunoise, Batonnet, Urfa Biber.
I know what a brunoise is (very small squares!), because I'm very wise in the ways of food, and I think I can guess what a batonnet is. "Baton" means a stick, so I assume a batonnet means to cut things into little sticks?