As helpfully laid out at the beginning of every episode of Top Chef, winners receive $125,000, as well as features in Food and Wine magazine and a trip to the Food and Wine Festival in Aspen (I've watched the show enough that I could recite that bit by heart). But if your ultimate goal is to open a restaurant, $125,000 barely makes a dent.
"You can buy like 12 tables," said this season's winner, Joe Flamm.
What you really need, if you're trying to open your own place, is investors. And in an industry that still relies heavily on cachet, Top Chef means something to people with money. Unlike the ever-abundant crop of singing competition shows, whose winners can maybe expect to headline a state fair or two, most of Top Chef's winners turn into big names overnight, even after 15 seasons. Of course, Top Chef isn't plucking dreamers off the street like those shows; its competitors are already pretty well established. Mostly, it takes promising chefs and gives them a boost. (Maybe it's these more modest goals that have helped the series last so long.)
Season 15 winner Joe Flamm already had a solid career going when he was picked for the show, serving as executive chef for Michelin-starred Spiaggia in Chicago (under Top Chef Masters contestant Tony Mantuano), after past stints with Art Smith (also a Top Chef Masters contestant) and Stephanie Izard (Top Chef season four winner). Even with that kind of pedigree, he still seemed like at least a mild underdog, up against chefs like Bruce Kalman, who already owns a restaurant and seemed to be on a first-name basis with every guest judge.
"Underdog" maybe a bit loaded, but Flamm didn't have a top three finish in a challenge until episode seven, and didn't get a win until episode eight. That was the Restaurant Wars challenge, and Flamm won for his front of the house management. Which is all to say that early on, Flamm's greatest asset seemed to be his charm and general likeability. When he got eliminated in episode nine, the other contestants reacted like they'd lost a family member.
The reaction shot looked like a painting from the romanticism movement.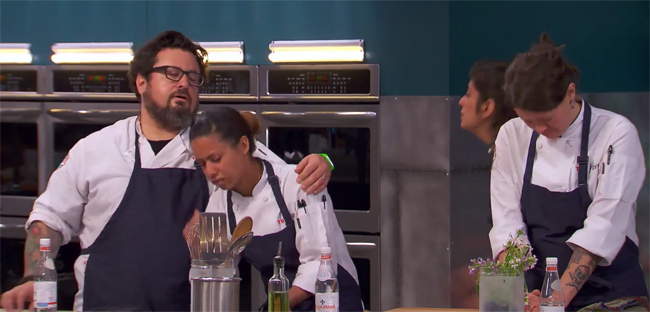 But Flamm got a second chance by winning Last Chance Kitchen. He returned to the show and eventually made it to the finale against fellow Chicago South Sider Adrienne Cheatham. Flamm's show stopper was his pasta course (naturally), a pig's head tortellini made with gran arso flour — a type of singed wheat, giving the pasta a smokey flavor and a color the judges compared to river rocks. That dish carried him to victory, making Flamm the second Last Chance Kitchen winner to take home the grand prize.