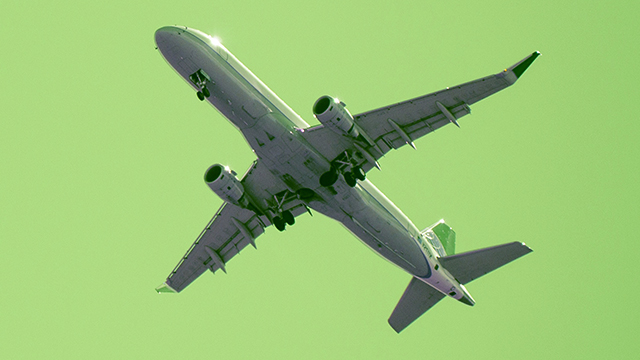 Valentine's Day is nearly here and President Day Weekend is just around the corner. After that, we have a mad dash to Spring Break and summer, which means prices are going to start moving upwards pretty steadily across the travel industry. Now's the time to buy that flight, book that hotel, and pull that trigger on a trip of a lifetime.
Below are the best cheap flights, hotel discounts, and travel deals that will make you race to book something right now.
TOP THREE DEALS OF THE WEEK:
GET A FREE FLIGHT WHEN YOU BOOK A UNIWORLD CRUISE
Starting today, Uniworld will buy your roundtrip airfare when you purchase one of their intimate river cruises. The small boats offer boutique level accommodations with a food and drink program that focus in on local ingredients everywhere they dock. It's a one-of-a-kind experience.
The offer applies to six major itineraries with over 65 departure date options. You can cruise the Rhine, float through Spain and Portugal, make your way by river from Amsterdam to Vienna, or pop around the rivers of northern Italy. You'll need to book before the end of the month.
ROUNDTRIPS TO SPAIN FROM LOS ANGELES FOR LESS THAN $300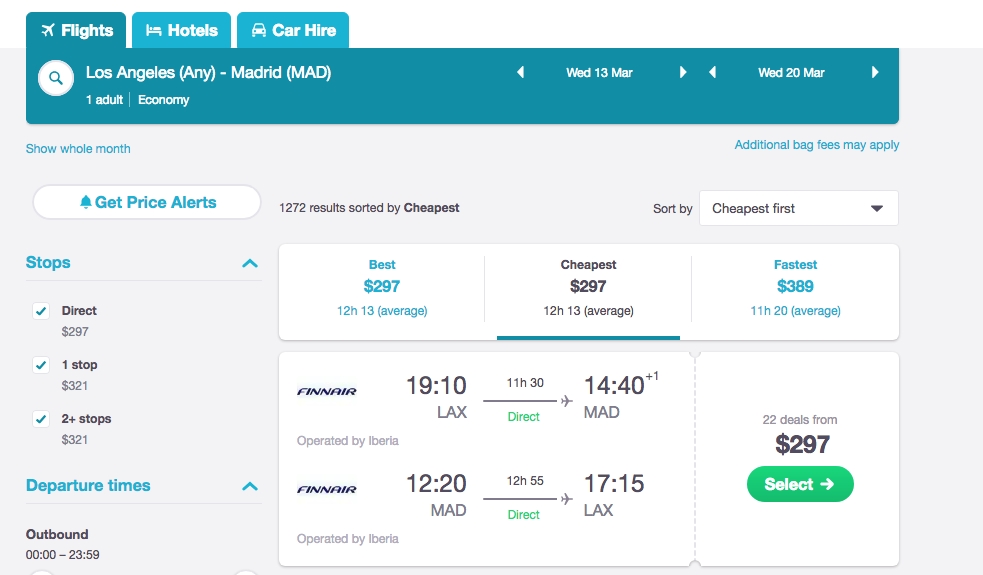 Getting from the West Coast to Europe (and back) for less than $300 is a steal on any airline. That's especially true when the airline is a non-budget carrier — this is a flight that includes your carry-on, a meal, and a drink or two. Plus, it'll get you to Spain where the food, beaches, and wine are some of the best in the world.
ONE-WAY VALENTINE'S DAY FARE SALE WITH NORWEGIAN
Speaking of great deals to Europe, Norwegian is running a Valentine's Day sale. One-way fares from the U.S. to the Caribbean will be as cheap as $49 and flights to Europe are clocking in at $100-$149. Keep in mind, that price is without a meal, drinks, or a bag. So, expect to add another $30-$80 each way onto that price.
Still, 50 bucks (if you can travel light) to the sunny Caribbean is a steal.
BEST FLIGHTS OF THE WEEK:
$99 FLIGHTS FROM NEW YORK TO SEATTLE ON JETBLUE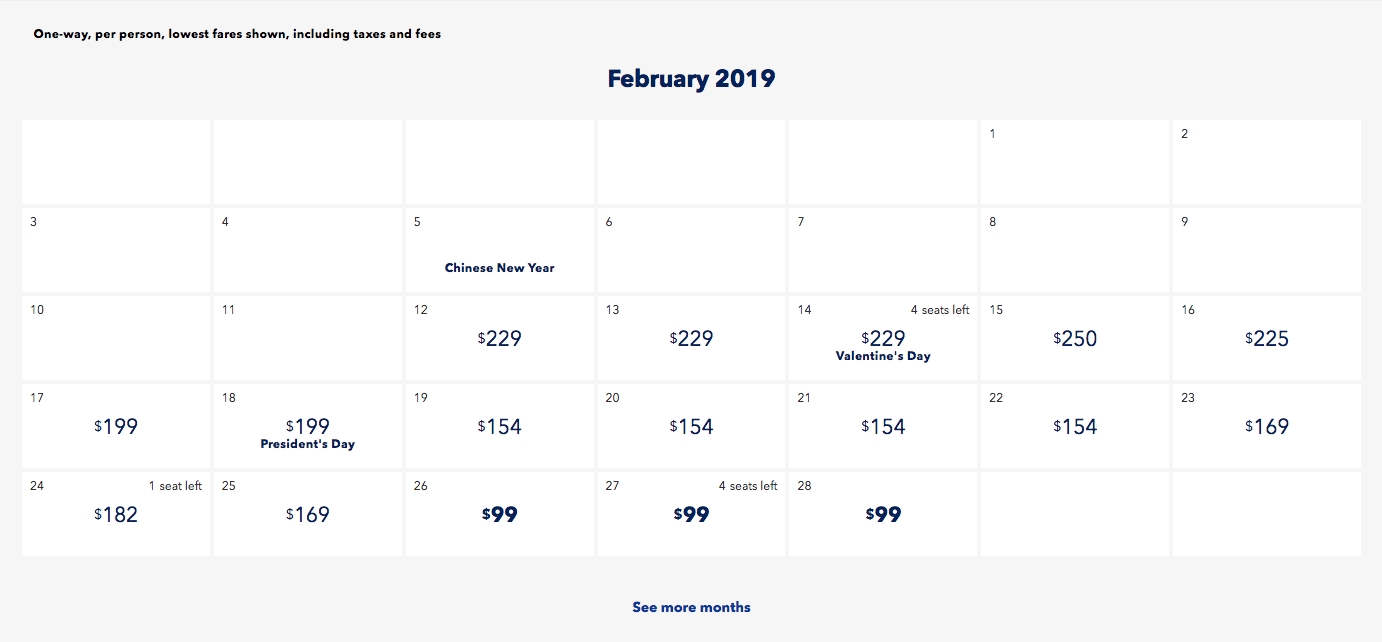 JetBlue's Best Fare Finder is a surefire way to score a great price on a flight in the short term or long term. Right now, you can fly across the whole country for $99 each way this month. If you can travel with just one carry-on bag, that's an unbeatable price for a flight that long.
ROUNDTRIP FLIGHTS TO ITALY FOR $440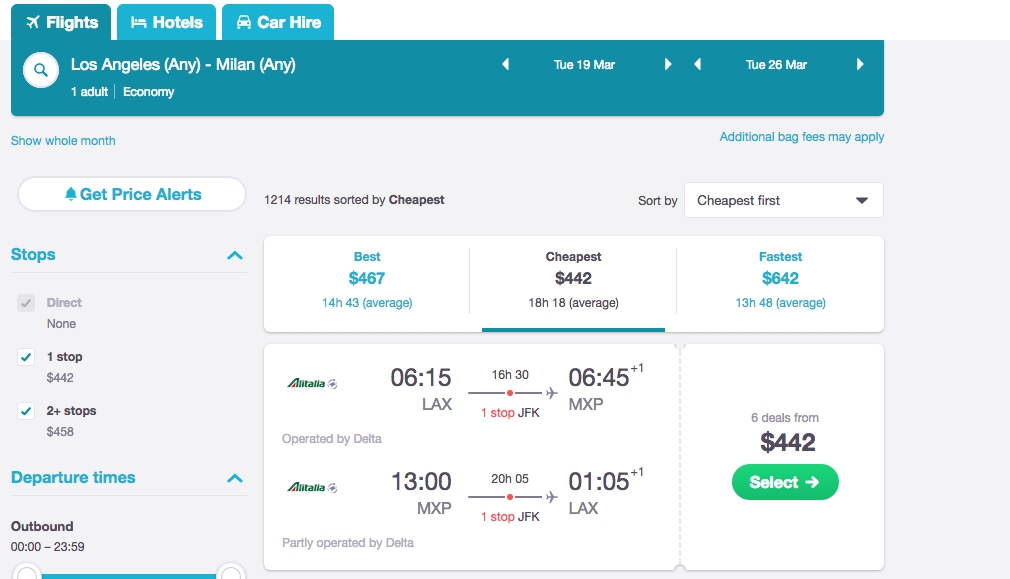 Looking to hit up Italy this spring? You're in luck. Alitalia is selling roundtrip tickets from the West Coast to Milan for under $450. That's all-in. You won't get charged for a checked bag, meals, or all the wine you can drink.
$14 ONE-WAY FLIGHTS ACROSS EUROPE ON VUELING
While you're in Europe, you may as well check out at least one or two more corners, right? Budget airline, Vueling, is offering flights for as little as $14 one way to destinations all over the continent. That's a new city for about the same price as a movie ticket.
SPEND SPRING BREAK IN HAWAI'I FOR LESS THAN $350 ROUNDTRIP
Prices to Hawai'i are super competitive right now. Southwest just opened up a new non-stop to compete with the booming market. Prices are hovering around $300 roundtrip across the board between now and April. So, Spraaaaaaaaaang Breaaaaaaak in Hawai'i?
ROUNDTRIP TO THAILAND FOR $500 ROUNDTRIP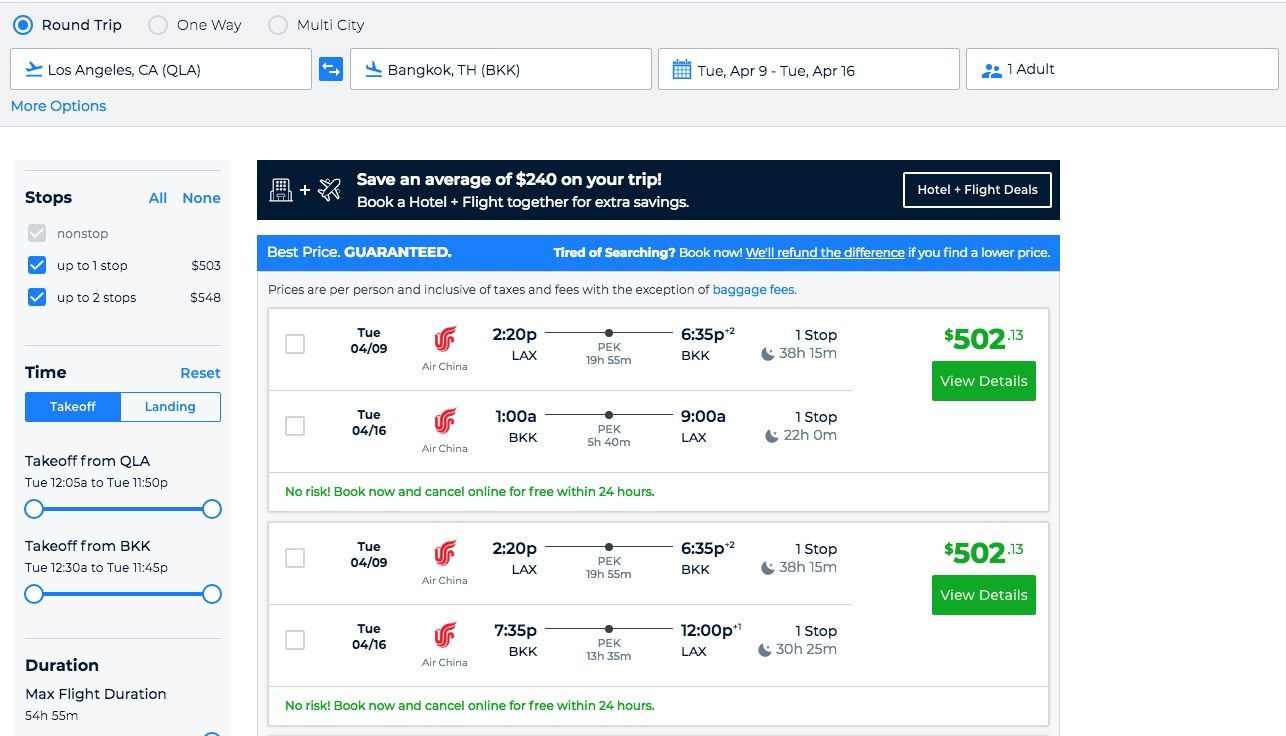 Air China is offering a fantastic deal on flights to Thailand. Roundtrip flights are running $500 this spring which is close to half of what they can be in the high season. Now's the time to book.
USE KAYAK RENDEZVOUS TO PICK A PLACE TO MEET UP THIS YEAR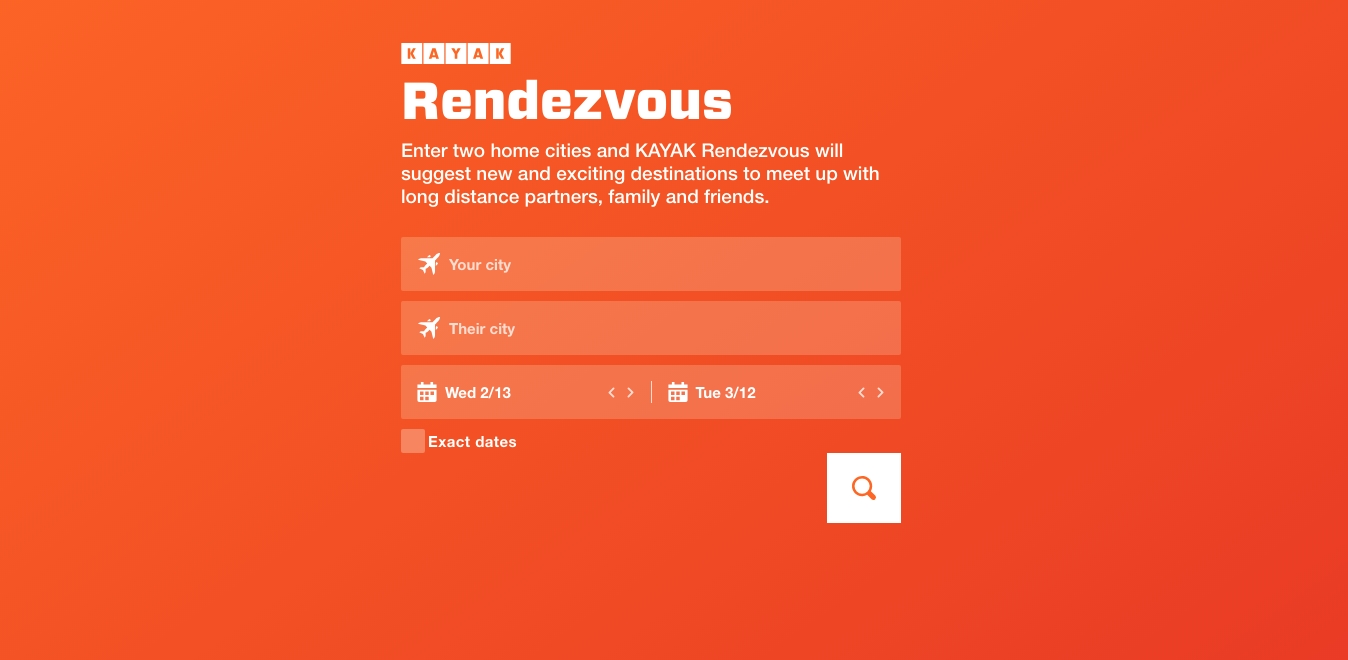 Kayak just launched a handy new way to book travel if you want to meet up with a loved one or friend but aren't quite sure where to go. Kayak Rendezvous is pretty straightforward. You enter your home city and their home city with a date range. Then Rendezvous takes you to a carousel of options with prices for both of your flights. It makes picking the perfect place to meet up that much easier and cheaper.
BEST TOUR AND PACKAGE DEALS OF THE WEEK:
UP TO 20% OFF SAILING ADVENTURES WITH G ADVENTURES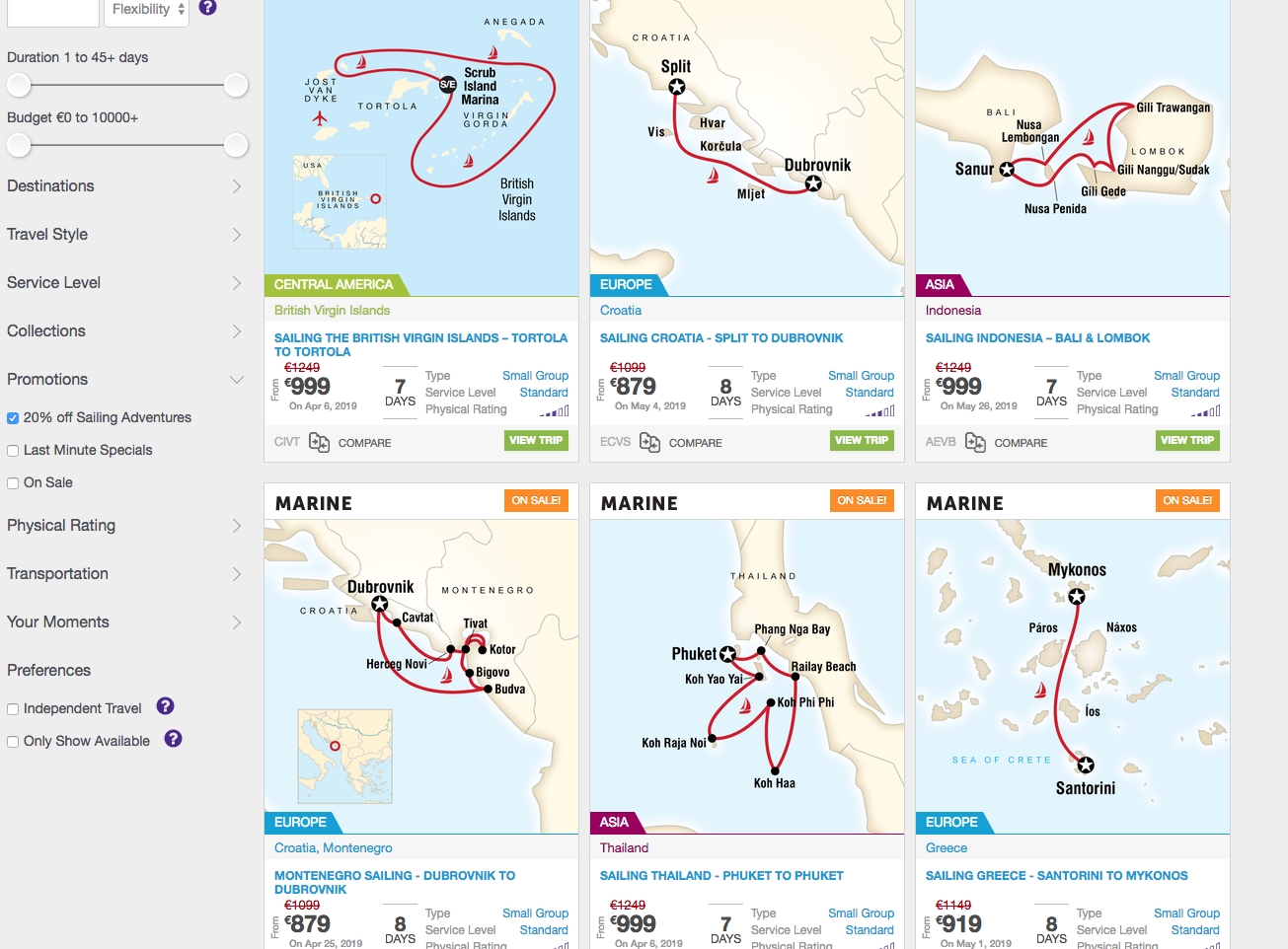 Learning to sail opens up a whole new world of adventure travel. G Adventures is currently offering 20 percent discounts on their small ship sailing adventures around the world. These are not big sailing vessels. These are small ships under sail with around a dozen people on board. This is a chance to see a new corner of the world and learn a new skill at the same time. That's a win-win.
You'll need to travel between March 16th and May 27th and book by February 28th to take advantage of this one.
GET UP TO $500 OFF CONTIKI TRIPS IF YOU'RE #singleAF DURING VALENTINE'S DAY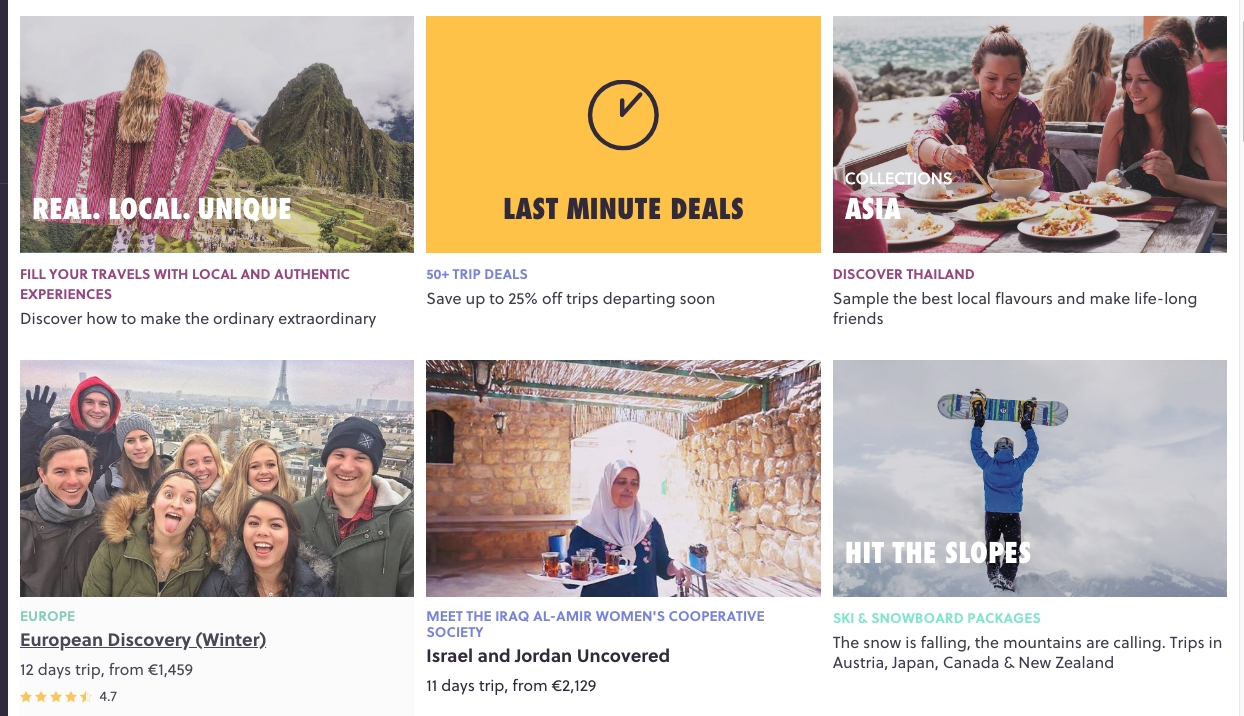 Millennial travel company Contiki is offering a counter-V-Day plan for solo travelers out there. If you're looking to travel this year and plan to go solo, you can score up to $500 off trips all over the world by using code: TRAVELCRUSH when you book your trip this Valentine's Day.
10% OFF NEW ZEALAND TRIP WITH TOPDECK TRAVEL
Topdeck Travel is running a 10 percent discount on trips to New Zealand. You can choose between six different adventures across the islands with focuses ranging from hiking the mountains to surfing the breaks to hitting up the cities. It might be time to hit the Pacific islands for a trip of a lifetime.
LAST CHANCE! BOOK A TRIP WITH A $1 DOWN PAYMENT WITH INTREPID TRAVEL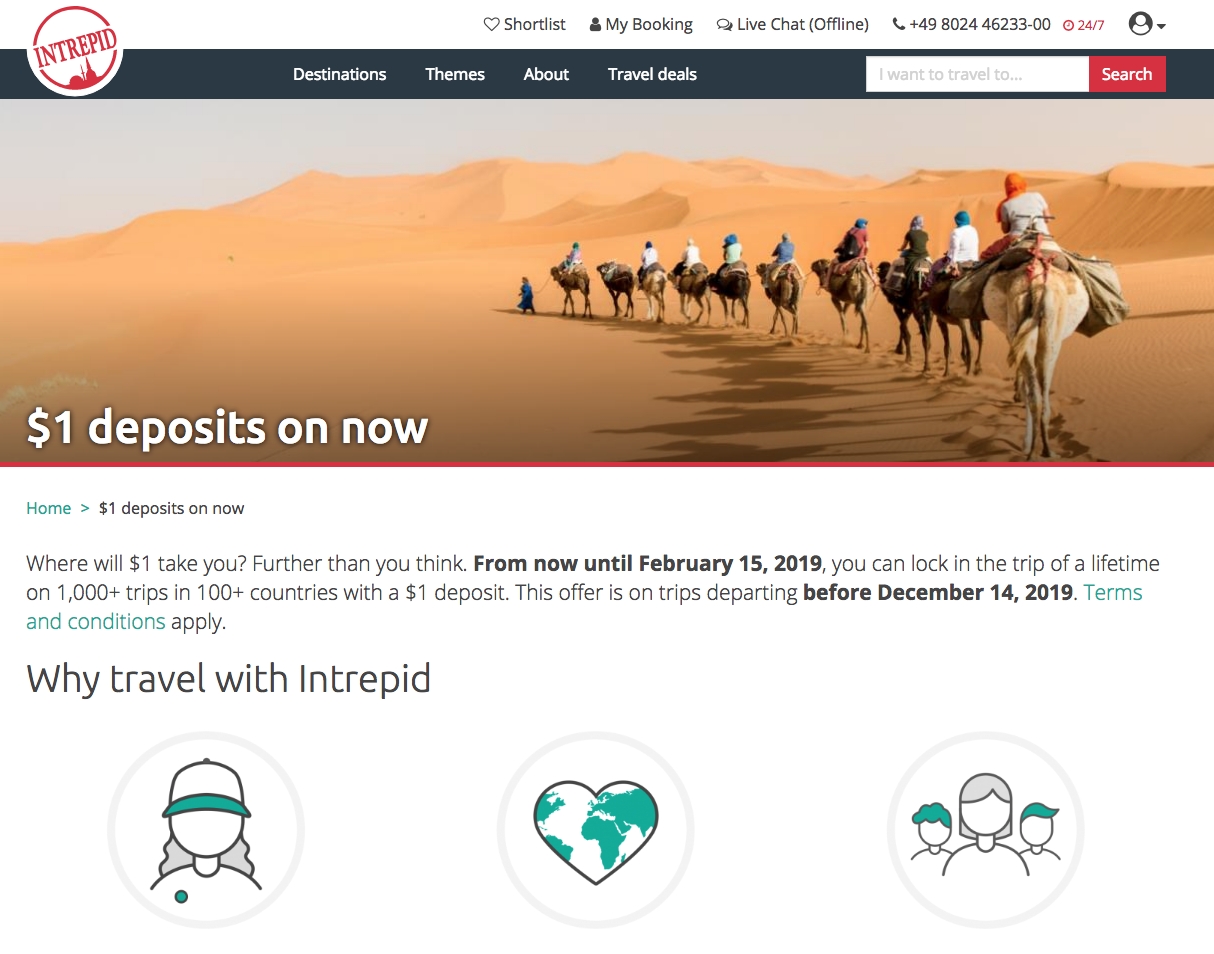 Intrepid Travel is giving you a chance to lock in a trip for 2019 for only one dollar. That's $1 to secure an adventure of a lifetime this year.
You'll have until February 15th to take advantage of this deal and you'll need to travel before December 14th. If your trip falls before July 15th, you'll need to pay the remaining balance with 56 days. If your booking falls after that date, then you'll have until May 15th to come up with the cash.
Take Advantage of Intrepid Travel's $1 Deposit Deal Here
BEST HOTEL DEALS OF THE WEEK:
SAVE 75% ON HOTELS WITH HOTWIRE OVER VALENTINE'S DAY
Hotwire is offering serious discounts on luxe hotels this week. Some spots are marked down up to 75 percent. That's a serious saving on accommodations, folks. They'll also be offering an additional 10 percent discount when you use promo code SAVEHOTEL10 at check out if you book between February 13th and 14th.
50% OFF SUNDAY NIGHTS AT HILTON IN THE NORTHEAST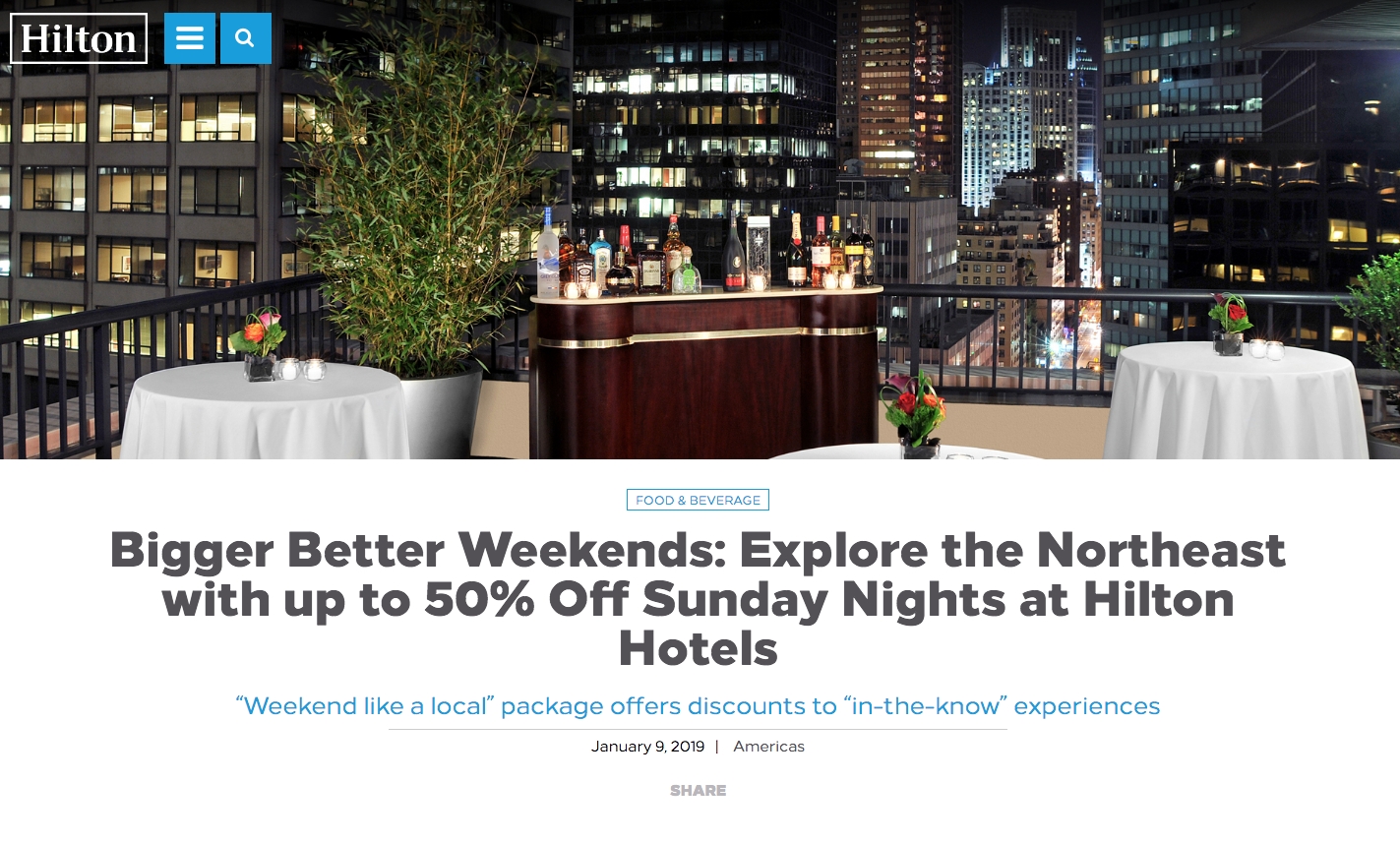 Hilton Hotels between Washington, DC, and Boston are offering 50 percent discounts on Sunday night stays when you book the whole weekend. This deal works at over 140 hotels on the upper eastern seaboard. The Weekend Like A Local package also includes steep discounts on local attraction, restaurants, and breweries, saving you even more cash.
You'll need to book by March 31st.
SPEND SPRING BREAK IN OAXACA AT LAS BRISAS HUATULCO, MEXICO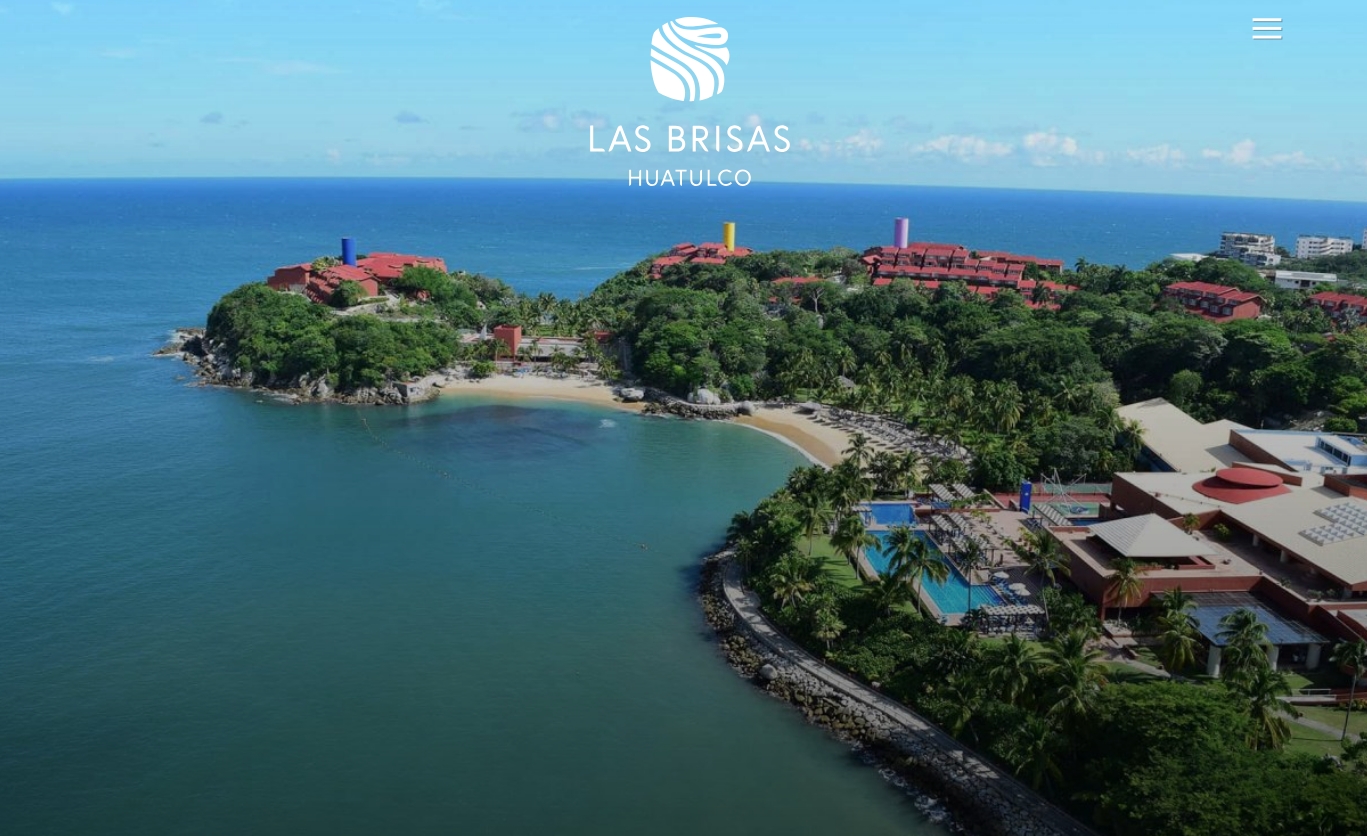 Las Brisas Huatulco is the nature and food lover's resort. The property is situated on an idyllic beach next to a national park and happens to be in one of the best states in Mexico for food, Oaxaca. They're currently running a sale on rooms as low as $128/night. That's a great price for a little slice of paradise.
BEST WILD SPLURGE OF THE WEEK:
40% OFF STONEFIELD VILLA RESORT, SAINT LUCIA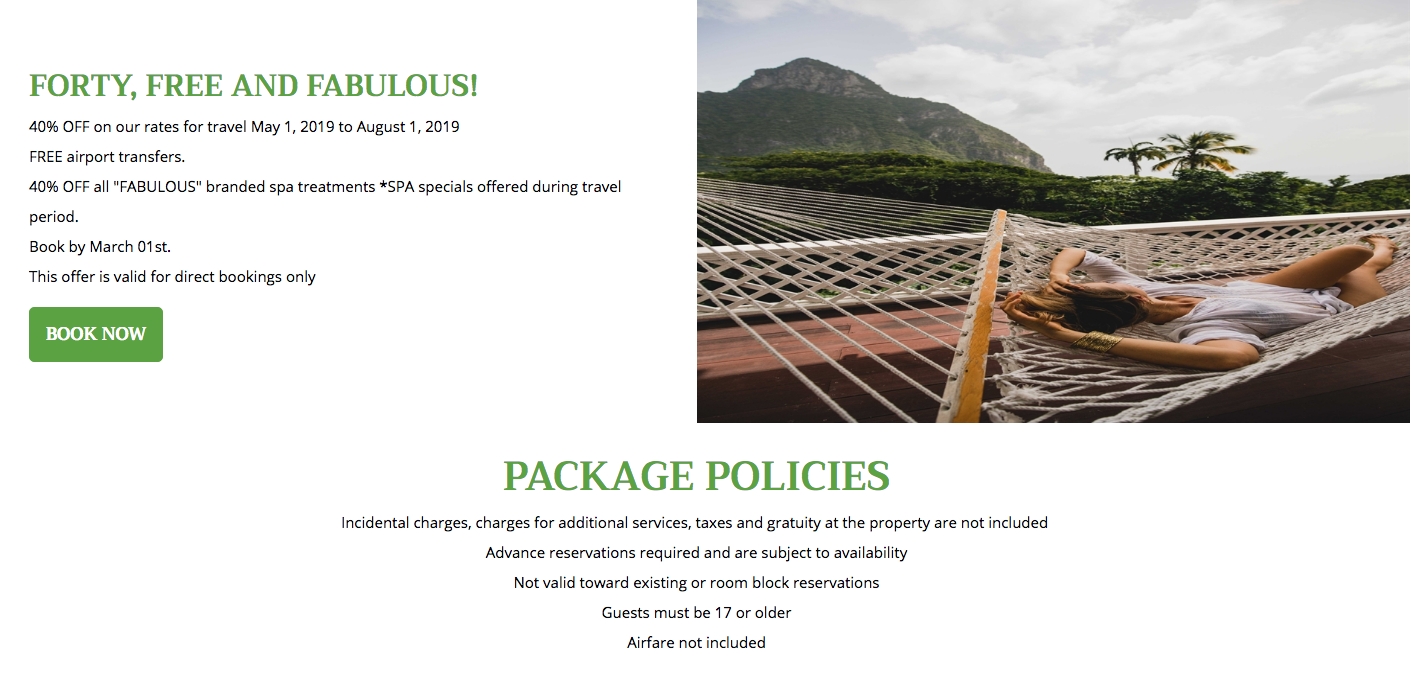 Looking for an escape? Stonefield Villa Resort just might be the play. The resort is offering a sale in honor of Saint Lucia's 40th anniversary with 40 percent off room rates (usually $600 per night) and 40 percent off their spa services (that's almost two-for-one massages, yo). That's more than enough of a discount to cover flights to Saint Lucia. You'll need to book by May 1st and travel before August 1st.