Being a legendary treat giver is important, but there is nothing more important than one's own happiness (sorry charities and other people), and far too many people will spend Halloween in the dark, pretending that they aren't home so that they can raid the remnant micro-Crackles and Butterfingers. You deserve better, we want more for you, so below are chocolate treats that you can only experience with some financial adventurousness (recklessness?) and a firmly held conviction that you deserve the finer things in life. And hey, if you're busy on Halloween, there's no rule that says you can't luxuriate on another day — this is America, after all.
Get In The Spirit(s)
If you want to mix chocolates and inebriation, you can easily get your hands on a box of liquor infused candies with spirits like Jim Beam or Baileys Irish Cream. If you want to get a little classier, hit the liquor store and quest for a bottle of chocolate wine. That's not "wine that pairs nicely with chocolate," that's wine with chocolate in it that you can pour into a Jack-O-Lantern bucket and drink with a silly straw — were that your prerogative. You could also just make chocolate martinis or mudslides all night until you're wearing someone else's clothes… that's sort of like putting on a costume, right?

Fancy-Assed Candy Shopping Spree
You've got a boutique candy shoppe or a mall Godiva nearby, so why not give yourself a little shopping spree? You're an adult, you can justify spending $100 on candy, chocolate covered strawberries, and macaroons, right? Hell, bring the plastic Jack-O-Lantern and tell the chocolatier/part-time retail clerk who's just trying to get through the day to fill it up. They'll love your infectious enthusiasm. Or maybe they won't, but to hell with them, you've got a bucket 'o candy that still smells like chocolate wine. You're winning.
Chocolate Spa Day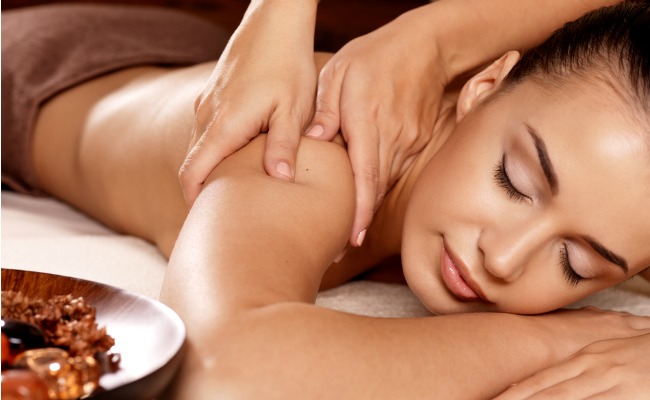 Alright, we're leaving the land of pedestrian pleasures and starting to price out mere mortals. This is where things start to get fun.
Though you can probably find similar services at other spas, why wouldn't you go right into the beating heart of chocolatey magnificence to get one of the many chocolate based treatments offered at The Spa at The Hotel Hershey located in Hershey, Pennsylvania? For around $400, you can get a Whipped Cocoa Bath, Chocolate Bean Polish (or) Chocolate Sugar Scrub, Chocolate Fondue Wrap, and a 50-minute Cocoa Massage, as well as lunch. You can also get those services individually.

Go For Gold
Edible gold leaf, it's not just for fancy keggers anymore. There are a number of options to experience this doubly rich delicacy, but only one that also serves as an investment opportunity.
For just $331.50, you can get a wooden box filled with eight 24-karat edible gold covered swiss chocolates and a nearly 100-year-old gold Swiss franc from DeLafée. Why the gold coin? Opulence, motherf*cker.
Every Candy Has A Story
If you're the type of person who wants to know your food's backstory, To'ak chocolate is for you. Forbes' Marissa Conrad details the origins in her article about the To'ak chocolate bar.
To'ak began after Chicagoan Jerry Toth, now 36, moved to Ecuador in his 20s to help start a rainforest conversation organization. There, he met fourth-generation cacao grower Servio Pachard, who led him deep into the mountains to a patch of 100-plus-year-old Arriba cacao trees that are some of the last of their kind—and produce some of the most coveted cacao beans in the world.
The To'ak website details the lifespan of the 2014 cacao harvest — from which 574 dark chocolate bars were made — as it moves from pollination to pick and then fermentation in Spanish Elm wood boxes for up to a week before being left to be sun dried — all in an effort to tamp down the natural bitterness in dark chocolate. The recommended tasting process is also mapped out in painstaking detail and feels almost sensuous. Seriously, after reading it, I wanted to take my shirt off and sing Michael Bolton songs to this candy bar.
So, how much? Each To'ak chocolate bar (which is available on their site and at a handful of locations across the US) costs $260, comes in a Spanish Elm wood box that is individually numbered, and includes both a single cacao bean to remind you of the candy's long journey and a 116-page book that tells you about tasting and the process of making these seemingly exquisite chocolate bars that none of us will ever buy. Because, let's face it: while that bag of Mounds minis doesn't likely contain chocolate that was fermented in a Spanish Elm wood box, it is extremely cheap and very accessible.
Perhaps convenience is actually the greatest luxury of them all.