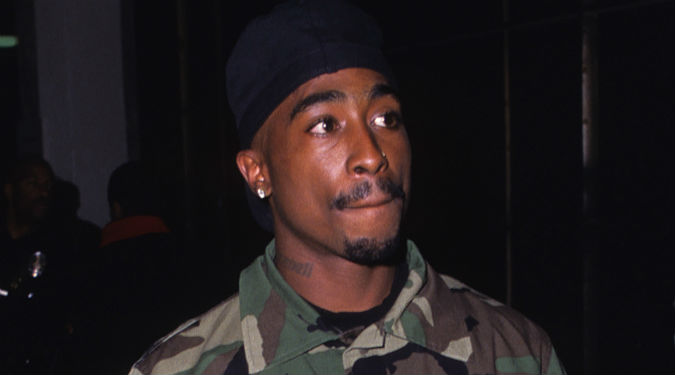 Sept. 13 will mark the 20th anniversary of Tupac Shakur's untimely death and, in an effort to honor the late rapper's legacy, a pop-up restaurant inspired by his sketches is set to open in Fresno, California. The Powamekka Cafe, a restaurant concept Tupac drew up before his death, will come to life next Tuesday, Rolling Stone reports.
Take 3 Burgers and Sam Hansen, marketing director for the Fresno Grizzlies, are partnering up to open the Powamekka Cafe. NME reports the menu will feature a California Love chicken sandwich, Hennessy Apple Butter chicken wings, a Mac-and-Cheeseburger, and Thug Passion champagne-infused cake pops covered in Alize butter cream frosting. Along with the Tupac-inspired menu, local artists will perform their favorite songs from the late rapper and an art show will be held on opening night as well.
Tupac envisioned creating a cookbook and a restaurant based on his own recipes and the recipes of other artists. One of his sketches, featuring his ideas for the Powamekka Cafe — an ankh-shaped restaurant logo, some of the items on the menu, and bathroom labels for the "Divas" and the "Playaz" — is currently on display at the Grammy Musuem in Los Angeles.
Earlier this year, Take 3 and Hansen hosted a Notorious B.I.G.-themed brunch on the late rapper's birthday where they served T-Bone steak, cheese eggs, and Welch's grape juice based off the lyrics to "Big Poppa," according to NME.
The Powamekka Cafe will open at 7 p.m. at the Fulton Mall in Fresno on Sept. 13.
(Via NME/Rolling Stone)