Father's day is upon us. That means it's time to start thinking about which thrilling gift you're going to buy the brave, fierce, kind-hearted father in your life. This year, we wanted to go classic, handcrafted, and grown up. No coupons for back rubs or Jerry Garcia ties here.
Below are a some truly unique and iconic gifts for the sort of man who likes to smell good while wearing durable boots and bad-ass sunglasses:
JOHN VARVATOS ARTISAN FRAGRANCE
A great fragrance is a mark of a grown-ass man. John Varvatos' Artisan Eau de Toilette is an old-school representation of class, style, and craftsmanship. This handcrafted fragrance leans heavily into the Sicilian clementines, North African orange tree blossoms, and Indian murraya notes. It's a citrusy, woody fragrance with an ever-so-slight hint of ginger. In short: It smells damn good.
A 4.2 ounce handwoven bottle in a gift set costs $92.00.
LAGOSTINA COOKING PANS
We talk a lot on this site about "leveling up." Well, if you're a dad making a wish list or a child looking for a gift, these pans are key for leveling up as a chef. Forget teflon coated pans. They're chemical riddled and flat out ugly. And not everything is best cooked in cast iron either (tomatoes, for instance). That's why you need (or need to give) Lagostina's pounded stainless steel pans this Father's Day.
These are "lifetime pans" — a legacy piece of artisanal cookware that will never get old and never have to be throw out. The stainless steel is thick enough to create a margin for error (you won't ruin something if it's on too high for a few minutes) and they conduct heat beautifully for even cooking. Best of all, the full stainless construction makes them oven safe and the vintage Euro look makes them presentation-worthy.
Know a dad who wants to up his cooking game? This is a good place to start for $100.
LUCCHESE BOOTS
In 1883, the sons of a Sicilian cobbler made their way to San Antonio, Texas to set up their very own bootmaking shop at Fort Sam Houston. By 1890, two more brothers would arrive from Sicily and the Lucchese family would become synonymous with the best boots in America. Their long heritage of hand-crafted perfection in the arts of forming leathers into boots has become the stuff of legend. Lucchese boots have been worn by generals, presidents, and just about every movie cowboy you can think of.
A pair of hand-crafted boots starts at $315 with the higher end pairs costing closer to $1,000.
KRAMER KNIVES
Deep amongst the swaying evergreens of Olympia, Washington lives a man who very well might make the best steel in the world. He melds Damascus steel with meteorite to bring forth kitchen knives that chefs and knife collectors covet. That makes these knives from Bob Kramer's personal swordsmith studio a pretty tough get. Luckily for those of us who can't wait a year or more to win a lottery to get a Kramer knife, Zwilling JA Henckels now makes a version of Kramer's knives for the general public.
A six-inch Kramer Damascus Chef's Knife will set you back $289.34 on Amazon.
CROWD COW
The idea behind Crowd Cow sounds an awful lot like that famous Portlandia chicken sketch. You know the one, where the snobbish Portland diners ask detailed minutiae about how their fowl was raised. But here's the thing: Obsessing about the wellbeing of animals makes for really good food.
COPPER COCKTAIL SHAKER SET
Copper is used in distillation because the metal is known to absorb sulfurous impurities. It's also highly valued by chefs in cooking because it has better temperature conduction. Bartenders tend to use copper too — to look more fancy and old school. You do get a small benefit of temperature control but, really, it just looks rad. Be sure to get pure copper and not copper plated since ice shards from shaking a cocktail can start to break down the platting and muddy your cocktails.
A hand-crafted hammered copper cocktail shaker set will set you back $139 on Amazon.
ANOVA SOUS VIDE PRECISION COOKER
Sous vide cooking is the future. With this water circulating device you too can live in a world with no more dry white chicken or turkey meat. Throw those chicken breasts in a bag with some seasoning, set your sous vide, toss the bag in, and walk away. The Anova Precision Cooker will change your kitchen game instantly from average to stellar with a handy app that's full of pro and amateur recipes at the ready. Make sure to get some reusable sous vide bags (like Stasher Bags) to cut down on the disposable plastic bag usage.
The Anova Precision Cooker will set you back $219. But for Father's Day, you can get $50 off.
BEXAR FIELD NOTES WALLET
Bexar Goods is a family run business down in Texas that's bringing back rugged leather style to adventure travel. Their products are all hand sewn with saddle stitching to ensure long-lasting durability and old school style. Their Field Notes Wallet is an adventure traveler's must have accessory. It fits a three by five notebook, passport, pens, and a few cards into one badass looking piece. You know Indiana Jones carried one of these.
The Field Notes Wallet costs $145.00 from Bexar (it comes with three blank notebooks).
THE NORTH FACE BASE CAMP DUFFEL
Just like having a great pair of boots or the perfect pair of sunglasses, a skilled-up traveler needs a great bag that can withstand anything. The North Face's line of Base Camp Duffels are just that bag. The design is sleek and utilitarian. It's durable, waterproof, and sturdy. These bags are built to last a lifetime of sailing oceans, climbing mountains, and trekking deserts.
The Base Camp Duffel comes in a spectrum of sizes. The Small is the perfect carry-on size and costs $93.53 on Amazon.
TAKEYA THERMOFLASK
Look, a water bottle shouldn't be an overly complicated object…but it kinda is. Some leak, others get grimy. Hyped up models prove un-durable and fail to keep cold things cold or hot things hot.
Then there's Takeya. It's just perfect (as far as water bottles go). The Takeya 40oz ThermoFlask is can be dropped from a cliff and be no worse for it, never leaks, is dishwasher safe, and insulates marvelously. There's nothing more your old man could want from a water bottle… besides some whiskey inside.
CRAFT BEER OF THE MONTH CLUB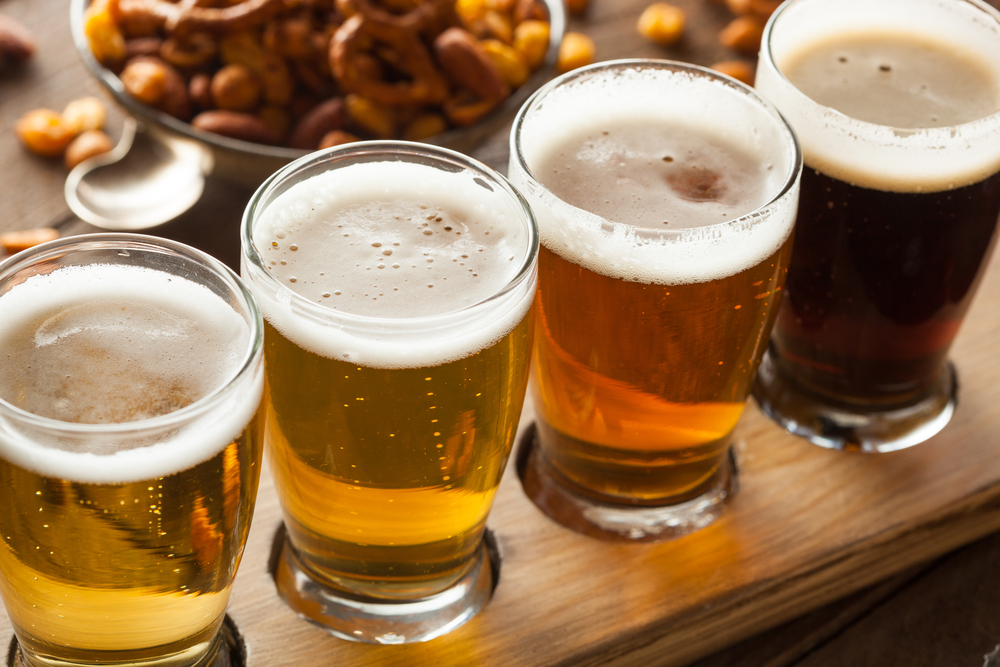 Craft beer is quickly becoming a juggernaut of the beer world. It's everywhere. So picking a new craft beer to try can be a daunting task. A Craft Beer Of The Month Club will make picking beers a lot easier. This particular club sends 12 beers a month (four styles with three beers in each style) to your door with a copy of Beer Connoisseur magazine. It's a fantastic way to try new and delicious craft beer that you might not otherwise even know existed.
WHISTLEPIG FARMSTOCK RYE WHISKEY
Whistlepig is quickly becoming on of America's most sought after whiskeys. Until this past year, they were sourcing their rye from Alberta and Indiana and expertly aging it at their Vermont farm. Now, they've released their very own in-house distilled Rye whiskey with their grains, their barrels, and their style. Whistlepig's Farmstock is already getting rave reviews. It's a spicy treat that any whiskey lover will adore.
Expect to do a little digging to find this one. A bottle should set you back in the neighborhood of $89.99.
CHEMEX COFFEEMAKER
Dr. Peter Schlumbohm strove to meld the worlds of science and design when he invented the Chemex Coffeemaker. The glass urn represented the best possible metrics for making the perfect cup of coffee in as stylish a way as possible. Dr. Schlumbohm's winning design for the Chemex Coffeemaker in 1941 went on to be a massive success on the market and even landed in New York's Museum of Modern Art. Oh, yeah, it also makes an amazing cup of drip coffee.
The classic Six-Cup Chemex Coffeemaker will set you back $38.10 on Amazon. (don't forget the filters!)
PENDLETON WOOL SHIRT
A great plaid wool shirt deserves a spot in everybody's wardrobe. Pendleton has over 150-years of history — where the new world design meets old world craftsmanship to create one of the best virgin wool products on the market. Today, a Pendleton shirt is an investment in a garment that can last a lifetime.
Right now shirts are on sale for $99.99. Otherwise, expect to pay between $100-$160 per shirt.